Jennifer Ehle, David Strathairn, Stephanie Berry & More to Star in PHEDRE Reading at Red Bull Theater
This event will premiere live and in-person at FIAF Florence Gould Hall on Monday February 20th, and be simulcast as well.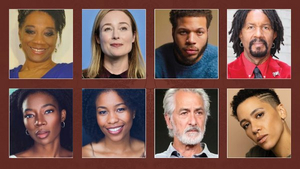 RED BULL THEATER has announced the cast for the next offering of a new season of OBIE Award-winning Revelation Readings: the in-person and streaming presentation of Phèdre by Jean Racine, in a new translation by Rob Melrose, directed by Lanise Antoine Shelley (2023 Black Theatre Coalition American Express Directing Fellow).

This event will premiere live and in-person at FIAF Florence Gould Hall (55 East 59th Street) on Monday February 20th, and be simulcast as well. A recording will be available for streaming on-demand from Tuesday February 21st until Sunday February 26th at 11:59 PM ET. For tickets to the in-person event, Livestream, Video-on-Demand, or more information, visit RedBullTheater.com.

"We're thrilled to be partnering with FIAF again this year, this time to share Racine's Phèdre, the passionate pinnacle of French classical tragedy. Lanise Antoine Shelley, who directed our 2022 reading of Césaire's A Tempest is back with us and the cast led by Jennifer Ehle and David Strathairn is simply fantastic. Red Bull is all about revitalizing the classics for contemporary audiences - classics from throughout world theater - and we're delighted to continue this work with Phèdre and our friends at FIAF," said Berger.

In Phèdre secret yearnings are unleashed, ruinous deceits are perpetrated, and scandalous familial dysfunction is displayed. Isn't it astonishing what loneliness can do to a person? Once a model mother and devoted wife, Phèdre finds her resolve destroyed as her desire for her maturing stepson becomes inescapable and all-consuming. Premiered in January 1677, Phèdre is considered to be Racine's masterpiece.

Jennifer Ehle (Tony, Drama League award nominations; Lortel Award - Oslo; Tony Award, Outer Critics Circle nomination - The Coast of Utopia; Tony Award, Theatre World Award, Outer Critics Circle nomination - The Real Thing) will perform the titular role. The cast will also feature Stephanie Berry (On Sugarland [Drama Desk, Outer Critics Circle, Lortel Award nominations] - New York Theatre Workshop; for all the women who thought they were mad - Soho Rep Theatre; Cool Blues - New Federal Theatre; Drowning Crow, Sugar in Our Wounds [Outer Critics Circle, Lortel Award nominations] - Manhattan Theatre Club; The Shaneequa Chronicles: The Making of a Black Woman [2001 Obie Award]); Mister Fitzgerald (Ohio State Murders - Broadway, A Raisin in the Sun - Public Theater, On Sugarland - New York Theatre Workshop); Allen Gilmore (Twelfth Night - Classical Theatre of Harlem/Yale Rep, One Fine Day (Soho Rep); Jacqueline Nwabueze (Subway Story (A Shooting) - Theater for the New City); AhDream Smith (Red Bull Theater debut!); David Strathairn (Broadway: The Heiress, Dance of Death, Einstein and the Polar Bear; The Three Sisters - Roundabout; Off-Broadway: Hapgood - Lincoln Center Theater; Conversations in Tusculum - Public Theater; Rodney's Wife - Playwrights Horizons; Remember This: The Lesson of Jan Karski - Theatre for a New Audience; Academy Award nomination - Good Night and Good Luck; Emmy Award - "Temple Grandin"); and Sarin Monae West (The Skin of Our Teeth - Lincoln Center Theater; The Rat Trap - Mint Theater).

ABOUT THE PLAYWRIGHT
Jean Racine was born in Picardy, northern France, in December 1639, into a lower middle-class family. Orphaned by the age of four, he was sent to the prestigious Jansenist school of Port Royal, whose unique pedagogical methods (emphasizing French over Latin, and teaching ancient Greek as well as of modern vernacular languages) were to deeply influence his literary style. By the time he finished school, Racine had a wide, if exclusively bookish, knowledge of theatre, and a unique access to the entirety of Ancient Greek literature. Upon his arrival in Paris at age 19 Racine immersed himself in the ebullient literary and theatrical life of the capital, met Molière, became friends with La Fontaine, and soon vowed to supersede the old-fashioned playwriting style of Corneille. After a few setbacks, Racine's career took off and he became the only playwright who not only managed to live off of his writing but also make his way up to the top of the very rigid social hierarchy. Between 1667 and 1677 he wrote and oversaw the performance of eight tragedies (among which were Andromaque, Britannicus, and Bérénice), successively became the lover of two of the most famous contemporary actresses - la Du Parc, and Marie Champmeslé, who created the role of Phèdre - and earned himself King Louis XIV's protection. Following the creation and, if not immediate, ultimately enduring success of Phèdre in 1677, Racine became the King's historian, stopped writing plays, settled for an arranged marriage, had seven children, and returned to the strict religious doctrine of his youth. Racine took up playwriting again at the request of the King's secret wife Madame de Maintenon, and wrote his last two plays, Esther (1689) & Athalie (1691), for the students of Saint Cyr, the school she created for noble orphaned or poor girls. He died in April 1699, at age 59, of a liver tumor.

ABOUT THE TRANSLATOR
Rob Melrose is the Artistic Director of The Alley Theatre where he has directed productions of Born With Teeth, Christmas Carol (world premiere of his own adaptation), Sweat, The Winter's Tale, 1984, and Agatha Christie's Murder on the Orient Express. He was formerly the Artistic Director and co-founder of the Cutting Ball Theater. He has directed at The Public Theater (Pericles, Prince of Tyre), The Guthrie Theater (Frankenstein, Happy Days, Freud's Last Session, Pen, Julius Caesar - with The Acting Company); The Oregon Shakespeare Festival (Troilus and Cressida - in association with The Public Theater); Magic Theatre (An Accident, world premiere); The Old Globe (Much Ado About Nothing); PlayMakers Rep (Happy Days); Black Box Theatre (The Creature, world premiere, BATCC Award for direction); as well as Actors' Collective; The Gamm Theatre; and Crowded Fire, among others. His directing credits at Cutting Ball include Timon of Athens, A Dreamplay, Ondine (world premiere), Mount Misery (world premiere), Strindberg Cycle, The Chamber Plays in Rep, Krispy Kritters in the Scarlett Night (world premiere), Pelleas & Melisande, the Bay Area Premiere of Will Eno's Lady Grey (in ever lower light), The Tempest, The Bald Soprano, Victims of Duty, Bone to Pick & Diadem (world premiere), Endgame, Krapp's Last Tape, The Taming of the Shrew, Macbeth, Hamletmachine, As You Like It, The Death of the Last Black Man in the Whole Entire World, among others. He has taught at Stanford University, UC Berkeley, USF, the University of Rhode Island, and Marin Academy. He has a BA in English and Theater from Princeton University and an MFA in directing from the Yale School of Drama. Rob directed Strindberg's Svarta Handsken (The Black Glove) in Stockholm, Sweden at Strindberg's Intimate Theater. This was the first time the play was performed on the stage for which it was written, 110 years after it was composed. He has translated Woyzeck, Ubu Roi, Pelleas & Melisande, The Bald Soprano, The Chairs, No Exit, Communiqué n˚10, Where and When We Died, and The Blind. His translations of Woyzeck, Ubu Roi, and Pelleas & Melisande have been published by EXIT Press. He has written a number of plays including: Helen of Troy, The Flat Earth, Divorsosaurus, When Human Voices Wake Us, Asylum, and Serpentyne and has written a rock musical
adaptation of L. Frank Baum's Ozma of Oz with the San Francisco
electro-rock group Z.O.N.K.

ABOUT THE DIRECTOR
Lanise Antoine Shelley (she/her/hers) is a Haitian actress, director, podcaster and visual artist. Recent directing credits include a staged reading of A Tempest for Red Bull Theater. In the age of the pandemic, she has directed her full length play Pretended (Paramount Theater), The Tragedy of King Christophe, adapted The Snow Queen; an audio adaptation of Rastas and Hattie with 16th St Theater, starred in and associate produced indie horror film Fresh Hell, directed in the Rites of Spring Festival with Rising Sun Performance Company. Further directing credits include assisting David Schwimmer in the world premiere of Plantation at Lookingglass Theatre, Silent Theatre Company, Voices and Faces, Akvavit Theatre, and DePaul University. Lanise was last seen acting in Chicago Shakespeare's Measure for Measure and Goodman Theatre's School Girls; Or, African Mean Girls and reading of their new works, Darkling at Nightfall. Danai Gurira's Familiar at Steppenwolf Theatre (Jeff nominated for best ensemble); other acting credits include Robert Falls' production of An Enemy of the People at Goodman Theatre, and again Danai Gurira's The Convert. Additional regional work with Chicago Shakespeare Theatre, Lookingglass Theatre, American Repertory Theatre, Indiana Repertory Theater, Book-It Repertory Theater, Milwaukee Rep (Resident Company member for five years), Kansas City Rep, Seattle Repertory Theater, Outside the Wire, Backroom Shakespeare and Shakespeare Santa Cruz. International Theatre: Macbeth, Aenied, and All My Sons at (Stratford Shakespeare Festival) and Nutcracker Turbo (Moscow Art Theatre). TV/Film: Saturdays (Disney), Fresh Hell (Indie Film), "Empire" (FOX), "Chicago Fire" (NBC), "Chicago Med" (NBC), "Discovery World," "Stop.Reset," "The Inner Room" (short film), Macbeth (Stratford HD). Training includes an MFA from ART/MXAT at Harvard University; BFA from Cornish College of the Arts in acting, directing and playwriting; certificate in classical theatre from BADA in Oxford, England; certificate in classical theatre from Birmingham Conservatory in Canada, and a voice and speech course with Kristin Linklater in Scotland. Chicago Fellow for Stratford Shakespeare Festival 2016, Directing Fellow for Victory Gardens Theater 2019, Drama League Classical Theatre Directing Fellow 2021, and the incoming Black Theatre Coalition American Express Directing Fellow 2023.
ABOUT THE FRENCH INSTITUTE ALLIANCE FRANÇAISE (FIAF)
The French Institute Alliance Française (FIAF), located in the heart of New York City, is the country's leading French language and cultural center. FIAF's mission is to create and offer innovative and unique programs in education and the arts that explore the evolving diversity and richness of French cultures. We seek to generate new ideas and promote cross-cultural dialogue through partnerships and new platforms of expression. Founded at the turn of the 20th century, the French Institute and the Alliance Française de New York operated as two separate organizations, the first promoting French arts, the second teaching French. In 1971 they merged to form what has become one of the largest and most respected centers of French-American activities in the U.S: the French Institute Alliance Française (FIAF). For nearly 120 years, FIAF has been the destination for starting, continuing, and perfecting French language skills in a supportive, immersive, and culturally-rich setting. Browse and register for classes here. Through an unparalleled range of cultural events including live performances, film screenings, panel discussions, wine tastings, and gallery exhibitions, FIAF invites New Yorkers of all ages and backgrounds to engage with the best of French culture.
ABOUT RED BULL THEATER
Red Bull Theater brings rarely seen classic plays to dynamic new life for contemporary audiences, uniting a respect for tradition with a modern sensibility. Named for the rowdy Jacobean playhouse that illegally performed plays in England during the years of Puritan rule, Red Bull Theater is New York City's home for dynamic performances of great plays that stand the test of time. With the Jacobean plays of Shakespeare and his contemporaries as its cornerstone, the company also produces new works that are in conversation with the classics. A home for artists, scholars, and students, Red Bull Theater delights and engages the intellect and imagination of audiences, and strives to make its work accessible, diverse, and welcoming to all. We value and practice inclusiveness, equity, and diversity in all of our activities, and are committed to antiracist action. Red Bull Theater believes in the power of great classic stories and plays of heightened language to deepen our understanding of the human condition, in the special ability of live theater to create unique, collective experiences, and in the timeless capacity of classical theater to illuminate the events of our times. Variety agreed, hailing Red Bull's work as: "Proof that classical theater can still be surprising after hundreds of years."
Since its debut in 2003 with a production of Shakespeare's Pericles starring Daniel Breaker, Red Bull Theater has served adventurous theatergoers with Off-Broadway productions, Revelation Readings, and the annual Short New Play Festival. The company also offers outreach programs including Shakespeare in Schools bringing professional actors and teaching artists into public school classrooms; Bull Sessions, free post-play discussions with top scholars; and Classical Acting Intensives led by veteran theater professionals. During the pandemic, Red Bull created several new and ongoing programs to serve audiences and artists with our mission: RemarkaBULL Podversations, Online Readings, Seminars, and more.
Red Bull Theater has presented over 20 Off-Broadway productions and more than 200 Revelation Readings of rarely seen classics, serving a community of more than 5,000 artists and providing quality artistic programming to an audience of over 65,000. The company's unique programming has received ongoing critical acclaim and has been recognized with Lortel, Drama Desk, Drama League, Callaway, Off-Broadway Alliance, and OBIE nominations and Awards.
For more information about any of Red Bull Theater's programs, visit Click Here.