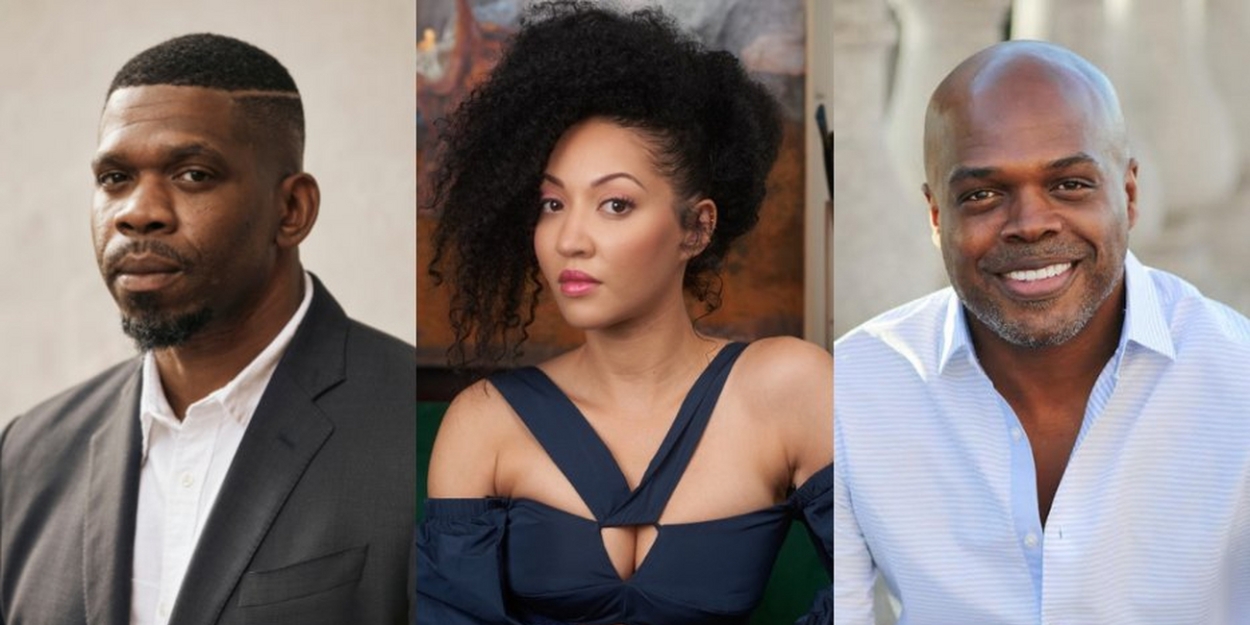 Harmonia Rosales, Ty Jones & More to Join BLACK ODYSSEY Post-Show Conversation Series at Classic Stage Company
black odyssey will begin previews on Thursday, February 9, with an opening night set for Sunday, February 26, and will run through March 26, 2023.
Classic Stage Company has announced its full programming for Classic Perspectives, a series of post-show conversations inspired by black odyssey written by Marcus Gardley (upcoming film adaptation of The Color Purple, The House That Will Not Stand) and directed by Stevie Walker-Webb (Ain't No Mo'). The Classic Perspectives series at CSC offers audiences the opportunity to explore each production's themes in more depth, tying the classical stories onstage to the real-life experiences from past and present. black odyssey will begin previews on Thursday, February 9, with an opening night set for Sunday, February 26, and will run through March 26, 2023.
For black odyssey, CSC will host the following discussions:
February 16
A Veteran's Homecoming
Featuring Christopher Wolfe (Military Consultant)
Join us as we explore what it means to come home after war and the role art plays in the lives of American Veterans. Branching from black odyssey's depiction of life after the Iraq War, we'll get a chance to speak with Veterans about their own journey with art and what home means to them.
March 5
Community Discussion
Ever been curious about what that stranger sitting next to you thought of the play you just watched together? Now's your chance to find out! Stay after the show and join us in a guided discussion about the themes of black odyssey with your fellow audience members.
March 7
Harlem State of Mind
Featuring Ty Jones (Artistic Director at Classical Theatre of Harlem)
black odyssey is set in one of America's most famous and historically significant neighborhoods - Harlem, NY. Join us for an evening where we'll celebrate Harlem, discuss Harlem's relationship to art and theater, and explore how the essence of Harlem is felt across the entire country.
March 16
Behind the Scenes
An exciting conversation with members of The Acting Company and creative team of black odyssey. Learn about the process behind rehearsing the play, how the work came together, and what it's like to perform the show nightly.
March 22
Race, Art, and Antiquity
Featuring Harmonia Rosales (Artist)
This engaging discussion will celebrate art and the African diaspora through the lens of contemporary BIPOC artists who are re-envisioning historical narratives and classical storytelling.
Obie-winning playwright Marcus Gardley blends classic mythology, African-American history, and modern theatricality to create the poetic black odyssey. This vibrant reimagining of the Odysseus saga is set in modern-day Harlem, telling the epic tale of Ulysses Lincoln, a soldier facing the most daunting of voyages to reunite with his family. While fate may seem in control of Ulysses' destiny, his ancestors and their buried history will help guide his journey home.
black odyssey was originally developed and produced at the Denver Center Theatre Company, a division of the Denver Center for the Performing Arts, Kent Thompson, Artistic Director.
The cast of black odyssey includes James T. Alfred (National Tour of Jitney) as "Deus," Teòmiìdayoò Amay (School Girls; or, The African Mean Girls Play) as "Benevolence," Harriett D. Foy ("P-Valley") as "Aunt Tee," Marcus Gladney Jr. (Choir Boy) as "Malachai Lincoln," Sean Boyce Johnson ("For Life") as "Ulysses Lincoln," Adrienne C. Moore ("Orange is the New Black") as "Alsendra Sabine," Keith Randolph Smith (Jitney) as "Paw Sidin," Lance Coadie Williams (Sweat) as "Artez Sabine," and D. Woods (For Colored Girls...) as "Nella P. Lincoln."
black odyssey features set design by David Goldstein, costume design by Kindall Almond, lighting design by Adam Honoré, sound design by UptownWorks, prop supervision by Alexander Wylie, music direction by Linda Tillery, co-music direction by Molly Holm, and choreography by Aquila Kikora Franklin. PJ Johnnie JR. serves as the Associate Director/Associate Choreographer. Jakob W. Plummer serves as Production Stage Manager and TaTyana Smith serves as Assistant Stage Manager. Casting is by X Casting and Victor Vazquez, CSA.

Classic Stage Company (CSC) is committed to reimagining classic stories for contemporary audiences. It is a home for New York's finest established and emerging artists to grapple with great works of the world's repertory that speak directly to the issues of today.
In 1967, director Christopher Martin founded CSC Repertory in a 100-seat theater at Rutgers Presbyterian Church on West 73rd Street. Following short stints in small spaces, CSC grew to the point where it needed a permanent home. In 1973, the theater moved to its present premises on 13th Street, an intimate space that was formerly an East Village carriage house.
In the 55 years since, CSC has become a leading Off-Broadway theater that is a home for new and established artists, as well audiences seeking epic stories intimately told. Productions have been cited by all major Off-Broadway theater awards including the Obie, Drama Desk, Outer Critics Circle, Drama League, and the Lucille Lortel Award for Outstanding Body of Work.
CHRISTOPER WOLFE
(Military Consultant) is a West Point graduate and military veteran awarded the Bronze Star Medal. After completing military service, he earned an MBA and MFA from Duke and Columbia Universities, respectively, and emerged as a multi-disciplinary artist whose work has been featured in BOMB Magazine, and The New York Times Magazine. Chris consulted on the Broadway production of A Soldier's Play.
NAACP Award Winner, Ty Jones is the OBIE Award Winning Producing Artistic Director of the Classical Theatre of Harlem (CTH). Under Jones' leadership, CTH's template of financial discipline, precision marketing, and exceptional programming, resulted in its growth and stability. Jones initiated Uptown Meets Downtown, a program comprising strategic partnerships with downtown theatres designed to share expenses and build artistic bridges between communities. He created Uptown Shakespeare in the Park, bringing free, professional theatre to Harlem's Marcus Garvey Park. Jones is a vet of 5 Broadway shows including Julius Caesar with Denzel Washington. Principal TV/film work include, "When They See Us," "Clifford the Big Red Dog," and he's best known as Agent Donovan on "POWER." Graduate and Honorary Doctorate from the University of Delaware.
HARMONIA ROSALES
Influenced by her multicultural Afro-Cuban background, Harmonia Rosales's (B. 1984, Chicago, IL) primary artistic concern focuses on Black female empowerment through a diasporic lens. Her work seamlessly entwines the oral narratives and deities of West African Yorùbá religion, Greco-Roman mythology, and Christianity with the artistic techniques of the Renaissance masters. For Rosales, reimagining hegemonic narratives preserves the memory of her ancestral lineage and functions to champion resilience and question Eurocentric notions of beauty. While her subjects serve as conduits for the internal struggles of a disempowered society, Rosales encourages her onlookers to possess more sympathy, empathy, and empowerment.