BWW Review: Mad Cow's All-Female '1776' is Stunningly Moving, Revolutionary Theatre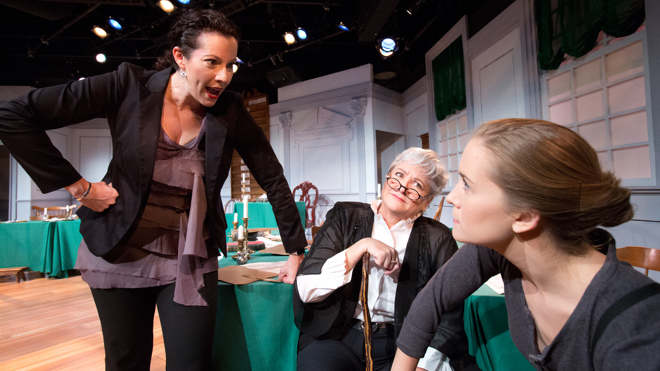 When in the Course of human events, it becomes necessary to rethink a centuries-entrenched conception, it must be done with ideas audacious and revolutionary enough to forever upset the status quo. That was true in a small, stuffy Philadelphia room in 1776, and it is true now at Orlando's Mad Cow Theatre. While the newest production from the Church Street company might not have the same lasting impact as the creation of the United States, it is undoubtedly one of the best theatrical productions that Central Florida has seen in recent years.
Led by director Mark Edward Smith, a cast of many of Orlando's most esteemed actors takes on the classic musical "1776" from Sherman Edwards (score) and Peter Stone (book), which chronicles the trials and tribulations that led to declaring our nation's independence.
While productions of the musical are often en vogue in election years, with the nomination of Hillary Clinton as the first women to run for president from a major party, this production has even more contemporary relevance than normal, because all 26 the show's performers are women.
The idea to produce an all-female version of "1776" first started in the summer of 2010 with a concert from Kansas City's Musical Theater Heritage company. Since then, similar productions have popped up around the country as the unconventional approach has gained acceptance and popularity. While a number of theatrical and historical purists view it as little more than a gimmick to broaden the show's revenue stream, having seen Mad Cow's production, it is clear that the unusual concept is far more than a simple marketing scheme.
While the casting of women as many of our country's most famous founding fathers does little to illuminate new aspects of the script itself, it brings to light untold issues about our nation's history and present circumstances. Seeing a group of ethnically-diverse women intimately involved in the types of discussions that they have been kept out of for so long adds unimaginable levels of resonance to an already affecting production.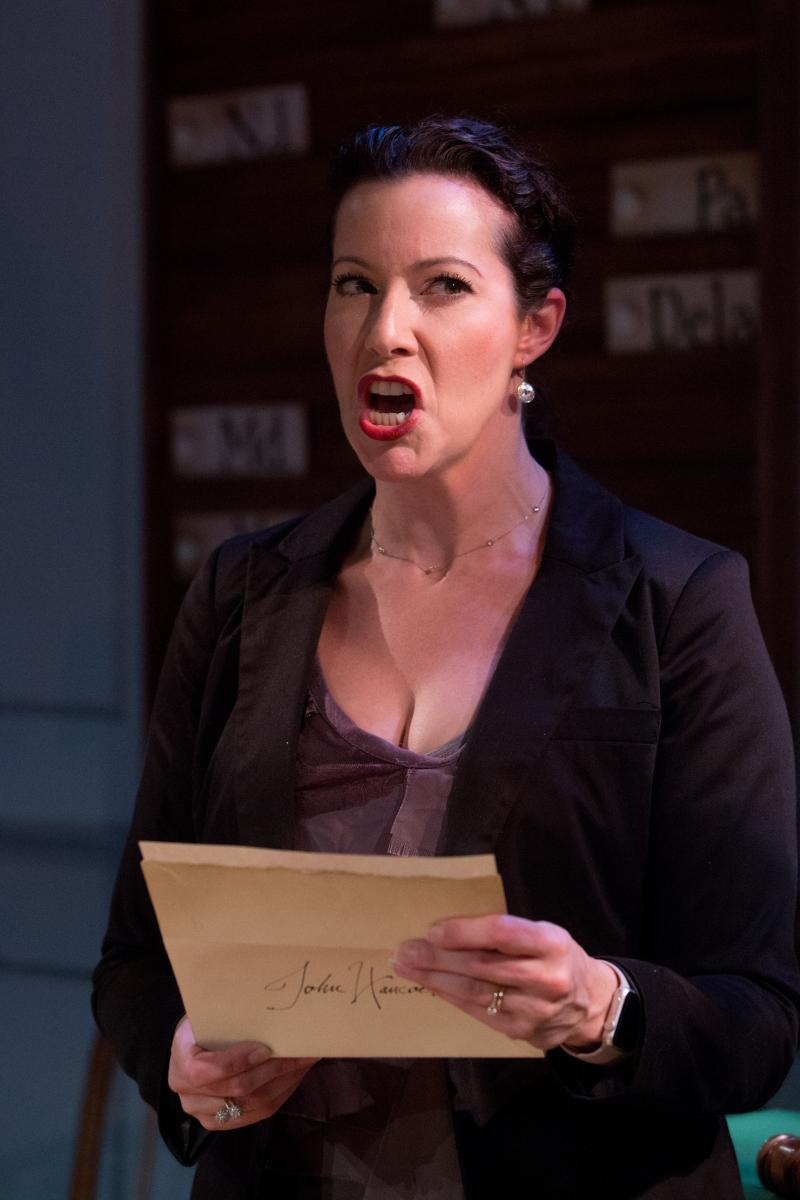 At the center of the show's revolutionary spirit is the brilliantly dynamic Laura Hodos as John Adams. The fiery Massachusetts lawyer is the obnoxiously persistent force pushing, pulling, and prodding the Second Continental Congress to declare independence from the British throne. Hodos is in every way fantastic; handling both the passion that Adams has for his cause and the disdain and exacerbation that he feels for his fellow delegates.
Hodos displays a tremendous voice, expertly navigating the tricky task of singing songs originally written for a male range. She is also magnificently able to balance the role's anger, humor, and softer moments shared with Adams' wife Abigail (played wonderfully by Drama Desk honoree Hannah Laird). Even if the rest of the cast weren't nearly as phenomenal as they actually are, Hodos' performance alone would be more than worth the price of admission.
Flanking Adams in most of his efforts is the congress' eldest statesman, Dr. Benjamin Franklin, played by the marvelous Karel K. Wright. Adding a sense of gravitas to the proceedings, while doling out healthy helpings of Franklin's signature aphorisms, Wright provides the production with an ample dose of joy. Wright has long been one of my favorite Central Florida actors, and she delivers another memorable performance as Franklin.
Melissa Whitworth is equally as remarkable as Thomas Jefferson. Of all the cast, Whitworth most assumes a male physicality, to the point that it is easy to forget that she is not in fact a young man with hair pulled back. She is equally compelling defending the Declaration that Jefferson wrote as she is in fighting for extra time between Jefferson and his wife Martha, played by the always delightful Jennafer Newberry.
In the musical's only two actually female roles, Laird and Newberry provide an interesting juxtaposition to the male characters, highlighted by their costumes. While Laird and Newberry are in vibrant pink and blue, the women playing men are each dressed in shades of black, white, and grey; this is my only point of contention with the production.
Obviously, dressing the Founding Fathers in gender and period-appropriate costumes would, in part, nullify the all-female cast. And, while I have no objection to them being in modern dress, "1776" is full of humor, wit, and larger-than-life individuals. The show is known for being a bit cheesy and campy at times, so to dress the majority of the cast in such dower colors seems to be a disservice to these colorful characters,
Costuming qualms aside, Laird is fantastic, providing the sensible balance to John Adams' temper. Even though Abigail only appears on stage sparingly in the show, you are likely to leave with Laird's lovely voice echoing in your head. The luminous Newberry is equally delightful, as Martha provides her husband with the "inspiration" to draft the Declaration of Independence. Her rendition of "He Plays the Violin" is the musical's one whimsical moment.
The show's multi-generational ensemble is an embarrassment of theatrical riches. While I won't mention each member by name, suffice it to say, they are all deserving of praise, both individually (especially when they are debating during the longest music-less scene in musical theatre history) and collectively (especially when they are joined in goosebump-inducing harmonies).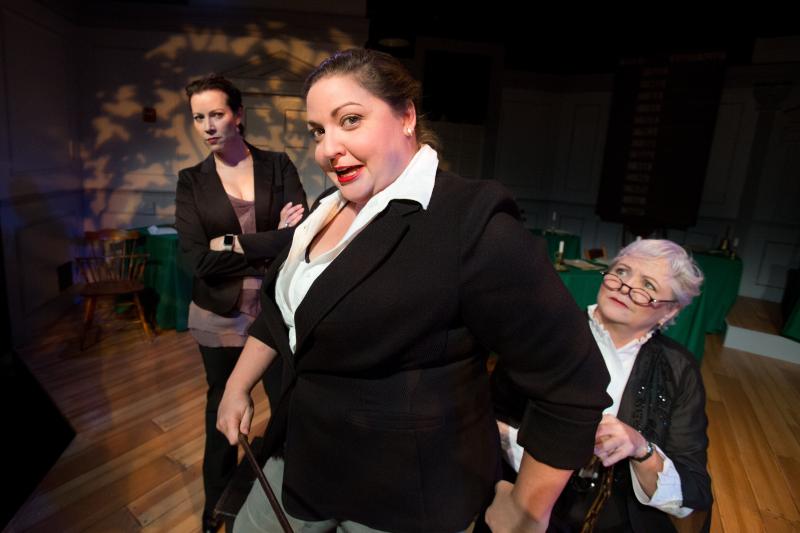 Jamie Middleton provides a wonderfully strong and earnest foil for Adams as John Dickinson. Conversely, Sara Catherine Barnes (who also choreographed the production) is a delightfully giddy Richard Henry Lee.
Meghan Colleen Maroney's subtle annoyance at the Congress' proceedings as John Hancock is marvelous, and Beryl Rochatka is thoroughly entertaining as Stephen Hopkins. As a young courier, Emilie Jean Scheetz delivers a somber and impactful interpretation of "Momma Look Sharp" to close out Act I.
Easily one of the most uncomfortable songs in all of the musical theatre cannon, "Molasses to Rum," sung by South Carolina's Edward Rutledge, has always provided one of the musical's trickiest moments. Fortunately, Lulu Picart handles the song with skill and insight. Though the necessary transposition robs the song of some of its traditional power and heft, Picart expertly provides more than enough depth for the song to deliver all of its skin-crawling message.
In addition to her top-notch work with the vocalists, music director Heather Langs and her three musicians were great, despite being hidden backstage. And, the decision to go with a fairly historically accurate set by Robert F. Wolin only aided the thematic echoes provided by the anachronistic costumes and casting.
In a tangential vein, the thing that struck me most about this production is that even though no efforts were made to hide the cast's femininity, neither were there any to accentuate it. The approach to allow the female actors to simply be women playing men, with no additional commentary necessary, for me, emphasized the fact that women continue to fight for equal standing in our country, even 240 years after we agreed that "All men are created equal." I have no doubt that every audience member will take something uniquely moving away from this production.
Even though I have been known to be particularly moved by the Parliamentary procedures of our political system, I was not aware of how emotional I was during the final scene of "1776" until I realized that there were tears streaming down my face.
Even though Edwards and Stone took ample artist license in creating this musical, as our country prepares to determine its next leader, hopefully without a single drop of blood being shed, this incredible production serves as an exceptional reminder of what a powerful accomplishment hatching the American "egg" truly was.
To purchase tickets to "1776," visit Mad Cow's website or call 407-297-8788; you will not be disappointed.
---
Were you as moved by this revolutionary production as I was? Let me know on Twitter @BWWMatt. And, "Like" and follow BWW Orlando on Facebook and Twitter using the buttons below. You can also hear me Monday through Friday on BroadwayRadio or on BroadwayWorld's pop culture podcast Some Like it Pop.
Banner Image: Laura Hodos, Karel K. Wright, and Melissa Whitworth. Photo Credit: Mad Cow Theatre