Review: Jordan Wolfe's NIGHT OF THE LIVING DEAD: THE MUSICAL Makes Zombies Fun Again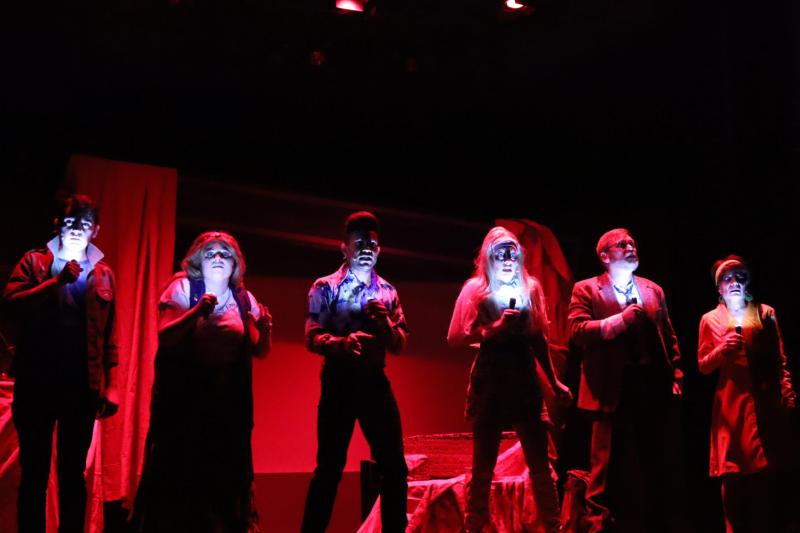 As you reach the second of three escalators at the 63rd Street F station, you see a holographic ad which announces the The Walking Dead's new season. Given the frequency with which the first escalator flight is down late at night, you may arrive at the sign panting slightly (unless like me, you live in a 4th floor walkup). Surely there are critics more qualified than I to discuss the ubiquity of zombies in contemporary American culture, but life in Trump's America often feels like a deathlike daily march out of a hole eight stories below ground.
Jordan Wolfe capitalizes on our collective weariness with his exuberant, campy rock musical version of George Romero's iconic 1968 horror film, Night of the Living Dead. As with all remakes, it helps to know the source material, if only to compare or appreciate the handling of familiar characters and plot-lines. But NIGHT OF THE LIVING DEAD! THE MUSICAL! stands on its own and makes you laugh even if zombie-eating creatures in "middle of nowhere, Pennsylvania"--or horror movies--don't generally interest you.

Meg Lanzarone, wearing a large platinum blonde wig, plays Barbara as strong, resourceful, and cheerful in spite of the ever-multiplying killers closing in on her. Johnny (Jordan Wolfe) doesn't want to visit the father's grave to begin with, complaining that gas is thirty cents a gallon! She chides him for being a Debbie Downer: "Can't you just be agreeable?"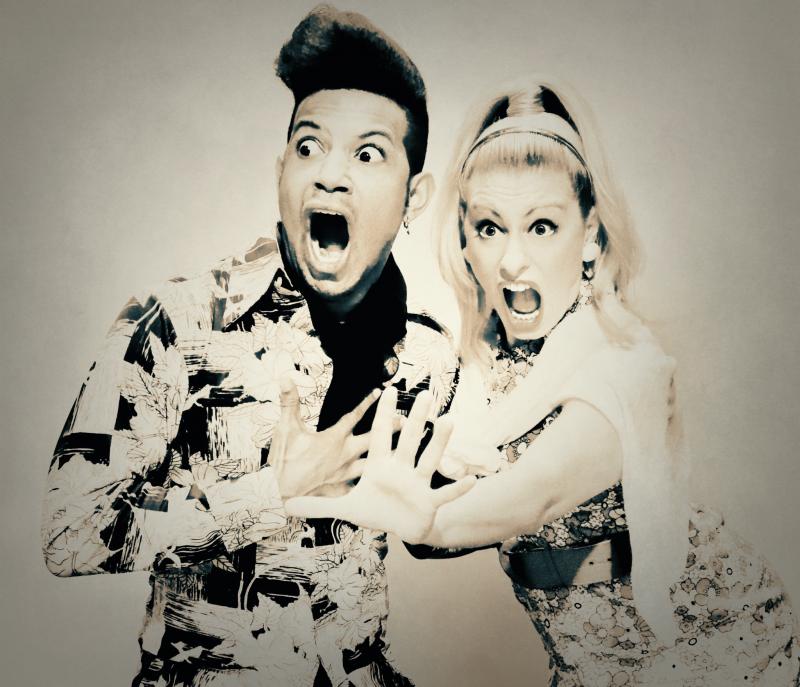 Typical bickering siblings, except of course that they pray to Satan over "good ol' Dad's grave" (because it's "what he would have wanted") before a zombie claims Johnny, who departs the earthly realm with the snark he inhabited it: "Barbara! You were always like a sister to me! I mean you literally are, biologically, my sister, but I meant it more as an idiomatic expression." The question posed in the show's up tempo opening song---"What Could Go Wrong?"--is quickly answered: everything.

Barbara escapes to an abandoned farmhouse where Ben (Jamie Cepero) has taken refuge. Miraculously, the radio works. Robin Graves (the sensational Michelle Dowdy) delivers the dire musical report that recurs several times. Like most of the cast, Dowdy plays multiple characters convincingly, but her belting, hoofing broadcaster comes close to stealing the show. Vocally and melodically reminiscent of the Andrews Sisters, the song features variations on the following theme: "You're f*cked/So f*cked/Help is not/On the way/You're f*cked."

An amusingly dysfunctional family huddles in the basement because the the father, Harry (Michael Buchanan), believes it's the safest part of the house. He's hapless, especially when it comes to handling Helen (Susan J Jacks), his fall-down drunk wife prone to profanity and inappropriate sexual remarks, and Betty-Lou, their ten-year-old daughter. The young couple, Judy (Dowdy) and Tom (Wolfe) vote to stay upstairs. Act I ends with a knockout rock ballad, "Night of the Living Dead."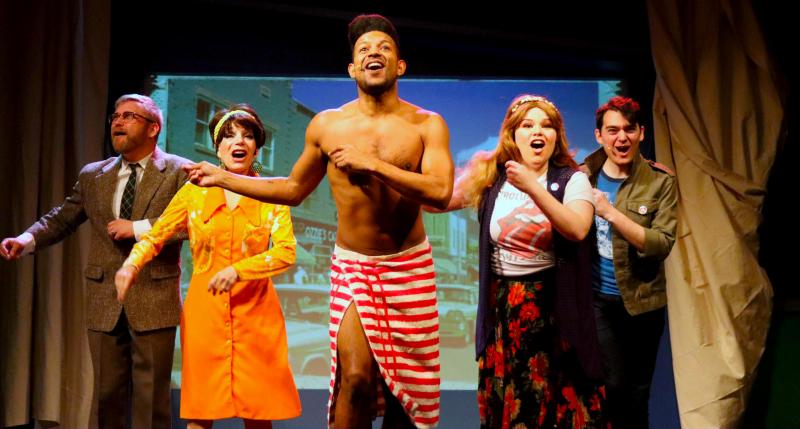 Act II begins with more Onion-like skewering of media, the executive branch, Chick-Fil-A, and NASA. ""Dan the Science Man" is lyrically ambitious, full of densely packed tongue-twisters that evoke Gilbert and Sullivan: "A quasar is a nucleus/That's active and galactic/Which has ten-watt luminosity/Now not to be didactic/But these rays combine on a bijective tangent plane/That can radiate the body/And reanimate the brain." The meter occasionally falters but the number still works.

Michael Buchanan's redneck sheriff in BDSM gear is over-the-top fun. All that's missing is a MAGA cap. "Unstoppable" lovingly mocks the corny but satisfying staple of 1980s rock music, the "inspirational power ballad," which frequently combined an uplifting melody with uninspired lyrics: "You're unstoppable/That means you can't be stopped."

Wolfe doesn't spare his own genre in "Love Song," the prelude to which riffs on Wicked: "I've heard it said, that people come into our lives for a reason, bringing something we must learn----." We know where Ben is going with this when Barbara breaks in, "Wait, are you quoting Wicked?"

Mitchell Walker's direction keeps NIGHT OF THE LIVING DEAD: THE MUSICAL! moving at a clip. The choreography is far more elaborate than in most shows of this scale, as are the sets. Breaking a musical that runs just 90 minutes into two acts is unusual (one is a bit surprised when the lights abruptly come up after 45 minutes), but probably the right choice given the song to dialogue ratio.
Often in off-Broadway musicals, there are three or so strong songs and a lot of filler. And even if more than a handful of songs are solid, they tend to sound the same. Jordan Wolfe's songs range from rock to jazzy-pop to more traditional musical theater fare, and his dialogue is crisp and clever. Add first-rate singers and strong musical direction by David Rosenberg and you get a well-executed musical farce (marred only by muddy sound and occasionally drowned out lyrics).