National Theatret Announces Theatre School on Teams
The classes are available for grades 4-7.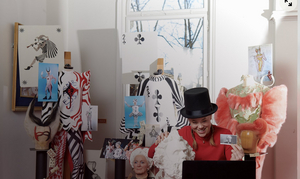 Join the National Theater's digital discovery journey - for 4th to 7th grade. Now school classes can team-call the National Theatre's own theater communicator, who sits in the theater office and tells, shows and explains about theater art!
The students sit in the classroom, and via Teams get to see fun costumes, weird props and hear about the dramatic start of the National Theater in 1899, and finally test what it is like to be a playwright!
The 50-minute digital program contains:
dissemination of the history of the National Theater, of Ibsen and Bjørnson and their roles in the theater.

10-minute guided tour showing the theatre's workshops and various departments.

mini-theater workshop where students get to test what it is like to write a play. The workshop, which contains three creative writing assignments, is sent to the teacher and is done according to the plan with the theater communicator.

kahoot that students and teachers can do together, according to the arrangement with the theater communicator.
Welcome to creative and interactive digital meetings with the National Theater - a contribution to everyday school life and teaching of social studies, Norwegian and arts and crafts.
Learn more at https://www.nationaltheatret.no/hva-skjer/for-skoler/teaterskole-pa-teams/.