Central Virginia Theater Reviews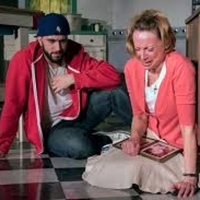 BWW Review: MASH NOTE TO THE LAST DAYS OF JUDAS ISCARIOT AND CORPUS CHRISTI at Henley Street Theatre Company And Richmond Triangle Players
by Susan Haubenstock - May 20, 2020
Two related selectionsa?"a?oeThe Last Days of Judas Iscariota?? and a?oeCorpus Christi.a?? And one that got awaya?"a?oeGrand Concourse.a??...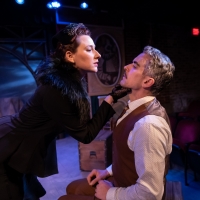 BWW Review: Silliness is Raised to Absurd in Hanover Tavern's Hysterical 39 STEPS
by Jeremy Bustin - March 13, 2020
Alfred Hitchcock's classic 1935 film, 'The 39 Steps' is a typical Hitchcockian concoction of action, suspense and surprising twists, topped off with a bit of humor for good measure. Patrick Barlow's amusing adaptation ups the ante on the comedy and adds a bit of absurdity (and dozens of recognizable...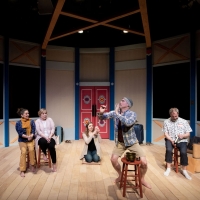 BWW Review: SMALL MOUTH SOUNDS at Virginia Repertory Company And Cadence Theatre Company Reveals Acting Artistry
by Susan Haubenstock - March 09, 2020
In 'Small Mouth Sounds,' a co-production of Virginia Rep and Cadence Theatre Company, six people participate in an extended silent meditation retreat in upstate New York, led by a pompous guru. The character sketches that emerge from the nearly wordless script illuminate individual yearning and pain...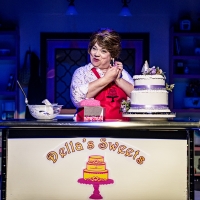 BWW Review: THE CAKE at Richmond Triangle Players Is a Sweet, Fluffy Treat
by Susan Haubenstock - March 09, 2020
I was lucky to see 'The Cake' at Richmond Triangle Players. It's late in the run of this sold-out hit, with a star turn by Terri Moore, who's made herself a local favorite in a couple iterations of 'Always, Patsy Cline.'...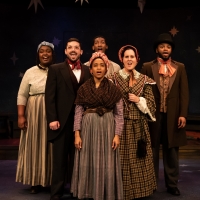 BWW Review: HARRIET TUBMAN AND THE UNDERGROUND RAILROAD at Virginia Rep's Children's Theatre (At Willow Lawn) Tells Stirring Story with Strength
by Susan Haubenstock - March 04, 2020
Douglas Scott Jones's 'Harriet Tubman and the Underground Railroad' tells young audiences the full Tubman story, from birth to death, with a strong ensemble and beautiful a cappella songs....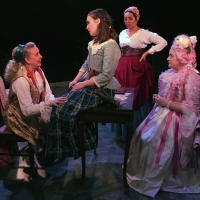 BWW Review: THE REVOLUTIONISTS at TheatreLAB Is a Stunning Womanifesto
by Susan Haubenstock - March 04, 2020
In 'The Revolutionists,' a quartet of French Revolution-era women brilliantly claim their power in this comedy/drama at TheatreLAB....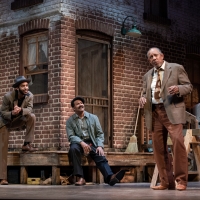 BWW Review: FENCES at Virginia Rep Is a Perfect Realization of a Great Play
by Susan Haubenstock - February 28, 2020
Virginia Rep's production of August Wilson's great play 'Fences' is soulful and emotional, with cast, direction and technical elements at a peak....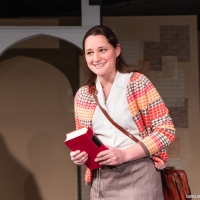 BWW Review: BLOOMSDAY at CATTheatre Enchants with Sweet, Wistful Tale
by Susan Haubenstock - February 24, 2020
Steven Dietz's 'Bloomsday' makes an enchanting entry for both the Acts of Faith Festival and the St. Valentine's season. Blending memory, romance, time fluidity and James Joyce, the play examines a romance that never was but still could be....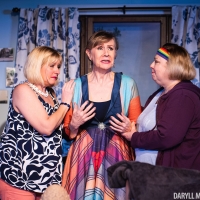 BWW Review: THE WILD WOMEN OF WINEDALE at CATTheatre Generates Sitcom-style Laughs
by Susan Haubenstock - December 17, 2019
Playwrights Jessie Jones, Nicholas Hope and Jamie Wooten are masters of sitcom-style comedy for women of a certain age. 'The Wild Women of Winedale' is their 2018 installment, short on laughs but featuring some strong monologues....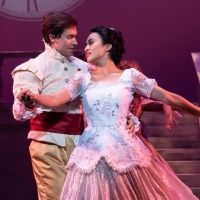 BWW Review: RODGERS AND HAMMERSTEIN'S CINDERELLA at Virginia Repertory Theatre Delights All Ages
by Susan Haubenstock - December 09, 2019
Virginia Rep's all-ages show for the holiday season is 'Rodgers and Hammerstein's Cinderella,' a gently updated retelling of the fairytale. Originally written for television in 1957, the musical has had several stage and TV productions, and eventually a rewrite by Douglas Carter Beane (author of las...
BWW Review: ALWAYS. . .PATSY CLINE at Virginia Rep, Take Two: The Star Returns
by Susan Haubenstock - December 09, 2019
A second trip to 'Always . . . Patsy Cline' was a pleasure, because Debra Wagoner has returned to the title role....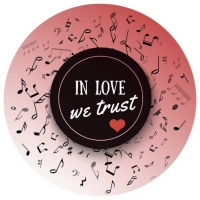 BWW Review: IN LOVE WE TRUST at HATTheatre Provides a Happy Holiday Respite
by Susan Haubenstock - December 09, 2019
For a respite from holiday madness, settle in for a leisurely, tuneful stroll through Anthony Williams's heart....