BWW Feature: SOQUEER PLAYWRIGHTS FESTIVAL at Richmond Triangle Players
First round of plays chosen for development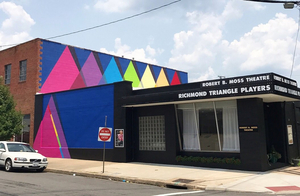 Richmond Triangle Players has announced the five winners of its inaugural SoQueer Playwrights Festival. The biennial festival of LBGTQ+ works will begin with "Acute Exposure" by Alice Hakvaag; "Red Wave" by Ty Autry; "Stonewallin'" by Kari Barclay; "Straight Wedding" by k. lyons; and "Talmadge & Ray" by Andy Nagraj and Jonathan Spivey.
With over 90 submissions, the festival continues as the five selected plays go on for a video-on-demand presentation of an excerpt of each, followed by a survey to choose a winner, in conjunction with an adjudication panel. The winner will then undergo a year of development with RTP, including workshops and consultation with local artists and mentorships with theater experts, with an eye toward a full production in 2021 or thereafter.
For more information, contact Philip Crosby, executive director of Richmond Triangle Players, at (804) 342-7665 or crosby@triangle.org.
Featured at the Theatre Shop
T-Shirts, Mugs, Phone Cases & More