BWW Review: THE CRUCIBLE at Centrestage Theatre Company Orewa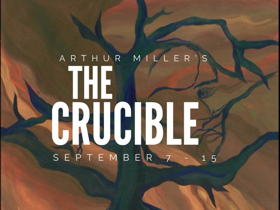 A tangled web of dark and complex circumstances is delivered with a mix of hysteria, confusion, accusation and cold calculation under the direction of Reg Williams at Centrestage Theatre Company's production of The Crucible which opened on Friday night.
To lie or to die? A community is entrapped in this compelling dilemma after many of the womenfolk are accused of witchcraft. There's no proof and the words and actions Abigail Williams sets off a domino effect of deceit, dark desire and hidden agendas, enforcing the righteous to draw on the depths of their natures, torturing those who seek to do the right thing.
Written in 1953 by Arthur Millar, this dramatised and partially fictionalised work is based on the Salem Witch Trials that took place in 1692. Although Miller wrote the play as an allegory for McCarthyism when the United States government persecuted people accused of being communists, the themes are still relevant in today's world.
The cast of 20 worked hard to deliver this tangled story that challenges the boundaries of the human condition.
Paige Nicholls inhabits the character of bad girl Abigail Williams with an unsettling reality that leaves one squirming and despising her lack of consideration for anything other than her own personal needs. Nicholls' facial expressions are indeed sinister. She is totally excellent in her role.
David Steadman is charismatic and compelling as the masculine and intense John Proctor. He makes no secret that he is not a fan of the Reverend Samuel Parris (Greg Stockwell); he ploughs his paddocks on a Sunday and stumbles through the commandments, leaving him open wide to suspicion of the quality of his character. Furthermore, he has confessed to wife and eventually Judges that he has succumbed to the pleasures of the flesh offered to him by Abigail Williams. He wants to make good with his wife Elizabeth played by Sinead O'Flynn.

O'Flynn and Steadman share some intense moments heightening the drama of the story.
Mary Warren (Josie Simmonds) finds herself in an impossible situation and portrays her struggle admirably. Her recanted testimony becomes the final catalyst to catastrophe.
It's guaranteed that you'll be drawn to your own favourites amongst the plethora of characters, whether it be John Edwards who makes an intimidating entrance as Ezekiel Cheever or the elderly Rebecca and Francis Nurse (Pauline Hirst and Rob Shanks ) who are devastated by the situation they find themselves in, along with Daron Robinson playing Giles Corey. Tituba, (Lucyanne Keenan) is copping the blame for everything and regrets anytime spent with the girls who include Savannah Schreuder, Zoe Fowler, Charlotte Morley and Lisa Camelbeke. Amongst it all, Thomas and Ann Putnam (Mark Seddon and Bronwyn McEvoy) find a scapegoat to blame for the death of seven of their babies. Then there are those faced with the responsibility of seeking the Justice or rather their concept of it; the zealous John Hale (Zac Russell), and Judges Danforth (John Bower), Hathorne (Martin Rhodes) and Marshall Herrick (Scott Williams)
A few nerves were evident in initial entrances for some; slowing the pace and at times losing volume resulting in some lines not being heard but the cast soon settled into their roles and I anticipate this will be the case of the remainder of the season.
I'd recommend a good read of the storyline so that you can fully appreciate what you see on the stage. Oh, and if you are a little faint-hearted do prepare yourself for a fright or two.
Robyn Simich's costumes and the collaboration of Reg Williams and Craig Hogan's set design deserve a special mention.
The Crucible
Centrestage Theatre Company
60 Centreway Road, Orewa
https://nz.patronbase.com/_CentreStage/Productions/CR18/Performances
Related Articles View More New Zealand

Stories

Shows