BWW Review: SIX DEGREES OF SEPARATION at Auckland Theatre Company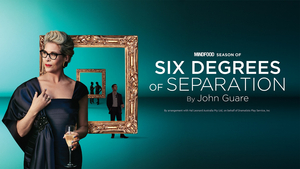 The 1990 play 'Six Degrees of Separation' written by John Guare is great choice amongst Auckland Theatre Company's diverse offerings of quality shows.
It has an intelligent satricial style reminiscent of Oscar Wilde with it's multi layers intertwined and exposing grandiose lies used to cover weaknesses and expose superficiality and vulnerability.
All this and more is woven into an intriguing true slice of the life of David Hampton's (aka Paul Poitier) pursuit of a Manhattan lifestyle.
Adapted into the 1993 feature film starring Will Smith, this astounding story is based on real life events and depicts the lives of suave, sophisticated and wealthy Manhattan art dealers Flan (Andrew Grainger) and Ouisa Kittredge (Jennifer Ward-Lealand). The Kittredges are all about keeping up appearances but their world of comfort and respectability is turned upside down with the sudden arrival of a charming stranger, the alleged Paul Poitier (Tane Williams-Accra) who is able to penetrate their lives proving that a stranger can become infiltrated into their home and that of friends just by sharing some easily acquired personal information; 'He knew our children's names.'
It's funny, it's a social commentary, there's satire and pathos. There's human connection in spite of the social constructs dictating division and there's betrayal, examination of conscious as well as frivolity and superficiality. And the notion that we are more connected than we think was made popular by this play.
Centred at the heart is the consequences of money at either end of the continuum; the expectations and behaviours of the 'haves' and 'have nots' and the devastating outcomes when you can't have what you want and when you have what you think you want.
This was well illuminated by the self entitled 'children' played by Brynley Stent, Joe Witkowski and Leo Maggs. Maggs was also notable as Rick.
Perhaps it was the anticipation and expectation that tainted my overall experience. At times I had to work for the 'buy in' with some unexpected laboured moments that challenged continuity and impact. However, there was more of the great than the lesser.
Kitty (Lisa Chappell) and Larkin (Mark Wright) bring an uplifting comedy at the right time with their stereotypical characterisations.
The set created the perfect mood, easily adaptable and suitably opulent. Accolades to John Parker with the strategic placing of the chandeliers and Jo Kilgour's clever lighting.
Six Degrees of Separation
16-30th August
Bookings: http://bit.ly/sixdegreesATC
Contains Nudity