BWW Review: RENDERED at ASB Waterfront Auckland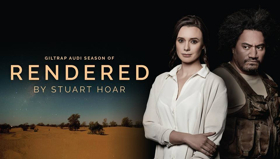 It has been often said that theatre is a great medium to observe the perplexing politics of our world but it's not that often that a play is able to be presented as clearly, succinctly and as compellingly engaging as ATC's 'Rendered' which opened at ASB Waterfront Theatre last Thursday.

In a Middle Eastern desert, Major Aria and her mercenary accomplice are on a secret mission to meet up with a New Zealander who's defected to ISIS with his Arab wife. Meanwhile, at the Auckland Writers Festival, kindergarten teacher Miranda gets an offer she can't refuse from a charming American visitor. Soon these six lives are inextricably entwined in a web of intrigue, danger and espionage.

'
Rendered' now has an additional meaning after seeing the world premiere of the Stuart Hoar play as ATC's contribution to New Zealand Theatre Month.
Stuart Hoar's clever script and Katie Wolfe's equally clever directing successfully combine to make sense of very complex and confusing subject matter; that of the turmoil of the wars in the middle east. I had psyched myself mentally to 'think hard' and to 'buy in' to the performance but this was not the case at all. I sat back and was able to thoroughly enjoy it as the confusion and complexity was presented with simplicity and intrigue.
The cast reveal the many facets and intentions of their characters in a carefully constructed collaboration. They are subtle in their initial engagements, enticing the audience as they disclose and unravel just enough to keep us up with the action and intrigued enough to want more. This character driven story moves towards a crescendo that we suspect but cannot confirm. Clever.


Fasitua Amosa, playing ex SAS mercenary Jeremy Smith, had the audience in his hands with his skilful use of timing and incisive quips. He taunts army Major Aria played by Nicola Kawana; her core beliefs juxtaposed to anything the cynical Smith stands for. Seemingly and initially dedicated to her job Major Aria's contrasting layers of commitment to the beliefs of a religious sect and ardent feminism make for an interesting watch and all played out beautifully by Kawana.

Anna Jullienne, as the beautiful and down to earth kindergarten teacher Miranda, revealed both her intelligence and vulnerability and the conflict between them. She was going to figure things out kiwi style.
The chemistry between her and love interest, the very multi-layered American Travis (Simon London) came to life with subtle tensions sprinkled amongst the provocative signals between them.
Add to the picture Troy Gray (Edwin Wright) the sincere kiwi who married for love' (but his he?) to muslim wife Zuleikha (Ban Abdul) who will risk anything to get to New Zealand.
Accolades to John Verrynt's set design. Marrying good old corrugated cardboard with the most up-to-date technologies was deliciously effective. Sean Lynch's sound and lighting design combined with Harley Campbell's creative Video and Graphics design.


Rendered
ASB Waterfront Theatre
20-30th September
Bookings:https://nz.patronbase.com/_ATC2/Productions/18RE/Performances