BWW Review: GARAGE PARTY at Wintergarden, Auckland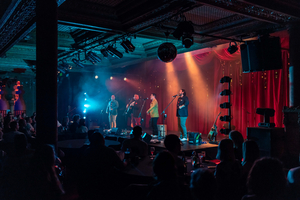 2020 has been a tough year for the arts in New Zealand, not only for those who appreciate the opportunity to enjoy imaginative and skilled live theatre and the power of music to stir the soul , but of course for the performers themselves. So - yes - when we get the opportunity to go to a real kiwi classic garage party, we're delighted -- and it's clear we are there as welcome guests. This is a chance for the whanau to get together and have a party. And what a party! It doesn't take long before the cares of the day, week, year drop away and the audience is enraptured, engaged and smiling, laughing and singing! This show almost makes 2020 worth it.
Modern Maori Quartet (Francis Kora, Maaka Pohatu, Matariki Whatarau, Tom Knowles, Matt Eller, Te Aihe Butler) are energised, talented showmen, musicians, comics, singers, their training at Toi Whakaari clear in their stage craft, and their ability to keep an audience entirely entranced. Each week, four of them take (well, "own") the stage, with another taking responsibility of the sound desk. The lighting is crafted well by Stuart Phillips, and the show is managed by Squaresums & Co. The show is presented by Auckland Live.
The concept of the show's comic narrative is to capture the fun of the garage party, complete with a range of typical guests - those who arrive late, those extroverts and introverts ("please don't ask me to sing"), those who want to share their inappropriate choices of songs ("I love your enthusiasm but....), those who need the bar, or food, those who want to dance ("Yes, you're allowed to dance") and those guests who need to leave early. And of course, the party will end when Aunty turns the lights out. And after "Ten Guitars" is played!
There is much laughter, joke telling, effectively staged comedy, wide smiles, drinking song games, quick wit and plenty of audience involvement. But the comic interplay doesn't overwhelm the musical skill of this live band. The group sing like a dream, harmonise superbly, and are the real deal musically, with the ability to capture and interweave a wide span of popular and familiar party songs "Lean on Me When You're Not Strong,", "Total Eclipse of the Heart", "You're My Sunshine", "Listen to my Heart", ""Tequila Sunrise", "Poi E", "Tutti Frutti", "She's so fine", "Slice of Heaven" and so on! You can't help but join in - the fun is totally infectious.
The resplendent setting is the exotic Wintergarden - and it's an intimate setting - with guests seated at tables, making chatter and socialising easily, and space on the sides where you can dance if you want.
We are left with memories stirred, spirits refreshed and invigorated, and the joy of days and parties gone by rekindled.
If you're looking for something to do with the work mates, with the whanau, with your partner, that's non-stop entertainment, and truly the "party" - book quickly because you won't want to miss the joy this brings.