Five Artists Explore The Hidden Beauty of Movement in Everyday Things
Exhibition runs through August 15, 2021.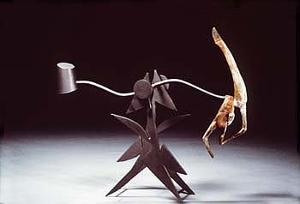 Visitors are invited to contemplate the hidden beauty and majesty of movement in nature through Natural Essence-Motion Perceived.
This exhibition examines humanity's relationship to the natural world through a captivating collection of kinetic and illusory works. The five featured artists find beauty in everyday materials, transforming them to reflect natural phenomena-from the subterranean depths below to the cosmos above-that evoke woodland sprites in flight, lizards among colorful flora, glimpses of ocean waves, tinted grains of sand, and more.
Beginning in 2018 with the first iteration of the Cache of Kinetic Art series, the Museum now regularly endeavors to bring its Guinness Collection into dialogue with contemporary culture, exploring how human beings continue to tap engineering and technology as tireless helpers, entertaining assistants, mind-bending rivals, expressive outlets, and cultural reflections of ourselves and our times. In the realm of Art, this search challenges us to examine things differently, searching for energy, dynamism, kineticism, vigor, movement, drive, and potential-whether real or implied.
Natural Essence-Motion Perceived celebrates the artistic wealth of the Tri-State area with the Museum's new vision still very firmly in sight. The "portals" of Gianluca Bianchino offer a dynamic, new way to see and experience materiality. The metal, human forms of Alexandra Limpert communicate with us through their mechanical animation. While Lawrence Berzon (known to Morris Museum audiences through his previous participation in Cache of Kinetic Art: Curious Characters) juxtaposes the scientifically fantastical and unreal with pulsating tension, Sui Park plays with the subtle but continuous movement of organic forms while working with mass-produced industrial materials. Finally, Rein Triefeldt draws a more literal connection to the spirit of the Guinness Collection with works of mechanical physicality and kinetic expression.
On view in Main Gallery, this exhibition will serve as a welcomed respite for those seeking a personal and contemplative interaction with art as the isolation of winter and, hopefully, the pandemic, draws to a close. Programs and events are being designed as a mix of in-person and virtual with strict adherence to state mandated guidelines.
FEATURED ARTISTS
Lawrence Berzon
Based in Orange, New Jersey, sculptor and illustrator Lawrence Berzon has been a professional visual artist for over 30 years. Continually expanding his reputation, crafting unique and unusual automata, his many works have been featured in exhibitions and galleries, as well as in restaurants, hotels, and other public places around the world. Two of Berzon's works appeared in the first installation of A Cache of Kinetic Art: Curious Characters.
Gianluca Bianchino
A multimedia artist inspired by physics and architecture with an interest in astronomy, Gianluca Bianchino's work is focused on immersive installations and interactive sculptures. Originally from Italy, Bianchino lives and works in New Jersey, exhibiting his work regularly throughout the greater New York area and internationally. His work dialogs with science and architecture in exploring the underlying geometry of nature and the built environment. While theories in physics and astronomy serve as his muse, process and engagement with traditional and industrial materials dictate the trajectory.
Alexandra Limpert
Alexandra Limpert is a figurative metal sculptor who lives and works in Brooklyn, New York. She is a mechanical animator whose kinetic work reflects the erosion of ancient anatomies as well as the exaltation of modern technology. Her sculptures simulate living entities through subtle, repetitive motion.
Sui Park
Originally from Seoul, Korea, Sui Park's woven works present as organic, three-dimensional forms that resemble and capture transitions and transformations of nature. Using mass-produced industrial materials-such as monofilament and cable ties-these non-durable, disposable, inexpensive, and easily-consumed materials are transformed into visualizations that create lasting moments by evoking and encapsulating thought.
Rein Triefeldt
Rein Triefeldt, a co-founder of the Kinetic Art Organization, is internationally recognized for exhibiting large-scale solar-activated kinetic works for over twenty years. Depicting various themes of nature, Triefeldt integrates traditional sculptural elements with solar technology as well as using other energy sources, such as wind, water, and electricity, from Trenton, New Jersey. His knowledge and insight provided valuable guidance in our Cache series, from seeking out kinetic artists to how to exhibit their work. He also served as a jurist for the second Cache exhibition, Simply Steampunk.
Featured BroadwayWorld Events
Check out these concerts...

More Hot Stories For You