BWW Blog: The Impact of Social Media on Modern Theatre
The Influence of Social Media on Theatre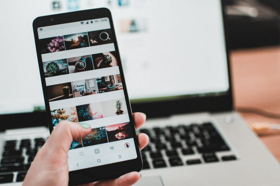 Hi everyone! I'm so glad to be back for another week of writing for Broadway World! This week I'm talking about the ways social media has impacted modern theatre and the experiences surrounding it. Social media has made shows more accessible, more popular with younger audiences, and in some cases, social media has even brought shows from little regional theatres all the way to Broadway itself.
One way social media has affected modern theatre is by making it more accessible to a wide audience. Up until recently, theatre was only accessible to those who were close enough to make it to the theatres, and those who had enough money to get themselves into those theatres. Even regional productions are getting more and more expensive, and because of that, less people are able to see shows. However, due to the introduction of social media in the theatre world, productions are able to stream cast albums, videos, sometimes even full recordings of shows for fans all around the globe to see. This enters the tricky realm of bootlegs and whether or not those are ethical, but some productions like Falsettos have released professional-level recordings on their own, and even some regional theatre productions are starting to film and release videos for the internet to see.
Being able to see shows from home just increases the interest in theatre and the involvement of more people. Some are worried that releasing bootlegs and other forms of theatre onto the internet would discourage fans from paying to see the shows in person, but in my experience, being able to experience a show more fully just gets a person further into the "fandom," if you will, and makes them want to see productions- touring, regional, Broadway, you name it- even more strongly.
Social media can also be strongly credited with getting the young audiences into theatre. I've seen several shows that are popular- take Dear Evan Hansen and Be More Chill for example- and most of their popularity has to do with how it spread over the internet and who it spread to. I believe that shows like those would not be half as popular without the interest of the fans who support them.
Without a cast album that went viral, without fan pages, without fan blogs and fan art and fan fiction, without fans, those shows would not have as much popularity as they do now. Social media is how most of these fans found of about the show and how they really dug their roots into the "fandom." Shows like these target young audiences not only with relatable content in the shows themselves, but with content on social media- blog and social media posts, sharing fan content, actors and actresses interacting with their fans. Young audiences can easily find a "home" with shows like these, and it really is like a gateway into the theatre world. Social media makes it easy for young audiences to grow a passion for theatre, which is important for such an attendance-reliable, participation-reliable art like theatre is.
Tying accessibility and young fans together, social media has also brought some shows on tours, to regional theatres, and even to Broadway in some cases. I really don't think that shows like Dear Evan Hansen could've gotten a national- and then international- tour without the kind of support they got from their young fans. Without the social media support from fans and the attendance of young fans, the producers would have no way of knowing for certain if a tour would be worth it. But because of social media and the outcry for a tour and the knowledge that each location would be met with the same outpouring of support from teens as is seen on Broadway, a tour was just inevitable. The same goes for shows like Spongebob the Musical, and especially Be More Chill. Be More Chill is a show that started in a small regional theatre in New Jersey in 2015, and was basically unheard of until the cast recording went viral several years later. That spurred "revivals" of the show in New Jersey again, and when the small theatre sold out its entire run and even needed security on guard, people knew the show was going to be big. Fans brought the show Off-Broadway, and when that (extended!) run sold out, fans brought it all the way to Broadway. This is the first show to truly owe a huge part of its success solely to fans and their support and interest. Without social media, this show truly would have stayed in that small regional theatre in a corner of New Jersey.
Social media can be a blessing and a curse, but I believe that in this generation, it is crucial in keeping the art of theatre surviving and thriving.
Thank you so much for reading! Until next week!