Theatre Ouest End In Collaboration With Tantalus Presents Centaur Theatre's BRAVE NEW LOOKS Selection for 2023
What Rough Beast is Centaur Theatre's Brave New Looks selection for 2023; it runs March 2 to the 11.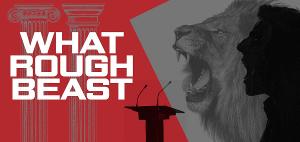 After the runaway success of Alice Abracen's award-winning The Covenant at the Segal Centre in 2022, the next production from Theatre Ouest End is here, in collaboration with Tantalus. Returning with a roar to the theatre where it was featured as part of Centaur Theatre's 50th Anniversary Legacy Series in 2019, What Rough Beast is Centaur Theatre's Brave New Looks selection for 2023; it runs March 2 to the 11. There will be post-show talkbacks.
What Rough Beast begins as a controversial professor is invited to speak at a progressive college, kicking off a political firestorm and tearing the campus apart. As the factions form and the rhetoric flares, on the other side of the city a young man slouches down the rabbit hole of radicalization with devastating consequences.
Through the story of seven young adults, What Rough Beast engages with topical questions such as: how do we engage with those whose ideas we find hateful? What do we risk in having empathy for the other side, and how, or should we, try to reach across the chasm? This thought-provoking, contemporary play presents a brave new look at some of the most heated questions facing our city, our country, and our world, exploring the danger of dehumanization and the limits of empathy and tolerance. The play contains mature themes and deals with challenging topics such as extremism, bigotry, and gun violence.
The show features Adam Capriolo, Aidan Cottreau, Rahul Gandhi, Charlotte Dennis, Simon Pelletier, Jennifer Roberts and Keren Roberts.
Leading the creative team with set design and projections is potatoCakes_digital, an award-winning, multimedia design and technical integration company started by Emily Soussana & Andrew Scriver; the sound design is by Danna-Rae Evasiuk. Poster design by Solène Lautridou; dramaturg (National Theatre School) is Nick Carpenter; and the stage manager is Kate Hagemeyer.
Theatre Ouest End is hot off the productions of The Covenant and Still Got Something to Say: Six Plays on Age. This intergenerational company believes theatre exists to provoke empathy, challenge apathy, and inspire positive change not only in its audience, but also in its performers, production team, and community.
Tantalus aims to produce thought-provoking works that put the ideas of what it is to be human in the light of modern day.
Rough Beast
March 2-11
At Centaur Theatre, 453 St François-Xavier
Opening night is Thursday, March 2 at 7:30PM
To buy tickets: Centaur Theatre box office (514) 288-3161; $20-$30
Friday March 3rd at 7:30PM
Saturday March 4th at 1:30PM and 7:30PM
Sunday March 5th at 1:30PM
Wednesday March 8th at 1PM and 7:30PM
Thursday March 9th 7:30PM
Friday March 10th at 7:30PM
Saturday March 11th at 1:30PM & Closing at 7:30PM
There will be post-show talkbacks March 5 and 8 matinees and March 9 in the evening
Further information about Theatre Ouest End can be found here: www.theatreouestend.ca/about.html.