Bronzeville Arts Ensemble Presents FLYIN' WEST By Pearl Cleage This Month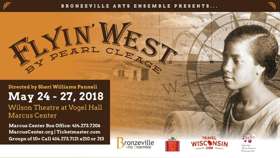 Bronzeville Arts Ensemble will debut its inaugural production of FLYIN' WEST by Pearl Cleage on May 24-27, 2018, at Wilson Theater in Vogel Hall at the Marcus Center for the Performing Arts.
Set in 1898 in the historic, all black town of Nicodemus, Kansas, Pearl Cleage's FLYIN' WEST is the powerful story of four courageous African American women who against tremendous odds take advantage of The Homestead Act and travel west to build new lives for themselves and their families.
The cast includes Milwaukee-based actors J.T. Backes, Tosha Freeman, Justin Lee, Tasha McCoy, Samantha Montgomery, and Malkia Stampley. "The women in FLYIN' WEST work diligently to establish their homestead in a community that is safe, filled with love, and where each may manifest her destiny" said director Sheri Williams Pannell. "The play is set in 1898, yet homeownership and community building is still the American dream for many. The question these pioneering women and our audience must answer is, once you have achieved your dream, how far will you go to protect it?" FLYIN' WEST is sponsored by Black Arts MKE, High Point Fund, TravelWisconsin.com and Marcus Center for the Performing Arts.
The cast of FLYIN' WEST will engage the audience in a brief talk back following each performance. A post-matinee extended talk back will take place on Sunday, May 27th featuring Una VanDuvall, Milwaukee resident and descendant of the founders of Nicodemus, KS, Ms. VanDuvall will speak about the role her family played in the founding and building of the historic and the longest existing African American pioneer town in the United States. She will be joined by Dr. Nancy Backes (dramaturg), Sheri Williams Pannell (director), and the cast of FLYIN' WEST.
The cast of FLYIN' WEST includes: JT Backes as Frank Charles; Tosha Freeman as Miss Leah; Justin Lee as Wil Parrish; Tasha McCoy as Fannie Dove; Samantha Montgomery (Member of Actor's Equity Association) as Minnie Dove Charles, and Malkia Stampley (Member of Actor's Equity Association) as Sophie Washington.
Artistic Staff for FLYIN' WEST includes: Sheri Williams Pannell (Director); Ron Scot Fry (Scenic Designer/Fight Choreographer); Beverly Echols (Costume Designer); Colin Garownski (Lighting Designer); Matthew Lewis (Stage Manager); and Retricia Byrd-Townsell (Assistant Stage Manager).
FLYIN' WEST runs May 24 - May 27, 2018 at the Marcus Center's Wilson Theater in Vogel Hall. Tickets can be purchased at Ticketmaster.com, MarcusCenter.org, in-person at the Marcus Center Box Office, and by phone at 414.273.0276. Groups of 10+ pricing available. Suggested for ages 14 and above.
About Bronzeville Arts Ensemble
Founded in 2013, Bronzeville Arts Ensemble strives to illuminate the black experience in America by developing and creating theater while also providing artistic and educational programming opportunities, collaborating with the local and national community, inspiring healing and positive social change.
About Black Arts MKE, Inc.
We're committed to inspiring creativity in future generations by increasing the availability and quality of African American arts organizations in Milwaukee. Our performance and outreach programs serve over 8,850 at-risk youth and families. In-residence group, Bronzeville Arts Ensemble will presents our annual signature event, Black Nativity by Langston Hughes, a new holiday musical favorite in Milwaukee and is produced in collaboration with the Marcus Center. Black Arts MKE is a proud UPAF Affiliate and Resident Group at the Marcus Center for the Performing Arts. Black Arts MKE is a nonprofit 501(c)(3) corporation.
About Marcus Center for the Performing Arts
Established in 1969, the Marcus Center for the Performing Arts is the premier performing arts community gathering space in Southeastern Wisconsin. As the Marcus Center moves into its 49th year, it continues to build bridges between diverse members of our community through high-quality arts entertainment in the region and the state. The touring Broadway series, sponsored by Associated Bank, is recognized as bringing the best of Broadway entertainment to Milwaukee for the past 20 years and provides opportunities to educate, entertain and engage audiences. The Marcus Center is also the home to the Milwaukee Symphony, Milwaukee Ballet, Florentine Opera, First Stage plus a variety of other important community and family events throughout the year. For more information about events visit the Marcus Center website at www.MarcusCenter.org. The Marcus Center is a private non-profit 501(c) 3 corporation and is a dedicated veteran's memorial in Milwaukee.
Related Articles View More Milwaukee, WI

Stories

Shows
More Hot Stories For You