Shakespeare's MACBETH Announced At Theatre Memphis
Set primarily in Scotland, the action mixes witchcraft, prophecy, and murder in a power struggle for the ages.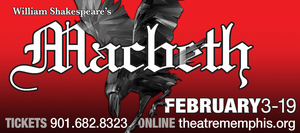 Macbeth, the powerful and dramatic William Shakespeare tragedy, ascends to the Next Stage at Theatre Memphis February 3 - 19, 2023.
Set primarily in Scotland, the action mixes witchcraft, prophecy, and murder in a power struggle for the ages. Three "weird sisters" tell the Scottish general, Macbeth, that he will one day be King of Scotland. Encouraged by his wife, Lady Macbeth, he takes matters into his own hands. He kills the existing King Duncan and actually does become the new regal head of state. Out of paranoia he kills more people and civil war erupts to overthrow him. What goes around, comes around ... to a deadly end.
Director Jeffrey Posson has taken a classic approach to the production that focuses mainly on the concept of fate vs. free will. He states, "Set in the AD 1050's when the actual historical Macbeth reigned, we are presenting this production as a sort of dark ghost story with magic, witches and sinister forces at work. But when three mysterious women declare him the future king, his journey down the blood-red road to power may ultimately destroy his country and his soul. Macbeth is the greatest warrior in all of Scotland and his deeds caution us all to take heed against the darkness within the human heart."
Theatre Memphis Executive Producer Debbie Litch believes, "... in the necessity to keep the classics in front of our patrons. With someone as knowledgeable as Jeff at the helm of one of the most notable works of the Bard, his understanding of the language and the historical aspect of the plot brings the show to life."
As part of an on-going educational effort, talk backs with the cast and director will be offered February 4 and 9, 2023, immediately following the production... moderated by Leslie Reddick.
For more information about Theatre Memphis or this production, please go to https://cloud.broadwayworld.com/rec/ticketclick.cfm?fromlink=2221290®id=140&articlelink=https%3A%2F%2Ftheatrememphis.org%2Fshows%2Fmacbeth-2%2F?utm_source=BWW2022&utm_medium=referral&utm_campaign=article&utm_content=bottombuybutton1.