SAFETY NET Gets Maine Premiere at Penobscot Theatre Company This Month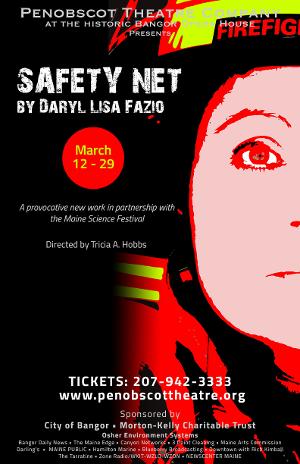 Penobscot Theatre Company, in collaboration with the Maine Science Festival, presents an endearing, humorous and hopeful new play, Safety Net, from March 12-29.
Safety Net, tells the story of a small town's first female fire captain, Chris Dove, as she finds herself on the front lines of that town's opioid crisis. The play chronicles the dynamics between Chris, her childhood friend who's a recovering addict, and her mother.
This is only the second production of this new play by Atlanta playwright, Daryl Lisa Fazio. The play won the coveted 2018 Alliance Theatre Reiser Lab award, was developed in 2019 at Florida Repertory Theatre's PlayLab and had its world premiere this past October at Theatrical Outfit, an Atlanta-based professional theater company.
"Through the years, people in the greater Bangor community have asked me if I knew of a play which addressed the opioid crisis," says Penobscot Theatre Company, producing artistic director, Bari Newport. "While there are certainly plays which focus on individual addiction, Safety Net is the first I have encountered which focuses on the strains and stresses of opioid addiction in a small town. It really spoke to me."
Directed by Tricia A. Hobbs (Wait Until Dark, Fun Home), Safety Net stars local headliners, Julie Arnold Lisnet (Our Town, August: Osage County), Amy Roeder (Ugly Lies the Bone, August: Osage County) and Heather Astbury-Libby (Woody Guthrie's American Song, Mamma Mia). "Audiences may be interested to see Heather, who is widely known as a vocal powerhouse, play a dramatic role," says Newport. "As Chris Dove, she is perfect."
In conjunction with the production, and with support from the City of Bangor, Morton-Kelly Charitable Trust, Osher Environment Systems and Penobscot Community Health Services, pre and post-show talks will accompany each performance. Pre-show conversations will begin an hour before each evening performance and post-show talks will directly follow each matinee production. All talks are free of charge and will be held at the Bangor Opera House.
"Safety Net offers a wonderful opportunity for audiences to delve deeper into this multi-faceted, intellectually provocative new piece," says executive director, Kathryn Ravenscraft. "As we are collaborating for the sixth consecutive year with the Maine Science Festival, all of our pre and post show talks will be led by experts in the field."
These experts include Penobscot County Sheriff Troy Morton, Public Health Director for the City of Bangor, Patty Hamilton, Bangor Fire Chief, Tom Higgins and Gordon Smith, Maine's first Director of Opioid Response. A complete listing of all speakers can be found at www.penobscottheatre.org.
Additionally, as it did for 2019's Fun Home, the theatre company is donating twenty tickets to each performance to first responders, recovery and addiction ally groups from around the state. The name and mission statement of groups present will be shared at the beginning of each performance. Groups interested in taking advantage of this offer should contact nicole@penobscottheatre.org
Safety Net plays from March 12 - 29 at the historic Bangor Opera House (131 Main Street, Bangor). Performances run Wednesdays-Sundays. Performance times vary. See website for details. Discounts are available for subscribers, seniors, military, students, educators and groups of eight or more. Ticket prices range from $15 - $40 and can be purchased by calling the box office between 12pm - 5pm, Monday - Friday at (207) 942-3333 or by visiting www.penobscottheatre.org.