Review: SWEET GOATS & BLUBERRY SEÑORITAS: Poetic Sensibility & Lingering Sweetness
A Memory Play at Portland Stage
The premiere of Richard Blanco and Vanessa Garcia's SWEET GOATS and BLUBERRY SEÑORITAS at Portland Stage heralds the magical debut of a haunting new dramatic voice. Poet Blanco and his collaborator Garcia have created a delicate, sad-sweet memory play, inhabited by six memorable and widely disparate characters, whose shards of reminiscence come together in the cold winter landscape of a small Maine town.
Drawing on his own experience as a Cuban immigrant growing up in a strange new land, Blanco weaves together the stories of this oddly matched group of neighbors, some native Mainers, most "from away," the protagonist Beatriz and her uncle displaced Cubanos, and Marilyn, Beatriz's mother, an imaginary presence in memory or at the end of a long distance phone line. Episodic, sometimes disjointed especially at the start, the shards of memory begin to coalesce as the play progresses. There is a tone of crystalline delicateness - subtle, fragile, precious about each of the quiet little revelations that bind these six together, culminating in a moment of heart-rending clarity and a poetic eruption of repressed feelings and memories all leading to the joyous redemptive conclusion. There is abundant use of metaphor and symbol from the wounded birds and visiting cardinals, to the shells which Beatriz uses to give an energy reading, to the central metaphor of baking in all its earthiness and tangibility. Beatriz has fled Miami and her past to make a home among strangers in Maine, but she brings with her all the ingredients of that past and shapes them into remarkable new creations.
Sally Wood's direction is subtle and spare. She moves the players with grace, building to the passionately liberating funeral dance at the end. She helps the actors find the quiet moments and highlights the few more explosive ones skillfully. Hers is a hand that is gentle and guiding, resulting in an extremely organic ensemble.
Anita Stewart's lovely set -(which spills out into the lobby)- conjures up the stark moonlit nights of Maine contrasted with the sun-drenched palm trees and beaches of Miami - the latter contained in a large box which opens as Beatriz summons her complicated connections with her heritage. There is a touch of the surreal in the sculpted and origami birds and the floating full moon that waft in and out. SeifAllah Salotto-Cristobal captures these contrasts in his lighting design that literally radiates the heat of Miami and the sparkling crystalline blue -green cold of Maine. Sound Designer Seth Asa Sengel adds the subtle sounds of bird calls and the underscored musical transitions. Lily Prentice uses her costume designs to delineate character. Meg Lyndon anchors the production as Stage Manager.
As the central character, Ashley Alvarez makes Beatriz delightfully original... a young woman rebelling quietly, searching, funny and warm and full of bittersweet memories. JL Rey portrays her uncle Eme as a lovable bear of a man, full of wisdom and life. Jezabel Montero gives Marilyn, Beatriz' mother, a tawdry toughness that conceals the depth of her maternal love and the repressed fire in her soul. Karen Ball portrays Georgette with great sympathy - a woman longing for a "forever" love, waif-like, lost, but not defeated. Kevin O'Leary etches an unvarnished portrait of Maynard, the only native Mainer in the lot, whose rough exterior hides a big heart. As Blake, Beatriz' gay friend and neighbor transplanted from Kentucky, Dustin Tucker touchingly conveys the character's feelings of being different in a different world - sometimes adrift, often deeply connected emotionally. His vulnerability and gentle self-effacing humor add to the tender portrait of this community.
Shepherding one of contemporary literature's loveliest poetic voices to the stage, Portland Stage deserves huge congratulations for developing and producing SWEET GOATS AND BLUBERRY SEÑORITAS. As with their previous work with Monica Wood and John Cariani, this collaboration with Richard Blanco and Vanessa Garcia is a memorable one and - one can hope - the beginning of something wonderful.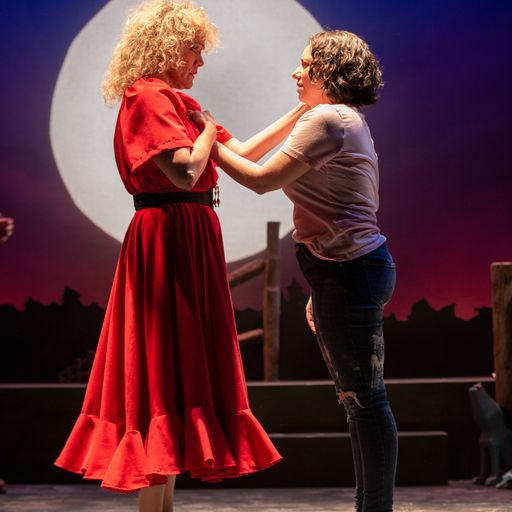 Photos courtesy of Portland Stage, No Umbrella Media, photographers
SWEET GOATS AND BLUBERRY SEÑORITAS runs from January 25 - February 12, 2023 at Portland Stage, 25A Forrest Ave., Portland, ME 207-774-0465 www.portlandstage.org