BWW Review: Portland Stage Opens 45th Season with BEN BUTLER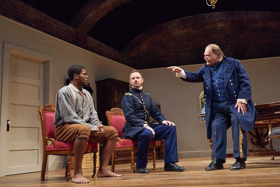 Marking its 45th season Portland Stage opened with Richard Strand's 2014 drama about the Union General Benjamin Butler's unintentional, but heartwarming sheltering of fugitive slaves during his command of Fort Monroe, Virginia, at the start of the Civil War. In a well-cast, elegantly produced staging the company offers a quirky, witty, often whimsical look at four characters who cross ideological swords and skirmish for high stakes not on the battleground but with a war of words, cleverly turned logic, solipsisms, and wittybadinage - all of which result in a remarkable turn of events that defies stereotypes, race, and convention.
Strand's historical premise for the plot and Benjamin Butler's unconventional behavior as a commander afford the playwright the opportunity to apply a layer of humor and fantasy and to create a protagonist who is maddeningly lawyerly, endearingly long-suffering and frustrated, and blatantly not a simple man of war. Rather, he is a man able to listen, to reason - however circuitous - and to learn, and this becomes the crux of the play. For, indeed, the entire central trio, Gen. Butler, his adjutant Lt. Kelly, and the fugitive slave Shepard Mallory, despite intense verbal (and a couple physical confrontations), do listen to each other and learn from each other, ultimately arriving at a place of harmony.
Strand uses language as a tool and as a conceit. All of the characters use words with great care, parsing meanings, searching for truth, and ultimately finding it by means of a convoluted path that leads through anger and humor. The first act, especially the first scene, meant to establish the characters' thinking and verbal-emotional-behavioral parameters - is a bit long and begins to wear a bit thin, though by the second act, when these verbal threads re-emerge, one understands the intent if not the excess. The second act is far more tightly written, weaving together character and plot with dialogue that is rapid fire, nuanced, and pure fun.
Anita Stewart's unit set which depicts General Butler's office is realistically evocative of the blue-gray of the fort and period accouterments of the General's rank, and the historically accurate Union and Confederate uniforms and simple slave attire add authenticity. The single room and the nature of the action - only the General moves freely around his office as others stand at attention or listen and occasionally react - explains Daniel Burson's somewhat prosaic staging, but the director makes up for this with insightful probing of the characters themselves, especially the unlikely mirror image pair of the enslaved Shepard Mallory and General Butler. Gregg Carville provides the serviceable lighting, and sound designer Chris Fitze uses period ballads to create the somber wartime atmosphere. Miles C. Hatch provides the smooth-running stage management.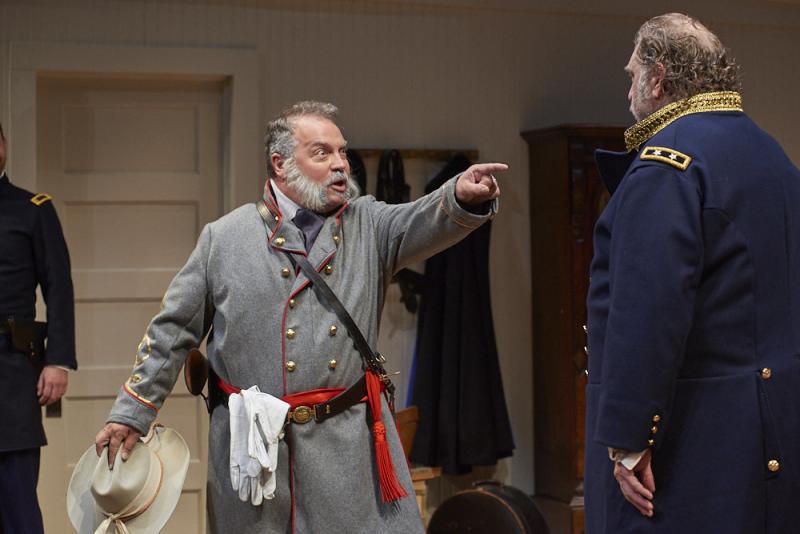 The quartet of actors is all excellent. Ron Orbach as Benjamin Butler has the lion's share of the action, and he delivers a funny, endearing, very human portrayal of a man new to military life who is able to think outside the proverbial box, a man willing to interact with another human being and take away something of value that changes his life. Cornelius Davidson as Shepard Mallory makes for a mercurial foil - arrogant and persuasive by turns, enslaved and abused but not mastered, resourceful and daring, vulnerable and winning. Michael Dix Thomas as Lt. Kelley does an excellent job making the leap from rigid West Point soldier in act one to enthusiastic defender of the unconventional plan to rescue the fugitive slaves in act two. Corey Gagne as the Confederate Major Cary matches Butler in their confrontation scene with verbal grace, dignity, righteous anger, and more than a touch of humor. All four performances are so deeply human that any flaws in the play itself begin to disappear as the audience invests in the emotions and storyline of these characters.
As Anita Stewart says in her opening video remarks created for this anniversary, Portland Stage is committed to producing plays that are issue driven, but when those issues are cloaked in fine use of language, believable, engaging characters, and a healthy dose of laughter, the weight of those words and those situations becomes even more potent.
Photos courtesy Portland Stage, photographer Aaron Flacke
Ben Butler runs at Portland Stage, 25 Forest Ave., Portland, ME, from Sept. 25- October 21, 2018 www.portlandstage.org 207-774-0465