BWW Review: Deconstructing a Marriage: A DOLL's HOUSE PART 2 at the Good Theater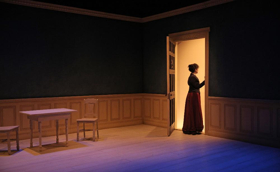 When Nora Helmer slammed the door behind her 139 years ago, the fallout from her rebellion not only heralded the bold beginnings of modern drama, but they also chartered a future for feminism. Henrik Ibsen's play A Doll's House has remained a classic of the stage, as fresh, relevant, and provoking as it was in the late 19thcentury. And because the issues raised then remain ones still to be reckoned with today, Lucas Hnath's 2017 sequel, A Doll's House Part 2, continues to fascinate and audiences. The new production at Portland's Good Theater brings the characters and their crises to life with incisive power.
Hnath sets his play fifteen years after Nora has abandoned her marriage, children, and home for a difficult voyage of self-discovery. In the tautly paced ninety minutes of the play, she reveals that journey, its perils and joys, and she continues to raise knotty and, perhaps eternally unsolvable, issues about gender relationships and the institution of marriage. Returning to her old home with a knock less dramatic than the sound of her exit, Nora Helmer comes in search of the divorce that will give her true legal freedom. Though she has made great strides in shaping her own destiny and finding her new voice, as a woman, she still finds herself at the mercy of a male-dominated society. Navigating her way out of her risky situation proves to be more emotionally ambiguous and draining than she may ever have imagined, as she confronts her husband, the daughter she scarcely knows, and her scolding old nursemaid.
Hnath's drama with its mordent dialogue careens through a maze of ethical quandaries, often pitting one brutal truth against another. He skillfully manipulates audience sympathies - sometimes with his heroine, sometimes with her family - not sparing us the less likeable aspects of his characters at the same time that he creates complete empathy and even awe for the difficult battle in which they engage. The resulting drama builds brilliantly to a raging climax, followed by an almost tender dénouement, before the door closes once again.
Steve Underwood directs with a sure hand and an unsparing, unvarnished appreciation of the deeper truths of the piece. He enhances his concept with his own set design (props by Jared Mongeau) - an angular set of bare walls dominated by that ominous door and minimalistly furnished. The look suggests a room that has been stripped of the artifice of Ibsen's "doll's house" - cold, barren, but honest. And because there is almost nowhere for Nora or Torvald to sit, the characters pace like caged lions, railing against the prison which contains them. Ian Odlin's pale arctic hite-blue light captures the Scandinavian aura, while Justin Cote's 1894 costumes recreate the period and tell the story of the characters' intervening years.
Abigail Killeen makes a stunning Nora Helmer. So completely transformed from the china doll figure of Ibsen's drama, she is fierce, relentless, uncompromising in protecting her hard won freedoms. She manages to project a combination of selfishness, cruelty, and yet a luminous, awe-inpiring courage and joy. It is an incandescent performance. James Noel Hoban makes the perfect foil as her chastened husband Torvald, whose continued adherence to convention limits his transformation. However, in the penultimate scene when he finally does something so completely different and comes in touch with his deeper emotions, his vulnerability is genuinely poignant and even redeeming.
Hannah Daly gives a nicely nuanced performance of their daughter Emmy who weaves her own web of gentle deceit in order to survive and get what she longs for out of life. She seems a clever reincarnation of Ibsen's Nora, made cunning by her own losses. Maureen Butler is a credible old servant Anne Marie, who is not without her own agenda.
Once again the Good Theater delivers contemporary drama that is exhilarating. challenging, and deeply engaging. In the wrong directorial hands A Doll's House Part 2 could become a rant on gender, feminism, marriage. Instead, it is a vibrant, compelling exploration that makes a true impact on the audience.
Photos courtesy of the Good Theater, Steve Underwood, photographer
A Doll's House Part 2 runs from February 20- March 17, 2019 at The Good Theater, 76 Congress St., Portland, ME 207-835-0895 www.goodtheater.com
Related Articles View More Maine

Stories

Shows
Born and raised in the metropolitan New York area, Carla Maria Verdino-Süllwold took her degrees at Sarah Lawrence College and Fairleigh Dickinson University. She began (read more...)