KIDS IN THE ROTUNDA Returns to Overture
Learn more about the lineup here!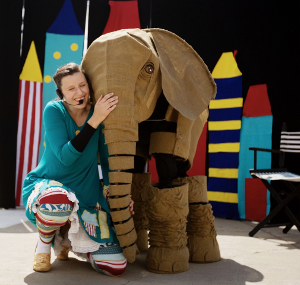 Kids in the Rotunda, Madison's favorite family-friendly Saturday arts performance series, presents four local performance groups on Overture Center's Rotunda stage in February, including returning favorites The Jerry Ensemble, James the Magician and Tom Pease as well as newly featured artist Jolie Canoli.
Featuring toe-tapping rhythms, mind-blowing magic, incredible dancing, engaging cultural arts performances, silly sing-alongs and more, our popular Kids in the Rotunda series for families is sure to engage, educate and entertain your whole family. Enjoy a diverse lineup of local, regional and national performers selected exclusively for children ages nine and younger and their families.
The Rotunda Café will be open during shows to offer coffee, juice and snacks for sale with part of the proceeds benefiting Overture Center for the Arts. In addition, families are invited to participate in "Arts After Overture" in partnership with the Madison Public Library on Saturday, Feb. 11 at 9:30 a.m. The session provides arts experiences related to the morning's Kids in the Rotunda performance.
A livestream option will be available on Saturdays, Feb. 4 and Feb. 18. Visit the Kids in the Rotunda Facebook page or follow Overture's Kids in the Rotunda web page for updates.
Free 45-minute performances will be held at 9:30 a.m. and 1 p.m. The 1 p.m. performance will be American Sign Language interpreted. Please call 608.258.4447 if you need to be seated within sight of the interpreter for live performances.
FEBRUARY KIDS IN THE ROTUNDA LINEUP
Saturday, Feb. 4 - The Jerry Ensemble (in-person and livestreamed)
The Jerry Ensemble is going to take us to the Hundred Acre Wood where Winnie the Pooh is once again in search of honey. Come along with Pooh and his friends Tigger, Piglet, Rabbit and Owl on an adventure to find Christopher Robin.
Saturday, Feb. 11 - James the Magician (in-person)
Since 1986, James Ember has been creating and performing magic. He has performed his award winning, interactive, comedy magic show throughout the world. Performing magic with a wild passion since he won his first talent show at the age of six, his exceptional magical talent has been showcased at school programs, during weddings, at corporate events, on stages, on the street and everywhere in between. There's one thing that drives every single one of his performances - he knows joy is contagious.
Saturday, Feb. 18 - Jolie Canoli (in-person and livestreamed)
Your kids will never forget heartwarming author visits from Jolie Canoli! Jolie has traveled worldwide performing shows using mime, illusion, puppetry and original stories. As performing artist, Jolie Canoli and her cast of puppet characters offer an entertaining family experience while awakening childlike wonder.
Saturday, Feb. 25 - Tom Pease (in-person)
One of the series' most popular performers, Tom Pease engages children with imaginative songs and humor. Families around the world love his recordings, especially on long car trips! The power of reading, the universal language of song and the healing effects of laughter are all messages found throughout his performance. Tom's show is highly animated, laced with songs and stories, leaving audiences with a renewed appreciation for their own sense of place and community.
Kids in the Rotunda is sponsored by the American Girl Fund for Children, Madison Gas & Electric Foundation and UnityPoint Health Meriter. Additional funding provided by Kuehn Family Foundation, Ian's Pizza on State and contributions to Overture Center for the Arts.