BWW Review: THE HUNCHBACK OF NOTRE DAME at Capital City Theatre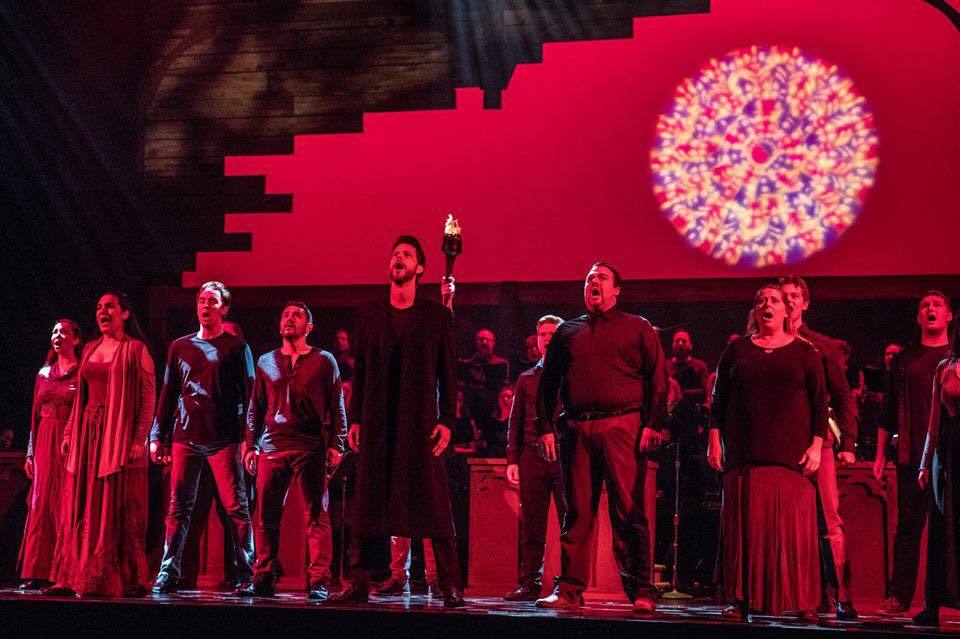 From the first goose bump inducing crescendo to the final tear jerking note played, this musical will affect you. You'll then take it home with you, think about it, and it will affect you again. It's that good!
Julian Decker's physicality of Quasimodo, while being outstanding, was more importantly honest and real. He truly embodied the pain, loneliness, and turmoil of the character. Witnessing his emotional transformations as he sneaks away from his sanctuary, and all that transpires because of this is heart wrenching. It is a beautiful performance.
Ryan Knowles, portrayal of Dom Claude Follo, while just as honest and impressive had quite the opposite affect on me, as it should have. His xenophobic diatribe concerning the Gypsies could have been ripped out of today's headlines. At one point during the performance, as Follo confronts Quasimodo about Esmeralda I was so filled with outrage at this narcissistic psychopath that I wanted to scream from the balcony, "Leave him alone damn you!" Knowles owned this role!
Speaking of Esmeralda, Sydnee Winters was spell binding! Esmeralda is an empowered woman who was not going to be saved by any man and did not put up with any nonsense. Witnessed through the lens of our "Me Too" awakening, we see this is an age-old problem that we are just now dealing with. Esmeralda, stands up, fights back, even when she loses she never caves! She is indeed a force to be reckoned with and with her kindness and softness towards Quasimodo, we see why he loves her so.
This show spoke to me on a personal level. I did not expect that. I have read the Victor Hugo novel. I have seen the Disney animated movie, neither had any real affect on me. This, however, this was different.
I am certain that director/choreographer Brian Cowing and musical director/conductor Andrew Abrams put in a great deal of work making this complex piece appear to be simple and effortless. I appreciate that, as you read on keep that statement in mind.
What I loved most about this production was the simplicity, coupled with the sheer enormity of the cast. There were 37 members in the chorus. That was just the chorus! The pit held 23 people (most of whom played a multitude of instruments and YAY for a big full sounding orchestra!) the ensemble had 16 members, and of course there were 5 leads! That is around 80 people on stage! That is a lot of moving parts.
Yet, the production had a "Black Box" feel of intimacy and minimalistic design. No grand set changes or elaborate costumes. The stage itself was introcate, yet the movable set consisted mostly of, 8 chairs. I think there were 8. And with those chairs, so much was accomplished. It was beautifully done!
The actors carried the show very well and with no fancy baubles to distract the audience, they were truly mesmerized by the relationships and raw emotion of the story, as I am sure you will be too.
Because of all of this, I finally got it. The Hunchback of Notre Dame finally hit home for me, as I believe it will for you. Go! See it before it is gone forever. Let it affect you, and maybe you too will leave the theater saying, "Damn you Andy, making me cry in the theater again." Enjoy.
WHEN: Fri, Jun 1 2018 -7:30 pm; Sat, Jun 2 2018 -7:30 pm; Sun, Jun 3 2018 -2:00 pm
WHERE:
Overture Center for the Arts
201 State St -Madison WI 53702
GET TICKETS: $25-$45 capitalcitytheatre.org or at Overture Box Ofc 608/258-4141
Recommended for ages 10 & up
CCT INFO 608/571-4214 info@capitalcitytheatre.org
production features Hamilton's Syndee Winters as Esmeralda. Among her Broadway credits, Ms Winters also recently played an Apostle on the NBC live broadcast of Jesus Christ Superstar. Also featured is the original Hunchback cast member and Broadway performer, Julian Decker as Quasimodo.