BWW Review: Banks Brothers Let It Rip in THE COUSIN CLEOTHA WAR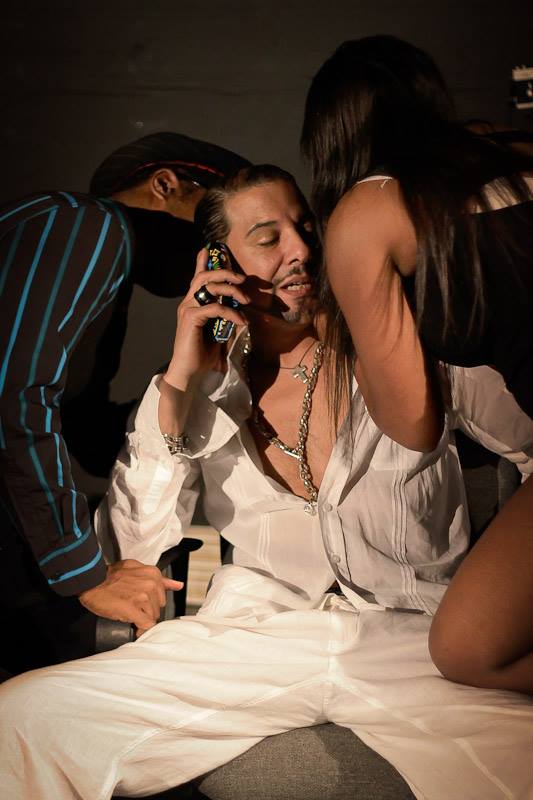 Somewhere back in the mists of time, maybe in the Stone Age, a witty Neanderthal, sitting beside the campfire telling stories to his mates, suddenly bent over, broke wind, and brought down the cave. In that moment, comedy was born.
---
Slowly, over the millennia, there followed pratfalls, banana peels, pants falling down (once pants were invented), pies in the face, and sex jokes. Lots of sex jokes. And this was before dialogue as a concept had been thought of. Theater for the masses was rude, crude, and in your face. Social niceties were not a concern, much like the current election. Noel Coward was still in the very distant future.
This state of affairs lasted much longer than one might think. Touring companies throughout Europe in the Middle Ages played outdoors to raucous crowds of villagers looking for relief from the brutal reality of their days of shoveling cow pies, and they were not in the mood for subtlety. Moliere and Restoration comedy was bawdy and uninhibited. Your teacher didn't tell you, but Shakespeare was downright dirty. It's true that the Victorians cleaned things up a bit, but the theater has been reacting to that ever since. In olden days a glimpse of stocking was looked on as something shocking, now Heaven knows, anything goes. And this show sets out to prove it. So now we have THE COUSIN CLEOTHA WAR, a new comedy by writer and director Vincent Victoria, playing a short run at Midtown Art Center. The Banks Brothers are one of a small band of hardy players who love theater, and they work hard to produce it. They remind me of the good old days of guerilla theater back in the 90s, when I got my start. The plot goes as follows: Hollywood agent Jude Arnold (Keith D.S. Harris II) has his hands full representing dueling actresses Carmen Aretha (Shay Bernard) and
Gloria Whitney
(Terrie Donald). It seems there is a successful movie franchise entitled, for some reason, COUSIN CLEOTHA, and Carmen is the star, but the studio thinks she's past her prime and wants her replaced. Longtime rival Gloria wants the part, but Jude has another aspiring "actress," Rosalyn Baker (Teri Mills) in mind. Flamboyant director Bass Holman (Dirk B. Richardson) doesn't really care who plays it, as long as Jude plays along with him. Add to the mix Jude's mousy secretary, Jackie (Iyonna Brown), who has delusions of grandeur, Ms. Boo Gee (Jacqueline Rudison) as Gloria's pushy acting coach, and ensemble players Ashley Hasker, Oni N. Muhammad, and Robert L. Jacobs Jr. as the stars' coteries, the Cockroaches and the Unicorns, and the recipe for disaster is complete. I won't go any further with the plot; you wouldn't believe me anyway. Suffice it to say that writer and director Victoria pretty much lets fly and stands back, and for two hours the cast runs amok in a sea of bawdy dialogue and action that would have had them rolling in the aisles in 14th century Canterbury, except there weren't any aisles. As it is, the audience at Midtown screamed. The actors screamed. I wanted to scream, but I didn't. Now don't get me wrong. I'm not comparing THE COUSIN CLEOTHA WAR to Moliere. I'm not even comparing it to the Marx Brothers. The show is significantly flawed in script, direction, performance, costume, lighting and sound. But if you like your comedy raw, and you want to see just how far it will go, this is the show for you.
You only have the weekend to see THE COUSIN CLEOTHA WAR. The play runs next Friday, Saturday and Sunday, October 7, 8, and 9. Midtown Art Center 3414 La Branch. For tickets and more information, call 281-832-6380 or visit banksbrothersproductions.com.