BWW Review: A Darker SWAN LAKE Glides Onto Houston's Jones Hall Stage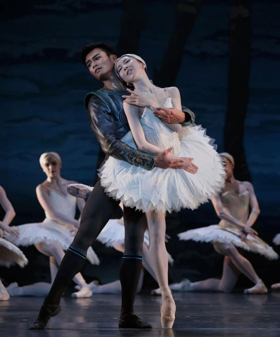 SWAN LAKE, every little girl's dream of ballet, the ballet the tutu was seemingly invented for, has always had an adult side. A darker side, if you will.
Houston Ballet's Stanton Welch has chosen to emphasize this darkness by opposing it to the brighter aspects of the beautifully-told love story and palace glamour to present a more equal rendering of the piece, and the results are spectacular.
Set to the complete score of Tchaikovsky's original composition, Mr. Welch takes full advantage of the opportunity presented by an unabridged production to present his dancers at their dazzling best, and they do dazzle.
The first adjective that came to mind as I watched was "precision". SWAN LAKE demands a precision and synchronization both to the music and to the other dancers not found in every ballet. In a sequence where on misstep, one bad angle, and the piece is ruined.
It is here that the corps de ballet, both male and female, excel. They never falter. The swans move as one body, and the huntsmen's leaps are flawlessly timed. This is the thrill of pure dance, and it is a pure pleasure to see.
No less precise are the principals, Yuriko Kajiya as Odette/Odile, Chun Wai Chan as Prince Siegfried and Christopher Coomer as Rothbart. Together or solo, their artistry shines through, while their energy and emotion sustain the tale. They are marvelous.
The libretto is simple: Prince Siegfried, told by his mother that he must chose a bride and assume his adult responsibilities, shows no interest in the proposition, and goes hunting with his friends. Deep in the forest, they drink and make merry.
Still melancholy over his mother's ultimatum, Siegfried goes ahead, thinking to be alone with his thoughts, when he spies a beautiful girl, Odette, in a clearing, and falls in love with her. But Odette tearfully explains that she has been bewitched by the evil sorcerer Rothbart, and doomed to be a swan by day, and human only at night. Rothbart then appears and orders Odette to the lake, there to swim with the other swans and escape the Prince's suit.
The Prince, as all princes in fairy tales seem to do, must choose his bride from a bevy of suitable princesses, whom his mother parades before him, commanding each to dance for Siegfried's delectation.
Suddenly, a young woman appears, dressed head to toe in black. She is the swan Odile, mirror image of Odette, and daughter of Rothbart. The prince, thinking she is Odette, is smitten, and proclaims her his choice for a bride.
As Rothbart and Odile proclaim their triumph, Odette enters, and seeing what has happened, runs from the room. Siegfried pursues her.
He finds her at the lake, being consoled by the other girls. He explains to Odette that he thought she was Odile, and Odette forgives him.
But all does not end happily. Rothbart and Odile appear, and Rothbart tells Siegfried that he must honor his choice and marry his daughter. Siegfried refuses, and, taking Odette's hand plunges with her into the lake, drowning them both.
Curtain.
The production is sumptuous from beginning to end.
Kristian Fredrikson, costume and scenic designer, goes all out with a faintly oriental palette reminiscent of Klimpt. The palace ballroom is ablaze with gold and scarlet, lit by enormous flickering chandeliers, while lighting designer Lisa J. Pinkham illuminates the scenes brilliantly.
Under the direction of Music Director Ermanno Florio, the orchestra was perfection, with several stand-out solo performances.
I thoroughly enjoyed the performance, coming dangerously close to running out of adjectives. But never fear, when they are called for, I can always find more.
You have this weekend to enjoy SWAN LAKE, performing at JONES HALL through Sunday.
Gary Laird is a former professor and administrator at Lamar University, a playwright and producer/director active in the Houston theater scene since the early 90s. (read more...)