LE CABARET BURLESQUE is Now Playing at La Nouvelle Seine
Performances run through April 29.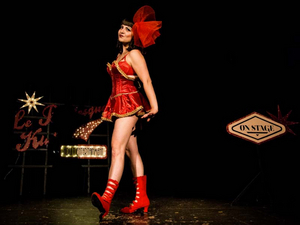 Le Cabaret Burlesque is now playing at La Nouvelle Seine.
Uniting cabaret and cheeky comedy, burlesque saw its glory in Paris throughout the late 19th century, before spreading to all corners of the globe. Making a triumphant return to the Parisian stage in this unique collection of acts, prepare to discover and rediscover the art of burlesque, as this show breathes new life into the age-old Parisian tradition!
The show features a collection of talented performers each with a particular style combine glam and rock in hilarious fashion. The retro aesthetics of this intimate show make for a quintessentially Parisian cabaret as you've never seen before!
With a touch of lipstick, a dash of classic cabaret, lots of glitter, and revealing dances, femininity and beauty are represented in all varieties through every facet of movement imaginable. A provocatively comedic performance sure to leave you laughing and clapping along!
LOCATION
La Nouvelle Seine
Péniche sur Berges, en face du 3 quai de Montebello, 75005 Paris
Capacity 110 seats
DURATION
1h 10min - No intermission
DETAILS
Cabaret dance and music
Recommended for ages 12 and up
Includes a small amount of spoken French