Actors Theatre of Indiana Announces Three New Shows at Studio Theatre
Learn more about the lineup here!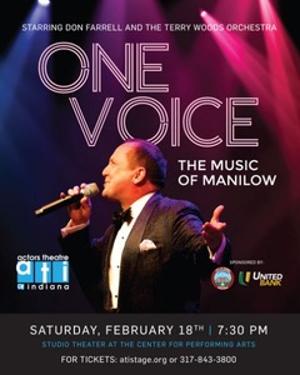 If you are a fan of music and magic, you're invited to head to The Studio Theatre in Carmel, IN for three amazing FUNdraiser events to support Actors Theatre of Indiana.
Actors Theatre of Indiana is the resident professional theatre company of The Studio Theater at The Center for the Performing Arts in Carmel, IN. Their mission: to celebrate the power of theatre and contribute to the quality of life in central Indiana by offering high quality professional theatre performances and programs that engage, inspire, educate and entertain.
First up is ATI's GREATEST HITS, VOL. 1! This is a very special and unique evening as ATI invites you to enjoy some cocktails on them while you take in an evening of Musical Theatre, benefitting Actors Theatre of Indiana.
Join ATI's Co-Founders and well-known local actors as they recreate their past performances from ATI hit shows such as CHICAGO, A YEAR WITH FROG AND TOAD, RUTHLESS, Forbidden Broadway, SWEENEY TODD, MILLION DOLLAR QUARTET, BEYOND THE RAINBOW and so many more! Tickets are $50 each for this Saturday, February 4, 2023, show. The show starts at 7:30 pm at the Studio Theatre.
Up next is SLEIGHT OF MIND: Magician Jon Mobley. For only $25, prepare to laugh and be amazed! Jon Mobley attracts audiences around the world with his magnetic personality, quick wit, and jaw-dropping surprises. He was recently featured on Penn & Teller: Fool Us in Las Vegas, and can also be seen headlining at the historical Chicago Magic Lounge. Sleight of Mind is an interactive experience guests rave about long after the event.
This magical event takes place Saturday, February 11 at 2 pm.
On Saturday, February 18, plan your post-Valentine evening with ONE VOICE: The Music of Manilow. The show begins at 7:30 pm with tickets only $45 each.
Are you a "Fanilow"? The soaring choruses. The romantic despair. The key changes. His music touches people around the world. Come to The Studio Theater and celebrate the one who 'wrote the songs' with such romantic, lush, and melodic melodies that shaped the songbook of generations of music lovers! Who can deny the impact of songs like "This One's for You", "Looks Like We Made It", "Mandy", "Weekend in New England", "Could It Be Magic", and so many others! Don Farrell and the Terry Woods Orchestra will guide you on an evening of Manilow stories and music that will have you up and dancing in the aisles!
An award-winning Equity Professional Theatre company, Actors Theatre of Indiana is now in their 18th season of high-powered theatrical productions, world premieres and innovative community works. These fundraising shows are an excellent opportunity to help ATI continue with their mission while having a fantastic time.
To check out their upcoming shows and other programs, visit their website at ATIstage.org. Tickets will be on sale starting Thursday, January 19 at 10:00 am - 317-843-3800.