THE SHOE PROJECT Comes to the Gateway Theatre in March
The project runs March 11 & 12 at Gateway Theatre (8529 Gateway Blvd).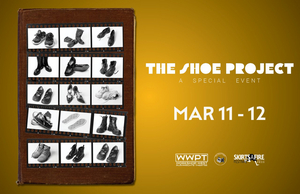 Presented by SkirtsAfire Festival and Workshop West Playwrights' Theatre, The Shoe Project 2023 is Edmonton's second live iteration of this compelling project, March 11 & 12 at Gateway Theatre (8529 Gateway Blvd).
The Shoe Project is a national initiative that amplifies the voices of Canadian immigrant and refugee women through storytelling. Whether selected by choice or imposed by circumstance the shoes we wear can make or break a journey, shape our experiences, and open doors to our future.

In December, a group of immigrant and refugee women began working with veteran Canadian playwright Conni Massing to write stories of their arrival and adaptation to Canada centred around a pair of shoes they have worn. When their stories are completed, each woman will be coached by local theatre professionals and then tell their story for audiences in a revelatory public performance.
Following the show on March 11th, stick around for a special musical performance by 2022 Shoe Project participant, Noreta Lewis-Prince Tickets for The Shoe Project are $21 - $27 (+ applicable fees) and are available now through Fringe Theatre, in person at the Fringe Theatre Adventures Box Office, or by calling 780 409 1910. There are 10 Pay-What-You-Can tickets per performance and more information can be found at SkirtsAfire.com. Check out their Festival Passes to get the most out of their jam-packed 11 days of programming. About The Shoe Project Charity:
The Shoe Project's mission is to advance education by providing programs, courses, workshops and seminars to immigrant and refugee women to develop their written and oral skills, as well as their leadership skills.