Plano Symphony Orchestra To Charm Audiences This Month With YOUNG ARTISTS & SYMPHONIE FANTASTIQUE Concert
The concert includes performances by the three grand prize winners of the 2023 Collin County Young Artist Competition and concludes with Berlioz's romantic work.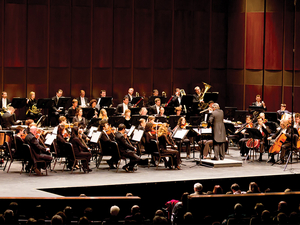 The Plano Symphony Orchestra will celebrate the grand prize winners of the Collin County Young Artist Competition when the three young musicians Melody Guo, Nicole Johnson, and Elim Wong open the March 18 concert with their winning concertos. Following their performances, the orchestra will close the evening with Berlioz's Symphonie fantastique, one of the most imaginative symphonies ever written.
The Young Artists and Symphonie Fantastique concert will be performed at Christ United Methodist Church (3101 Coit Road, Plano) at 8 PM on Saturday, March 18, 2023. Tickets can be purchased through the Plano Symphony Orchestra Box Office (972-473-7262/planosymphony.org). Tickets will range in price from $23-$78 and $15 for student tickets.
"Every year, this concert reminds us that the future of orchestra music shines brighter than ever!" commented PSO Executive Director Gregory Patterson. "We love seeing these young musicians and the joy in their performances. It's even more rewarding to hear from past participants about how the experience positively affected them even many years later."
The 2023 Grand Prize Winners of this year's Young Artist Competition are:


Melody Guo, piano: At 15 years of age, Ms. Guo is a sophomore at Townview School for the Talented and Gifted in Dallas. She has been playing the piano for 10 years and currently studies with Dr. Alex McDonald. Her previous teacher was Mr. Yi-Fan Liu. Melody has won several awards at the Dallas Symphonic Festival and Dallas Solo Competition from 2016 to 2023. In addition to the piano, she has played the violin for nine years.
Nicole Johnson, clarinet: At age 17, Ms. Johnson is a junior at Liberty High School in Frisco. She has been playing the clarinet for five years. Her teacher, Deborah Fabian, is the principal clarinetist of the PSO and Principal Lecturer of Clarinet at UNT. In addition to clarinet, Nicole has played the violin for 14 years. She has been in the GDYO (Greater Dallas Youth Orchestra) for nine years.
Elim Wong, violin: Ms. Wong is a 12-year-old sixth grader at Schimelpfenig Middle School in Plano. She started learning the violin when she was 4 years old and has been a student of the late Jan Mark Sloman and Ms. Eun-song Koh for the past four years. Singing is another one of Elim's many talents. As part of the Dallas Symphony's Children's Chorus, she was chosen to sing the child solo part at the Dallas Symphony and EarthX film concert - The Way of the Rain - Hope for Earth.
To learn more about The Young Artists and Symphonie Fantastique concert and other PSO events including the concerts recently announced as part of next year's 41st season, visit planosymphony.org.
Established in 1983, the Plano Symphony Orchestra (PSO) has gradually expanded its mission and programming to serve the greater North Texas metro area. Originally named the Plano Chamber Orchestra, the change to "Symphony" in 1998 reflected a broadening of scope and repertory. Currently presenting eight subscription concerts, an eight-concert, interactive Family Concert Series, and over 100 solo, ensemble, and educational programs, the PSO embodies outstanding artistic excellence, active community engagement, and sound fiscal responsibility.

The Plano Symphony Orchestra is supported, in part, by the City of Plano, Tammy and Charles Miller, The Andrea-Mennen Family Foundation, TACA, The National Endowment for the Arts, Texas Commission on the Arts, Rea Charitable Trust, the Perot Foundation, Atmos Energy, AWARE Foundation, Blue Cross and Blue Shield of Texas, The Dallas Morning News, Ebby Halliday Realtors, The Plano Symphony Orchestra Guild, Dianne and Marion Brockette, City of Frisco, City of McKinney, City of Richardson, First United Bank & Trust, Frisco Association for the Arts, Frost Bank, H-E-B | Central Market, Medical City Plano, Sandy Nachman, NYLO Hotel Plano, Wanda and Cliff Parker, Retirement Planners of America, Signs By Tomorrow, SoloShoe Communications, Carol and William Tempest, Texas Health Presbyterian Hospital Plano, Veritex Community Bank, Renaissance Dallas Richardson Hotel, and hundreds of individual donors, foundations, and corporations who make transformative gifts to the PSO.