Review: ALLEGIANCE Musically Celebrates the Power of the Human Spirit
George Takei is known for his founding role as Mr. Sulu in the acclaimed television series Star Trek and as an influential social media icon. But long before that fame, Takei was born in Boyle Heights and spent his childhood in the Rohwer Incarceration Camp in Arkansas and later at Tule Lake in Northern California during World War II. His story of resilience and hope is the inspiration for ALLEGIANCE, a new Broadway musical making its Los Angeles premiere, co-produced by East West Players (EWP) and Japanese American Cultural & Community Center (JACCC) at JACCC's 900-seat Aratani Theatre in Los Angeles through April 1, 2018.
This new production of ALLEGIANCE is directed by East West Players' Producing Artistic Director Snehal Desai, with Marc Macalintal as Music Director and Rumi Oyama as Choreographer.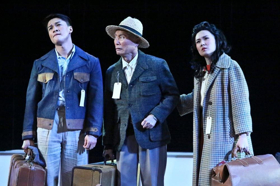 George Takei performs the roles of Sam Kimura and Ojii-Chan that he originated on Broadway. His heartfelt portrayals of both the lead character and his grandfather as the story jumps time periods is inspired from his own family's experiences. Takei is joined by Broadway cast members Elena Wang as Kei Kimura, Greg Watanabe as Mike Masaoka, Scott Watanabe as Tatsuo Kimura, and Janelle Dote as Executor. The cast also includes Ethan Le Phong as Sammy Kimura, Eymard Cabling as Frankie Suzuki, and Natalie Holt MacDonald as Hannah Campbell, and a talented ensemble of performers.
With music and lyrics by Jay Kuo and a book by Marc Acito, Jay Kuo, and Lorenzo Thione,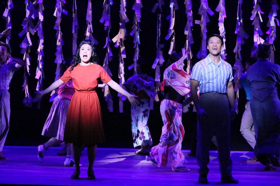 ALLEGIANCE tells the story of the Kimura family, whose lives are upended when they and 120,000 other Japanese Americans are forced to leave their homes following the events of Pearl Harbor. With their only crime being of Japanese descent, families had to leave everything behind - their homes, their land, their belongings - and were forced into makeshift barracks, or in some instances horse stalls at racetracks, where they were exposed to brutal winters and harsh summers. Their loyalty was questioned, their freedom taken away, but their spirits could never be broken.
The play begins with Takei taking center stage as Sam Kimura, donning his highly decorated U.S. military uniform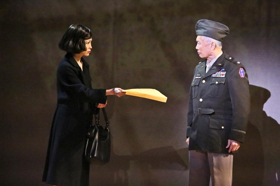 to prepare to be "paraded around" in front of the audience on the 50th anniversary of the Pearl Harbor attack. After a brief visit from his niece, his recollections of what led to him and his sister Kei Kimura (Elena Wang, whose lovely soprano voice is featured beautifully in most of the show's score) not speaking to each other for so many years is recounted as the ALLEGIANCE story line, beginning just before the Pearl Harbor attack through their incarceration, ending after the war when Sammy (Ethan Le Phong) returns home to a world turned upside down from the one he left behind.
During the family's incarceration, Sammy Kimura (Ethan Le Phong) falls for the camp nurse,
the beautiful blonde Caucasian Hannah Campbell (Natalie Holt MacDonald). But as much as the two care for each other, their heartbreaking knowledge of how forbidden their love will be to others winds up pulling them apart. Meanwhile, his sister Kei falls for Frankie Suzuki (Eymard Cabling), a friend of Sammy's until their diametrically opposed political views threaten to tear the family apart when Sammy seeks to prove his patriotism by fighting for his country in the war, while his sister, Kei, fiercely protests the government's treatment of her people and Frankie chooses to go to jail rather than join the U.S. military.
During the 1940s scenes, the Kimura family patriarch, grandfather Ojii-Chan is lovingly portrayed by George Takei as a peaceful farmer who just wants his own small vegetable garden at the camp as a small way to remember the large family artichoke farm in Salinas they were forced to sell and leave. His son, Tatsuo Kimura, the father of Sammy and Kei, is portrayed by Scott Watanabe whose booming bass vocals soar during the show's namesake production number "Allegiance."
JACCC Director of Performing Arts & Community Engagement and Executive Producer of ALLEGIANCE (Los Angeles) Alison De La Cruz says, "Southern California is home to the largest Japanese American population in the United States, and one of the most vibrant Asian American and Pacific Islander communities in the country. The JACCC's Aratani Theatre is in the heart of Little Tokyo -
where only a couple of blocks away, the former Union Church, now the home to East West Players, was a site where incarcerees were rounded up on buses to the camps, with only the suitcases they could carry." That event is recounted in a startling moment in Act One when the cast assembles with their few possessions to get on a train that will take them to an unthinkable new life. It's a chilling reminder to man's inhumanity to others based on appearance before anything else, an unfortunate social pattern still so prevalent today.
Kudos to the entire ALLEGIANCE production team for their artistic contributions to this uplifting testament to the power of the human spirit celebrated with wonderful 40s jitterbug and jazz production numbers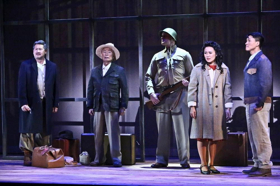 as we follow the Kimuras as they fight between duty and defiance, custom and change, family bonds and forbidden loves. Performances at the Aratani Theatre at 244 S. San Pedro Street, Los Angeles, CA 90012, take place Thursday to Sunday, with 8pm shows from Thursday to Saturday, and 2pm matinee shows on Saturday and Sunday (dark Sunday, March 18). For tickets and information, please visit AllegianceMusical.com.
Photos by Michael Lamont