Click Here to Visit the College Center

Blogs are the opinions of the authors and do not necessarily reflect the opinions of BroadwayWorld. BroadwayWorld believes in providing a platform for open and constructive conversation.

Student Blog: Question-Mark Anxiety
A new, strange form of stress has caused my writer's block- this is how I dealt with it.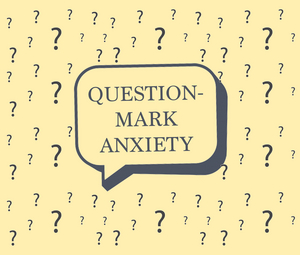 Long time no see, BroadwayWorld.
Truth be told, readers, this is going to be a bit of a departure from my usual satirical articles. Having done the math, it has been approximately four months since I wrote a blog for BWW's student column. Just writing that down on my laptop makes me a little bit sad. But here's the cold hard truth: I have had some serious writer's block this semester. Something stopped clicking, and therefore so did my keyboard. A mix of pandemic woes, academic pressure, and little sleep formed a weird strain of stress that affected my work.
Now, don't get me wrong- I am immensely proud of the work that I did this semester. I served as the production stage manager on an Equity mainstage show at my university for the first time, secured an internship, and maintained good grades. Those accomplishments during a time like this are wonderful. But the pride I have in them feels a little bit tarnished by that nagging feeling of anxiety that has wormed its way into my subconscious.
I like to think this form of anxiety takes the shape of a question mark. It takes the amazing things we theatremakers are doing and it flips them back at us with question after question, stirring up fragments of self-doubt. It will ask you why, after seven straight weeks of rehearsal and performances, you aren't jumping right into your next show? It will ask you why, after a semester of six classes, did you switch to just four? It will ask you why, when you explore new hobbies, do you feel like you are somehow wasting precious time? The questions will never be directly mean-spirited, no, but they will plant seeds of concern that if watered will form tangled vines of self-consciousness.
Question-mark anxiety is not easily combated. In my case, no matter how many t-shirts from Target I embroidered or episodes of 90's TV I watched, it still snuck its way into each sentence I asked myself. It felt pointless to write because that little question mark would stain my final drafts like a big "0" in red pen.
And so I stopped blogging for a while. I reevaluated. I had to take a break from doing what I loved to remember why I loved doing it.
And it worked.
There is a beautiful thing about giving yourself breathing room. It lets you stretch out, readjust your stance. My question-mark anxiety eventually got reshaped and straightened out into an exclamation point. You did seven whole weeks of a show! You're acing those four classes! You started running in your spare time- look at you taking care of yourself! I got to build a balance again- and that is perhaps the best achievement of all.
As we move into June and ever closer towards Broadway's reopening, my theatrical morale is slowly growing again and those exclamation points are just getting better. Trust me, readers, we will soon be back to your regularly scheduled satirical article programming- I'm sure I'll have stories for you about summer internships and far-fetched ideas for shows. In the meantime, I'm going to continue to face that question-mark anxiety head-on in the best way I know how: writing. Bring on the blogs!