Click Here for More Articles on National Theater Institute
BWW Exclusive: NTI - A Launchpad to the Professional World
The two-time Tony Award-winning Eugene O'Neill Theater Center is the nation's leading incubator for new works and new artists for the American theater. Hundreds of new plays and musicals born at the O'Neill have premiered on and off-Broadway and around the world, with more developed each summer. Dozens of graduates from all six of NTI's theater intensives return to the O'Neill every summer -- as actors, assistant directors, music directors, stage direction readers, staff, and interns -- to support the developmental process of new plays and new musicals.
This summer, 25 alums have returned to the O'Neill. We speak with five of them about their experience both as a NTI student and as a member of the O'Neill's professional summer season: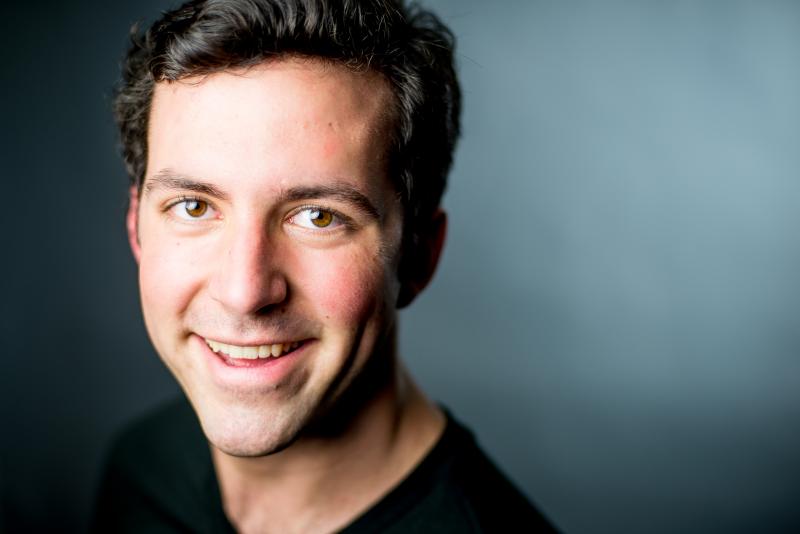 What makes the National Theater Institute unique?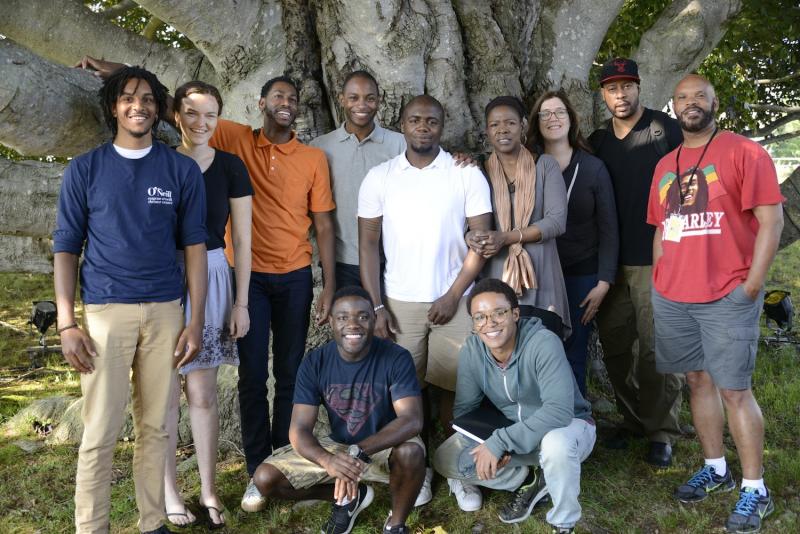 Caitlin: NTI is the best of all programs for undergraduate theater training because of its intensive schedule and full immersion into every element of theater making. NTI trains the whole artist, and that prepares us for all the roles in any future collaboration. This cross-training is fundamental to young artists. I did not fully understand how to communicate to playwrights and actors as a director until NTI invited me to train in acting, writing, movement, voice, design, and directing. If you can make it through the crazy over-scheduled "go, go, go, make, make, make" semester at NTI you can make it through anything. And there is nothing like the continual support from everyone at the O'Neill to help you at all levels of your career in the arts.
Drew: There is a focus on nurturing and revealing your artist-self at the O'Neill. There are many programs that offer a wide range of techniques and, it seems, are quick to place them on top of you.. but NTI moves deeper. NTI demands you actively combine your creative sensibilities (those parts that want, long, need to share) with the day-to-day training. In my experience, this was a wildly shifting process. How do we navigate between the two? For me, this was the question of NTI.
Haley: NTI is a completely unique program. It's conservatory-level in its rigor and focus, but accessible for students who have gone the university route, which I think is really special. NTI fills in some of those gaps that a B.A. can lead to: It allows students to be full-time (really time-and-a-half) theater makers, to travel and have an introduction into the global theater scene, and it gives them a chance to meet with some really exciting artists who are working in theater right now. Its location at the O'Neill too is a unique and wonderful opportunity for students. University and even conservatory programs can feel very separated from the industry at large, and having NTI under the mantle of the O'Neill Center gives you a connection to one of our great theater organizations and access to a battalion of talented people.
What calls you back to the O'Neill?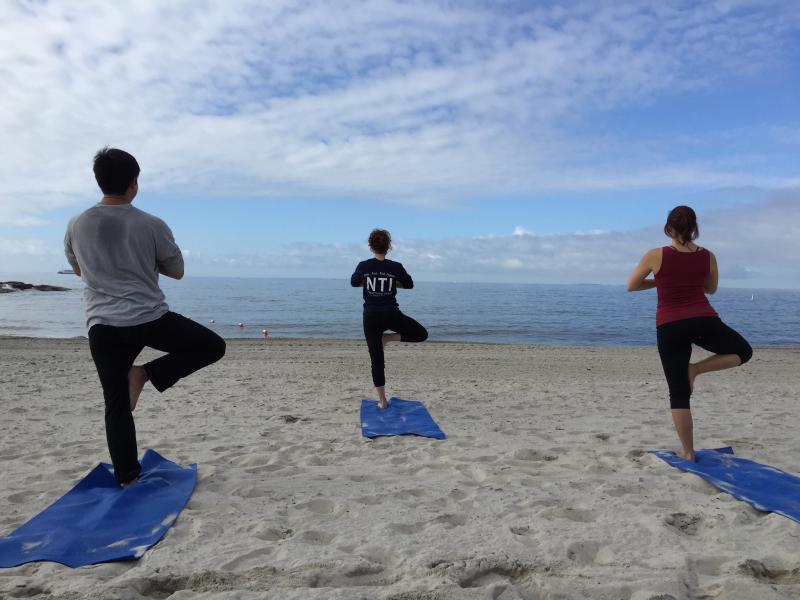 Patrick: The O'Neill is quite simply a beautiful place to be. On break from rehearsal you can step outside to witness one of the most beautiful views of the water. It is also a place where you can be fully process-oriented as an artist and get away from the product-oriented commercial world. The work is the priority. The people are also incredible. The cast and creative team of 2015 National Music Theater Conference's SLAUGHTERHOUSE-FIVE are some of the most joyous and generous artists I've ever worked with.
Caitlin: The O'Neill is a true artistic home. It was my first artistic home. The opportunity to return to a space where you worked intensely and grew immensely is a gift. There is a ripple effect for me in returning to the O'Neill. The work I started there as a young artist continues to seep into my practice now. There is always more to absorb from the memories of what you first made in a space. And at NTI we made work in every corner and shadow of the campus. Simply to know that we were there making, as were many before us and will be many after us. This is ever-present for me when I return to the O'Neill. It's like a blissful haunting that permeates my drive to keep on making.
Drew: Home. A common vocabulary. NTI/O'Neill instills a trust in ensemble you can feel every single time alumni join together. In the space of the semester, we work to let go of ego and just show up to the work. I think it's easy to allow ego-out of safety, control, chaos of life-return over time. It creeps up from behind. There's a magic to coming together and feeling safe enough to let that pride go. I think we all long for this environment of acceptance and O'Neill alumni offer that space.
How did your training with the National Theater Institute prepare you for the professional world?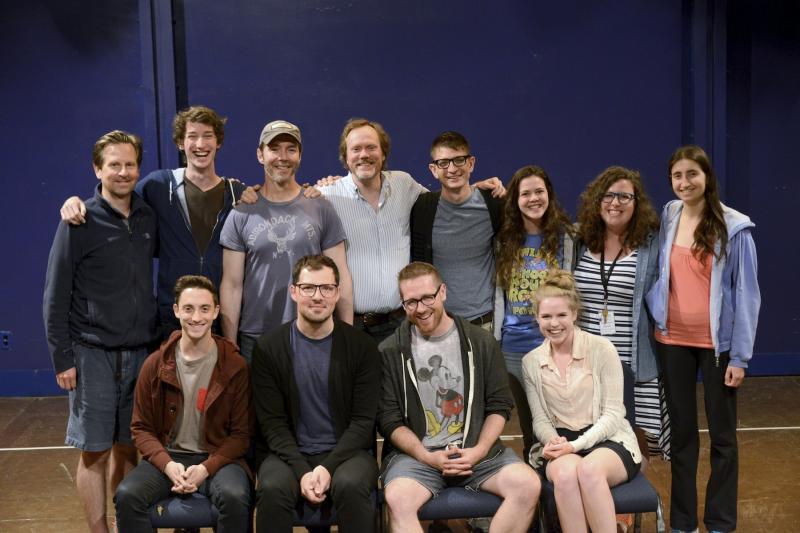 Patrick: If I hadn't done NTI's Moscow Art Theatre Semester, I don't know that I'd be pursuing acting professionally today. As a BA student at Oberlin College it was the first time I was exposed to conservatory training and it solidified my choice to pursue an MFA. I went on to receive my MFA from the Brown/Trinity Acting Program. Also, when one of your incredible (and incredibly serious) Russian acting instructors at the Moscow Art Theatre looks you directly in the eye at your final evaluation and says simply, "You are an actor," you listen.
Caitlin: NTI was the first place where I truly believed I could be a director. This came from the faculty encouraging me and challenging me to speak my mind and lead. They were relentless in their demands of our work. They were always honest about our work and gave me some of the best criticism I've ever received. Criticism that dug deep and demanded change and growth. The wild schedule also taught me how much I was truly capable of. It taught me how to make quickly and impulsively and how to trust my gut. Now grad school is fueling an even crazier, more chaotic schedule, and NTI laid a great foundation for me to continue to thrive even when there is never enough time.
Haley: The O'Neill not only taught me how to work harder than I ever had before, it made me realize that that level of work is sort of expected in our field. Now when I approach a project, I find myself automatically trying to go the extra mile, which I think has impressed some of the people I've worked with since NTI. The personal connections you make don't hurt either. The O'Neill attracts world-class artists, as teachers and especially during the summer programs. Just wearing my O'Neill sweatshirt around Boston has sparked so many conversations with people in the theater who have passed through here (and even helped me get my current job). I'm back at O'Neill assistant directing as a direct result of relationships I formed while I was at NTI. I consider the O'Neill my artistic home, and there's definitely a network that comes with that. It's a good club to be in.
Robert: NTI opened up a way of working that cut through all the distractions; You're on a beach with no cell phone service or internet and someone else makes food for you. It allows a total focus on the work (and it spoils you). Learning how to find that kind of focus after NTI has proved to be so helpful, even when you might be distracted by how to pay your rent.
What's the biggest thing you took away from your semester at NTI?
Patrick: My time at the Moscow Art Theatre transformed me not only as an artist, but as a human being. My expressive instrument was cracked open in the most incredible way. There was no going back. The bonds I built with my fellow students while there remain strong. It has been a joy to watch them grow as artists. I even had the immense pleasure of doing a developmental off-Broadway reading of a musical based on PRIDE AND PREJUDICE co-written by one of my fellow MATS alums, Lindsay Warren Baker.
Drew: Do not wait for somebody else to give you the green light. Say YES to yourself! Create your own inspiration, take huge risks, fail gloriously. I look back to my first film We Are ROM3. I had never made a film before, but I decided I was willing to try. I began to co-write the script during tour and suddenly, a year later in Los Angeles, found myself surrounded by artists who helped to guide me through my first process as a filmmaker. Now, We Are ROM3 has been accepted into festivals and I've had the good fortune to work as a director on two more. You never know what will come once you take the first step, so you just have to take it. Risk, Fail and Risk Again is not just some slogan for a brochure. It is a practice for life.
Haley: In the NTI-Advanced Directing program, our instructor Gregg Wiggans would do this thing where he'd ask us every day, "What kind of director are you?" and when you're in college or fresh out of college, that's such a hard question! But I look back on my answers from that class often and my personal evolution is so clear. I really found my aesthetic at NTI, just as a result of constantly creating and constantly evaluating that creation. That's probably the biggest thing I took out of the semester. I mean, as a director you're hired for your aesthetic, for your point-of-view. That's really all you've got, so I'm very grateful to NTI for helping me crystallize mine. The other thing I'll say is that I came out with a fantastic cohort of future collaborators, who are also just some of the greatest people I know. There's a lot of truth to that phrase, "It's not what you know, it's who you know", but I don't think it has to be a cynical thing. It's just that the easiest way to make a fulfilling career in theater is to surround yourself with people who are interested in the same kind of work you are, and who mesh with you while still challenging you. So once you find your people, you want to work with them over and over again. I think all this networking we do can be viewed as just a bunch of people trying to find their teams, which is kind of nice, and once you leave NTI you've already got a bit of a team to start. You've spent 14 weeks doing nothing but making theater together, living very intimately, and you get a much better sense of each others' style and process than you would in a six week rehearsal period. I completely understand why so many alumni companies form out of NTI classes, by the end of the semester you're basically artistic family.
Other than train with NTI, what is your advice to a college student who really wants to make theater a lifetime career?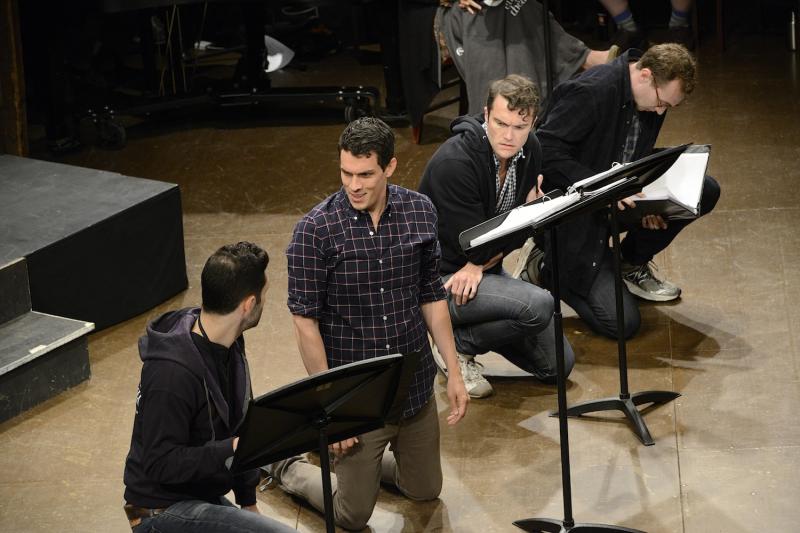 Patrick: Find people you love to work with and who hold similar values to you regarding the work and make work! What kind of theater are you passionate about? Create and pursue that kind of work. And continually strive to find ways to create work and pursue work with a sense of joy. The most incredible artists collide at the O'Neill. This week I had the pleasure of running into Florian Staab, an amazing sound designer I went to Oberlin with, and Joe Wachter, a brilliant playwright I went to Brown with and whose play LAKE UNTERSEE I had the pleasure of originating a role in. It's amazing to be here with them and to all be working on different projects in the same beautiful place.
Caitlin: Keep making! Make as much as you can. Make in your living room, your back yard, and secretly at your day job. Find a daily practice that helps you engage as an artist everyday (people watching, writing, video logs, drawing, talking to a stranger, dancing down the street, reading, seeing live art, museums, concerts, babysitting children, dinner parties, games). It all counts.
Drew: A mentor from my NTI semester, Kim Weild, one said: "A life in the theater is a marathon, not a race." If you're in it for life seek to pace yourself for life. It is impossible to build a theater of connection if we haven't taken the time to live and that involves a balance between work and life. A balance which can be difficult to maintain once you leave NTI with the knowledge of how much work can be done in a condensed time. But it is vital. Take a breath, slow down enough to accept each moment with curiosity and then keep going. If you want a life in the theater.. if you work hard and keep working hard it will come your way. Every step you take, no matter the direction, is important. The joy is in the journey!
Haley: Accept that inconstancy is the only constant, and that you will never make any money. You may think you've accepted this, but in college I know that I really actually hadn't. Accept it deeply into your heart and do so as early in your career as possible. That way if you do find some financial success, it will be a pleasant surprise! And if it makes you feel any better, we get to play pretend for a living, which is pretty incredibly lucky. I think some of the biggest things I'm learning at this stage of my career are how I personally measure success and how to hold myself to really ambitious yet artistically authentic standards. And be a joy to everyone you meet. The theater community is very small and very chatty.
Robert: Go to NTI. And also, do a lot of things that don't take place in a theater. Drive across the country. Go see France. Work as a bouncer. Live in a tent. The theater you make will only be better (or at least more interesting) if you take the time to adventure a little/a lot.
Meet the National Theater Institute Alum Contributors:
Patrick Mulryan New York: Fiasco Theater's INTO THE WOODS (Roundabout, Lortel Award for Outstanding Revival); Fiasco's CYMBELINE (Barrow Street, TFANA); Bum Phillips ALL-AMERICAN OPERA (La MaMa); AS YOU LIKE IT (Happy Few Theatre Company, NYIT Award Nomination). Regional: Fiasco's INTO THE WOODS (McCarter, Old Globe); CABARET and IMPORTANCE OF BEING EARNEST (Trinity Rep); CHAIN OF FOOLS (Guthrie). Readings/Workshops: Tectonic Theater Project, TFANA, Fiasco, Lark, New Georges. Patrick has been a guest lecturer in Voice and Speech at SUNY Purchase, Fordham University, The Acting Studio, and Tom Todoroff Conservatory. Proud graduate of the Brown/Trinity M.F.A. Acting Program and Oberlin College. Alumnus of NTI's Moscow Art Theatre Semester. Twitter: @mulryanpatrick
Caitlin Ryan O'Connell is about to enter her third and final year at Brown/Trinity Rep MFA in Directing. At Brown/Trinity: Shakespeare's CYMBELINE, Will Eno's GNIT, Rainer Werner Fassbinder's THE BITTER TEARS OF PETRA VON KANT, and her upcoming fall thesis production of THE LOVE OF THE NIGHTINGALE by Timberlake Wertenbaker. Caitlin is a former directing intern at Actors Theatre of Louisville. She has worked with the Eugene O'Neill Theater Center, LCT3, Trinity Repertory Company, and Clubbed Thumb. She trained with the National Theater Institute, St. Petersburg Theatre Arts Academy, The Royal Shakespeare Company, Simon McBurney's Complicite, and The NY Neofuturists. She is a teaching artist with The International Theatre and Literacy Project and will return this summer to Rwanda to devise plays with Rwandan Youth. She is an alumna of Wellesley College.
Drew Feldman is an actor & director working between NYC, LA, and Dallas. He was recently nominated for Best Leading Actor in a Play (BroadwayWorld LA-THE CHOSEN, CVRep). Other acting credits include: New York: GROSS INDECENCY: THE THREE TRIALS OF OSCAR WILDE (BASiC Theatre Project), SPRING AWAKENING (Lust & Liberty). Touring: MACBETH, COMEDY OF ERRORS, THE ODYSSEY (National Tour; National Players, 65), MUCH ADO ABOUT NOTHING (Western U.S. Tour, unMasqued), A MIDSUMMER NIGHT'S DREAM (Oklahoma Tour, Let's Pretend Players). Regional (select): Coachella Valley Repertory, Oklahoma City Repertory, Oklahoma Children's Theater, Spotlight Theater-Dallas, Garland Summer Musicals. Film: ONCE IS ENOUGH (dir. Paul Csige), BEACH PILLOWS, THE PROMISE, RAPTURE, AMNERDSIA, and the upcoming Norman McGuire feature THE LUCKY MAN. Drew is represented by Linda McAlister Talent. Directing work includes: Theatre: MUCH ADO ABOUT NOTHING (unMasqued -LA & Midwest Tour), SIGHT UNSEEN by Donald Margulies (Out of the Box, OKC), LOVE AGAIN (BroadwayFun-for-Funds Cabaret). Film: We Are ROM3, TROILUS & CRESSIDA, and WHITE NOISE. Drew is the Co-Artistic Director and Founder of unMasqued. More at www.drewfeldman.com
Haley Fluke is a director/dramaturg and a NTI-Advanced Director alum from NTI Fall 2014. This summer she is assistant directing WE LIVE IN CAIRO at the National Musical Theater Conference under Michelle Tattenbaum, as well as working on the dramaturgy team for Company One's production of COLOSSAL, the last stop on its National New Play Network Rolling World Premiere. Haley is originally from the Pacific Northwest, where she worked with Washington Ensemble Theatre, Our Shoes Are Red/The Performance Lab, and the Oregon Shakespeare Festival. She also served as the Artistic Director of the Pied Piper Players, a troupe based on Lewis and Clark College campus specializing in lightning-fast, interactive Shakespeare adaptations. Since moving to Boston this past January, Haley has been working as a Dramaturgy and Casting Intern at Company One and has assisted with the Boston Theatre Marathon, Fresh Ink First Looks and BCA Playwrights Lab.
Robert Frost a graduate of the National Theater Institute, works as a musical director, writer, and director. He currently serves as the Resident Musical Director for the National Music Theater Institute at the Eugene O'Neill Theater Center. Select MD credits include the premiere of JONAH AND THE WHALE: A NEW MUSICAL and LITTLE SHOP OF HORRORS (7th House), Pig Iron's JAMES JOYCE IS DEAD AND SO IS PARIS (Connecticut College), and PROJECT ÉLAN (Arkansas Rep), which he also co-wrote. Robert recently assisted Hayley Finn for the premiere of THE SECRET LIVES OF COATS (Red Eye Theatre). Robert also serves as one-half of Frosty Bob and J's Summer Camp, a queer performance partnership with playwright/performer Justin Caron. Together, they have created UTOPIACOPIA (Director) and STAY WHERE YOU F***ING ARE: A TRIBUTE TO ELAINE STRITCH (Musical Director/Co-Writer). FBJ's Summer Camp was recently named "Best Performance Art 2014" by l'étoile magazine.
Learn more about NTI's acclaimed semester-long, credit-earning training intensives by visiting www.NationalTheaterInstitute.org and Facebook, Twitter, Instagram, and YouTube (@NTIRiskFailRisk).
With a singular schedule and an unmatched breadth of training, the National Theater Institute's semester-long programs offer students a springboard to the professional world at the two-time Tony Award-winning Eugene O'Neill Theater Center. Founded in 1970, NTI's credit-earning theater intensives-taught by industry professionals and master teachers-train actors, singers, directors, dancers, designers, playwrights and composers.
Photo Credits: A. Vincent Scarano and Amanda Kay Ritchie
Related Articles
With a singular schedule and an unmatched breadth of training, the National Theater Institute's six semester-long programs offer students a springboard to the professional world (read more...)