BWW Review: ON CLOVER ROAD at American Blues Theater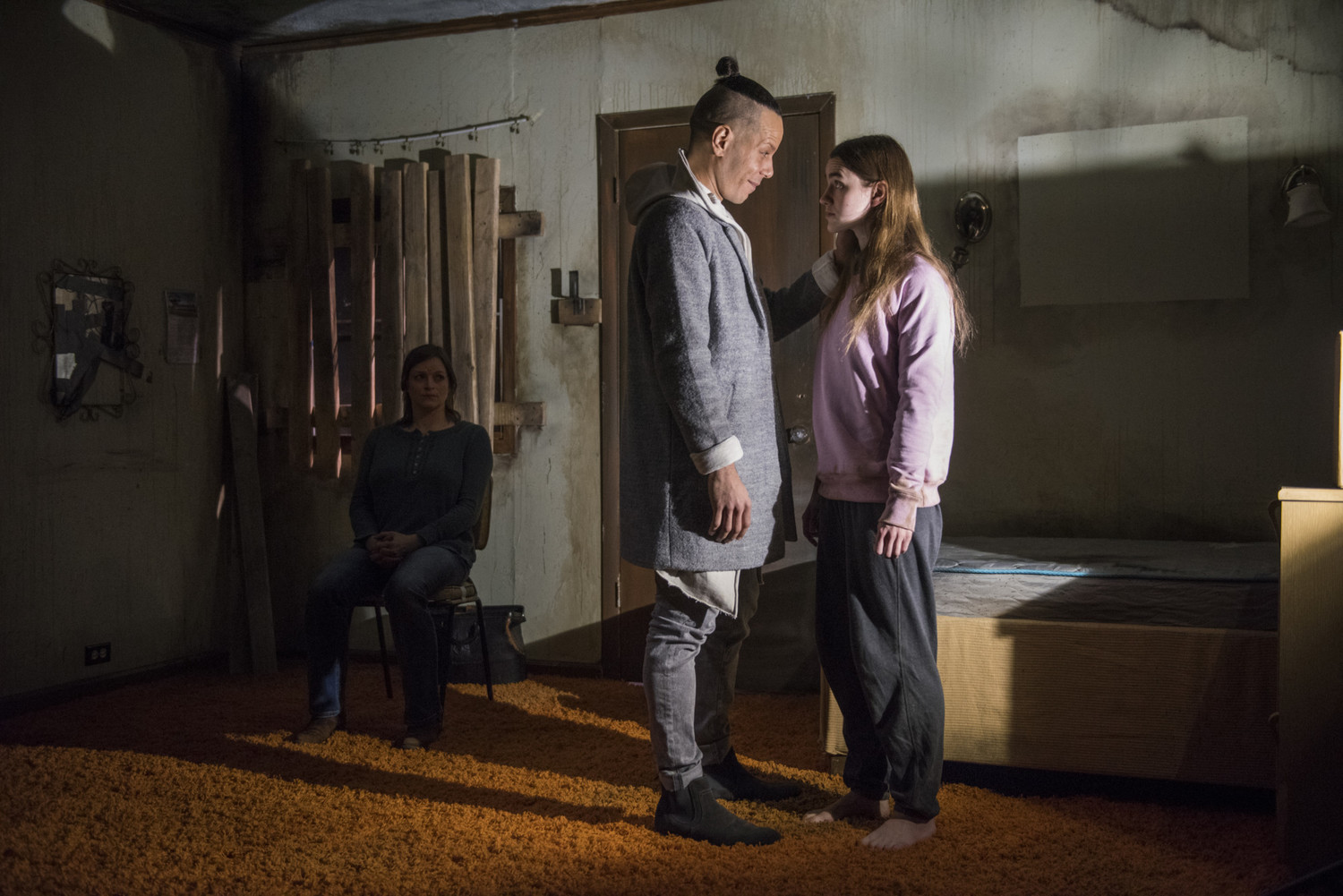 Like a car in a drag race, Steven Dietz's theatrical thriller ON CLOVER ROAD goes from zero to 100 within the first few seconds and doesn't shift down for 85 minutes. The challenge of telling this twisting tale in such a short time is where do we go once we're at 100? The intensity for the actors and the audience is equal parts thrilling and exhausting. When this car finally comes to a stop, it's hard to determine if there's actually a winner.
All of the action is set in a run-down, abandoned motel room in the middle of nowhere. A distraught mother, Kate Hunter (Gwendolyn Whiteside) meets with a cult deprogrammer, Stine (Philip Earl Johnson). She believes he will reunite her with her runaway daughter, Jessie. Stine prepares Kate for what to expect when Jessie gets to the motel and how they must handle the situation. From there, every blackout brings us out of one anxiety-filled scene into the next. Each one with layers so deep, it's a constant game of who will be the hero. Because the plot is filled with so many surprises, readers will have to get a ticket to see how the puzzle comes together.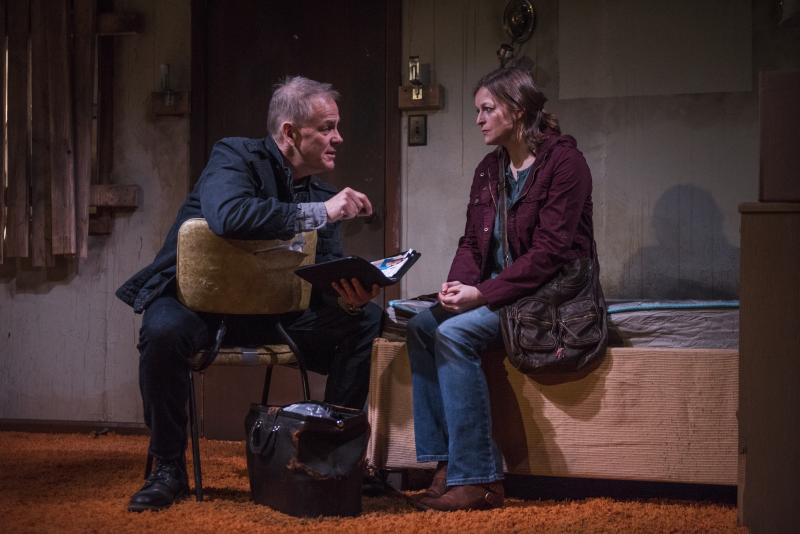 While this isn't an immersive piece, it's a very physical and occasionally violent one, staged by American Blues Theater in a rather intimate space. It can be extremely uncomfortable at times. With the rapid pace and short amount of time in which the story unfolds, it's a challenge to get attached to these characters. But there is no lack of effort from the cast who find themselves on this emotional journey that never really lets them breathe.
Whiteside gives Kate raw humanity and plays the conflict of her character with intriguing care. She draws us in convincingly as Kate battles her own demons while hoping for the long-awaited reunification. Johnson uses equal parts sincerity and slime to create a complex Stine who, as each scene revels, is full of his own self-loathing and pain.
As the prophet Harris McClain, Jon Hudson Odom is terrifyingly smooth and focused. He demonstrates how someone in his position could overpower a lost soul looking for validation. As the young girls under McClain's spell, Grace Smith and Caroline Phillips each handily convey the torment of brainwashed hostages.
You can almost smell the staleness of the finely crafted motel room designed by Lizzie Bracken. Director Halena Kays finds ways to ground heightened situations while still keeping us in suspense.
There are sure to be fans of this piece who will find each page chock full of heart-pounding intensity. If that makes for an exciting evening of theatre in your book, ON CLOVER ROAD is a place you'll want to visit. But you may not want to stay too long after the lights go down.
*This show is recommended for ages 14+
ON CLOVER ROAD runs through March 16 at Stage 773, 1225 W. Belmont Avenue, Chicago. Tickets may be purchased at AmericanBluesTheater.com or by calling (773) 654-3103.
| | | |
| --- | --- | --- |
| | Donations | Arts Orgs |
Related Articles View More Chicago

Stories

Shows