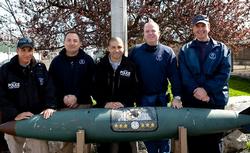 Gain access to one of the world's most dangerous jobs when NGC goes into the line of fire with the New York Police Department Bomb Squad. Meet this elite team and learn how they've evolved from their beginnings in 1903 and what technology they use in the 21st century to keep their city safe. When a suspicious item in a packed subway station brings the center of New York to a halt, these men are the only ones who can determine whether it's a benign package or a threat to America's largest city.

Sam Huber's and Keith Shocklee's NY #1 Available Now
by BWW News Desk - October 30, 2018
Sam Huber, Finnish Funk superstar and figurehead of the Global Soul Movement, is celebrating the end of his popular tour throughout Finland and Northern Europe with the release of his latest collaboration: a remix EP featuring new versions of Huber's tracks 'NY #1' (from 2017's Confused) and 'The En...

Warm Drag Stun With New Video SLEEPOVER
by BWW News Desk - September 20, 2018
Warm Drag stun with new video 'Sleepover'. Brooklyn Vegan debuted it describing the duo's sound as 'cinematic... pulling from Italian soundtracks, freak-beat, krautrock, psych and more.' 'Sleepover' recounts Paul's morbid, real life story of when he found a Craigslist renter dead in his apartment af...
Randy Harrison Replaces Preston Sadleir in New Off-Broadway Musical ATOMIC
by BWW News Desk - May 02, 2014
Producers of the upcoming U.S. premiere of the new musical Atomic announced today that Randy Harrison (Showtime's "Queer as Folk") has joined the cast, replacing Preston Sadleir, who will appear in the upcoming revival of Titanic. The other members of the Atomic cast are David Abeles, Alexis Fishma...
New Musical ATOMIC to Open Off-Broadway this Summer at Acorn Theatre
by BWW News Desk - April 16, 2014
This summer, after a wildly successful engagement in Sydney, Australia, Atomic, the exhilarating and provocative new musical based on the creation of the atomic bomb, will make its highly anticipated U.S. premiere with a strictly limited 8-week Off-Broadway engagement from June 26 - August 16 at The...