7 year old Zack is the dynamic, adventurous, kind-hearted leader of the group. He is also a POP-UP WHIZZ, which is lucky as his garden is jam-packed with the most amazing pop-ups ever! Zack is constantly finding surprising and creative ways to solve any problem and making the biggest adventures possible!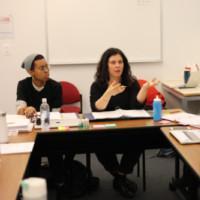 Photo Flash: In Rehearsals With The World Premiere Of THREE MUSKETEERS: 1941
by BWW News Desk - May 17, 2019
Project Y Theatre Company gave Broadway World an exclusive sneak peek into rehearsals for their World Premiere of Megan Monaghan Rivas' Three Musketeers: 1941, co-directed by Michole Biancosino and Andrew W. Smith, which is being presented as part of the fourth annual Women in Theatre Festival, June... (
more...
)
Nickelodeon Launches Nick Jr. App Available for iPad
by TV News Desk - December 11, 2014
Following the tremendous success of the Emmy Award-winning Nick App, which launched in 2013 and has already had 11 million downloads globally, Nickelodeon today announced the launch of the Nick Jr. App... (
more...
)