Review Roundup: Did Margot Robbie-Led I, TONYA Skate Into Critics' Hearts?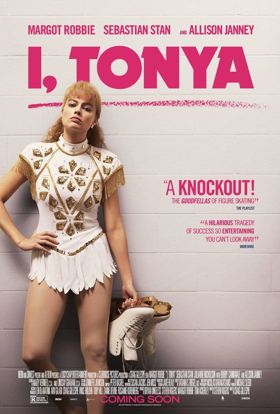 Margot Robbie takes on the role of disgraced Olympic skater Tonya Harding in the upcoming biopic I, TONYA. Steven Rogers penned the script which tells the story of the figure skater from Portland, OR who rose to the top of her sport and became the first American woman to complete the triple axel in major competitions. She went on to win the 1991 U.S. Figure Skating Championships and place second in the World Championships.
Harding is best known however for her rivalry with Nancy Kerrigan in the 1994 Olympic Games in Lillehammer. Leading up to the competition, Harding's husband Jeff Gillooly and his accomplices attempted to incapacitate Kerrigan by breaking her leg. Following the incident, Gillooly ratted out his wife as he tried to avoid jail time. Kerrigan went on to win the silver medal at that Olympics, while Harding finished eighth. Following an investigation, the USFSA stripped Harding of her 1994 championship and banned her from the sport for life.
Before I, Tonya hits Los Angeles and New York theaters tomorrow, take a look at what the critics have to say about the film!
Manohla Dargis, The New York Times: "Ms. Robbie takes on the role with vigor and strained toothy smiles, giving an outsize performance that suits the film's broadness and showy surfaces. (She does much of her own skating, though the trickier moves were completed with stunt doubles and digital effects.) Despite the makeup and a few tragic haircuts, Ms. Robbie remains an unpersuasive fit for the tiny Ms. Harding, who could bench press more than her weight and whose sculptured muscles freaked some out...As I, TONYA skips here and there and thickens the plot, it becomes increasingly baffling why the filmmakers decided to put a comic spin on this pathetic, dispiriting story. No matter how hard the movie tries to coax out laughs, there's little about Ms. Harding, her circumstances or her choices that skews as funny."
John DeFore, The Hollywood Reporter: "Managing to both revel in its subject's trashiness and convince us she's far more innocent than America believed, Craig Gillespie's I, TONYA reintroduces us to the most infamous athlete-villain of the first half of 1994 (that was the summer of O.J., you'll recall) and lets her, for once, have the last say. Proving, after many a stolen scene, that she's capable of carrying a picture in the lead role - even when makeup and hairstylists treat her character's famous looks cruelly - Margot Robbie takes obvious pleasure in playing figure skater Tonya Harding, from her vulnerable teens to her present-tense, take-it-or-leave-it retirement. The lively and lurid film has solid commercial legs under it and marks a rebound for Gillespie, who has yet to match his lovable breakout film, LARS AND THE REAL GIRL, but is definitely earning his right to keep trying."
Owen Gleiberman, Variety: "I, TONYA, a riff on the Tonya Harding saga starring Margot Robiie as the infamous figure skater the whole world decided it loved to hate, is a fresh, chancy and wickedly enjoyable movie. It's framed as a fake documentary (it opens with the characters being interviewed 20 years later), and it has a tone of poker-faced goofball Americana that suggests a biopic made by the Coen brothers. The movie revels in the sheer woeful ghastly comic horror of what went on during the lead-up to the 1994 Winter Olympic Games in Lillehammer - the smashed knee of Nancy Kerrigan, the whole scheme to undermine her that was even more cracked. For a while, you may make the mistake of thinking that I, TONYA is a joke: a blithe spoof of Tabloid Nation. It is that, yet it's also built around something piercingly sharp and sincere: Margot Robbie's canny, live-wire deeply sympathetic performance. In case there was any DOUBT (some might say "Who knew?"), she's a major actress. She plays Tonya as a trash princess who has nothing to cling to but her passion to skate, and has been so abused by life that it's her karma to abuse it back."
Peter Travers, Rolling Stone: "I, TONYA - a raunchy, demented, dark-comic dazzler, snappily directed by Craig Gillespie (LARS AND THE REAL GIRL from an anything-goes script by Steven Rogers, gives Tonya (Margot Robbie in her best performance yet) a chance to prove her almost-innocence...The movie cuts deeper, holding a mirror up to the class-conscious America most of us tend to ignore or dismiss - and makes us see ourselves reflected in it, too. I, TONYA is funny as hell, but the pain is just as real. You'll laugh till it hurts."
Sara Stewart, New York Post: "In a season when women began telling their abuse stories en masse, Margot Robbie lands a perfectly timed triple-axel of a performance as Tonya Harding, famed figure-skater-turned-national-joke. Profane, darkly funny, violent and tragic, Craig Gillespie's unconventional biopic chronicles the uber-American story of an Olympic competitor who shot to notoriety after being implicated in the 1994 kneecapping of her rival, Nancy Kerrigan...The film, which says it's based on true and "irony-free" interviews with all involved, cuts between documentary-style confessionals and standard biopic narrative. Janney nearly walks off with the film in LaVona's current-day segments, perched on a couch with an oxygen tube in her nose, whiskey in hand and a parrot on her shoulder. Bobby Cannavale adds color as a sleazy "Hard Copy" reporter looking back on the tabloid story that just kept giving. But nobody can pull focus from Robbie, an intense actress finally sinking her teeth into a meaty role as a woman who became, in her own wry acknowledgment, nothing more than a punch line."
Jake Coyle, Associated Press: "I, TONYA is the Tonya Harding film you never knew you wanted: an outrageously entertaining reappraisal of the Olympic figure skater who, in 1994, was involved in a scheme to injure her main rival, Nancy Kerrigan...I, TONYA has fun with the various versions of the Kerrigan attack, treating it like "Rashomon" for idiots. But the main takeaway is a believable one: that Harding, just 23 at the time, deserved better than yet another beat-down meted out by a much-entertained public."
David Ehrlich, indieWire: "Fun enough and full of uncommonly dynamic skating sequences (Robbie is a hockey player and noted New York Rangers fan, after all) and larger-than-life performances, I, TONYA is more than the trashy pop time machine that audiences might expect. Like its namesake, the film only achieves greatness for a few brief moments, and the best things about it (e.g. Janney's character) are seldom allowed to expand beyond the stereotypes that make them so easy to understand, but Gillespie's biopic sticks the landing because it never forgets one of its very first lines: Tonya Harding is America, and she always has been."
Photo Credit: I, TONYA Official Facebook Page
Related Articles View More TV

Stories