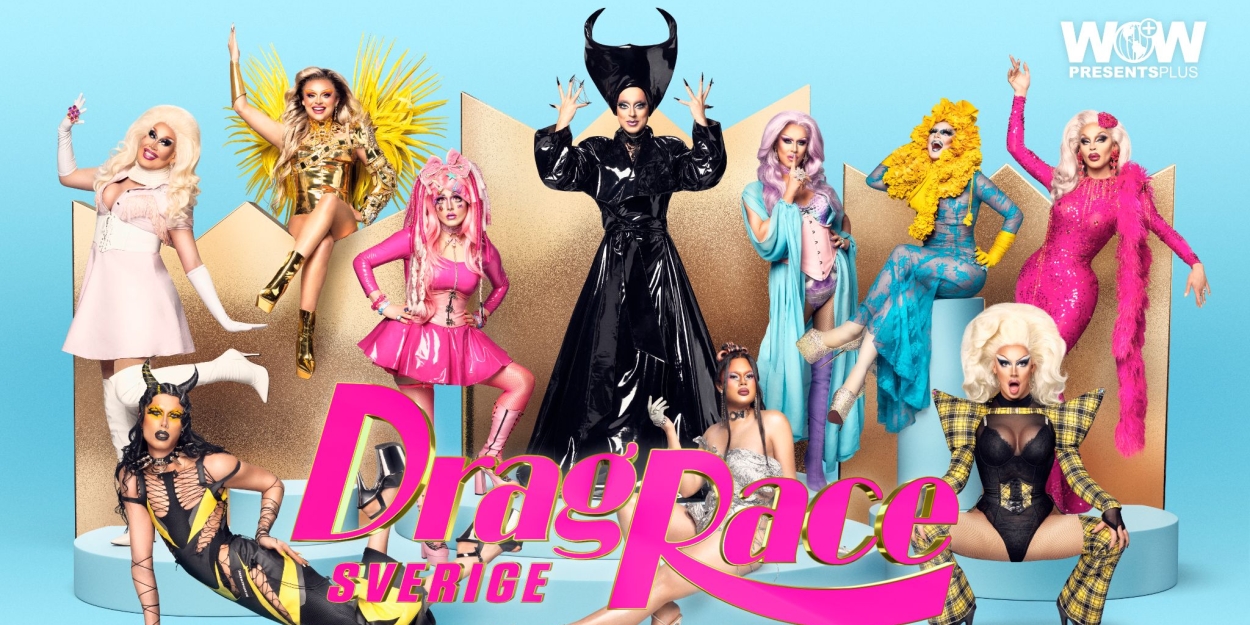 Meet the Queens of DRAG RACE SVERIGE Season One on WOW Presents Plus
"Drag Race Sverige" is debuting on March 4th at 12:30pm PT, with a weekly roll out every Saturday at 5pm PT.
Start your engines for the premiere of "Drag Race Sverige," debuting on March 4th at 12:30pm PT, with a weekly roll out every Saturday at 5pm PT. The series will exclusively be on WOW Presents Plus in the US and select territories worldwide, day-and-date with its local airing in Sweden.
The fabulous queen hosting the season is Robert Fux, who will be judging the queens each week through a variety of gag-worthy challenges and runway categories alongside judges stand-up comedian and radio and television host Farao Groth and Swedish-Nigerian singer and actress Kayo.
The nine fierce, Swedish queens competing for the title of Sweden's first Drag Superstar are Admira Thunderpussy, Almighty Aphroditey, Antonina Nutshell, Elektra, Endigo, Fontana, Imaa Queen, Santana Sexmachine, and Vanity Vain.
Each week, the queens will compete and based on their performances, the judges will choose the leading queens to advance to the next episode until Sweden's first Drag Superstar is crowned.
THE QUEENS OF DRAG RACE SVERIGE:
Admira Thunderpussy, Stockholm
"Admira Thunderpussy is a glam concoction made of all things sweet, salty, and everything in between is here to ease your childhood traumas. Nothing can stop this glittering steamrolling drag queen!"
Almighty Aphroditey, Mora
"Here comes Sweden's drag goddess riding in on a dala horse."
Antonina Nutshell, Östersund, lives in Liverpool
"The curvy chameleon originally from Norrland has returned from Great Britain to compete on Sweden's drag race, ready to show Sweden and the rest of the world her joy, humor and delightfully sprawling drag style"
Elektra, Höllviken
"The royal beauty of Scania, Elekta is a brilliant small-town star in a humorous luxury packaging."
Endigo, Stockholm, lives in Tokyo
"Kawaii, kinky and chaotic - your international meme queen Endigo is here, straight from Tokyo!"
Fontana, Brazil, lives in Stockholm
"This Swedish-Brazilian beauty tears the house down with her Latin dance moves. Moving from Brazil all the way across the world to Sweden alone shows that Fontana has the courage to fight for her dreams. And you know what? They're coming true!"
Imaa Queen, Värnamo
A storyteller served in a maximalist package, Imaa queen is everything and more. This artistic entity is here to confuse, seduce and touch your souls!
Santana Sexmachine, Leksand, lives in Berlin
"Does she make you horny baby? All the way from Berlin comes Sweden's sexiest devil, Santana Sexmachine!"
Vanity Vain, Linköping
"The claws are sharpened and the shoes are polished. Start your engines girls, and drive for god's sake!"
"Drag Race Sverige" is produced for SVT by Mastiff in conjunction with World of Wonder Productions. Fenton Bailey, Randy Barbato, Tom Campbell and RuPaul Charles serve as Executive Producers. The deal for Drag Race Sweden was brokered by Passion Distribution.
Photo: Karl Nordlund/SVT