2018 Philip K. Dick Sci-Fi Film Festival Returns with Armand Assante & More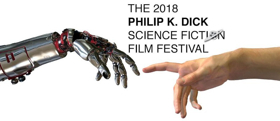 We have film down to a Science at The 2018 Philip K. Dick Science Fiction Film Festival, which announced today the full lineup of critically acclaimed films, exclusive premieres, panel discussions and virtual reality installations. The electrifying sixth annual event will feature appearances by show business heavyweights Armand Assante, Charles Baker, Vincent Pastore, Tom Sizemore, Melvin Van Peebles, Chuck Zito and more special guests. Screening in the boroughs of Manhattan and Queens, the festival will run from February 23-25, 2018.
This year's festival has expanded its tribute to the father of
Science
fiction, Philip K. Dick by broadening its scope of official selections. "Every year our films cover different themes of the PKD spectrum," said Daniel Abella, the founder and director of the festival. "This event focuses heavily on inner worlds, transhuman realities and other types of films including speculative fiction, magical realism and surrealism. Just like PKD, we are very eclectic in our thinking and do not subscribe to one single unitary form of entertainment." The festival will feature appearances by numerous award-winning actors, filmmakers, scientists and innovators who are among the most successful individuals in the entertainment, medical and technology industries. "Real human exchange between ?the stars and the audience is a wonderful experience going back to classical Greece," said Abella. "We are social creatures and need to be with others to find communion and transcendence." Abella added that the festival's mission to represent society's issues stands for the work and views of its namesake. "PKD was a modern-day prophet who foresaw the collapse of humanity under the colossal weight of data, technology and ecological devastation," he said. "Narrative themes in these films are more effective in shaping popular thinking than a new review or manifesto. In our own modest way, the festival represents a resistance against monolithic hypercaptialism and rapacious technology. Think of it as technology with a soul."
FRIDAY, FEBRUARY 23, 2018:
Village East Cinema (181-189 2nd Avenue, New York, NY 10003)
Passes to screenings at Village East Cinema (181-189 2nd Avenue, New York, NY 10003) can be purchased at www.thephilipkdickfilmfestival.com/program. Passes to screenings at Museum of the Moving Image (36-01 35th Avenue, Astoria, NY 11106) can be purchased by contacting the venue at members@movingimage.us
About The Philip K. Dick Science Fiction Film Festival: The Philip K. Dick Science Fiction Film Festival launched in 2012 as New York City's first festival of its kind and honors the enduring legacy of novelist Philip K. Dick, whose work maintains a strong influence over modern culture and society. Organized by individuals and filmmakers who understand the difficulties and challenges of presenting a unique narrative in a corporate environment, the festival embraces original concepts and alternative approaches to storytelling in the form
of independent science fiction, horror, supernatural, fantasy, metaphysical and virtual reality films. Since 2013, the festival has held international gatherings in France, Poland and Germany and many domestic screening events throughout the year.
About Philip K. Dick: "The core of my writing is not art but truth." - Philip K. Dick
Philip K. Dick (1928-1982) was one of the 20th century's most profound novelists and writers within the science fiction community. His exploration, analysis and beliefs led to the publishing of 44 novels and 121 short stories. PKD's enormous library of works led to several film and television adaptations including Blade Runner (1982), Total Recall (1990), Minority Report (2002), Paycheck (2003), A Scanner Darkly (2006), Radio Free Albemuth (2010), The Adjustment Bureau (2011), Total Recall (2012), The Man in the High Castle (2015, Amazon) and Philip K. Dick's Electric Dreams(2017, Channel 4/Amazon). PKD's enormously effective views composed of fictional universes, virtual realities, technological uprising, dystopian worlds and human mutation foresaw a significant observation at the current state of government and contemporary life. Though he is gone in the physical form, his philosophies live on in the techniques applied to present day narratives, films and ideals.
Connect With Us:
Website:
thephilipkdickfilmfestival.com
Twitter:
twitter.com/PhilipKDickFest
(tweet the hashtag
#PKDFestNYC
)
Facebook:
facebook.com/ThePhilipKDickFilmFestival
Related Articles View More TV

Stories