Latest Articles
BWW Exclusive: In Honor of Gay Pride - THE 101 GREATEST LGBTQ SONGS/ANTHEMS OF ALL TIME - from Judy Garland to Lady Gaga, from Gloria Gaynor to Frank Ocean
by Peter Nason - June 24, 2020
Happy Gay Pride! BWW Reviewer Peter Nason chooses the 101 greatest LGBTQ songs and anthems from 1920-2020. See if your favorite songs or artists made the grade!...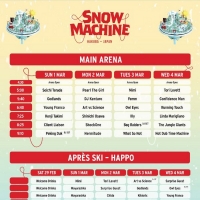 Snow Machine Unveils Festival Stages, Running Times, ZHU Cercle Set & More
by TV News Desk - February 26, 2020
With just days to go until Asia's first ever boutique alpine music festival Snow Machine, event organisers today unveiled the full running order and stage line-up and announced a raft of on- and off-piste activity....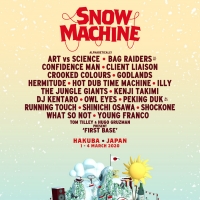 Snow Machine Announces 2020 Debut Festival in Japan
by TV News Desk - October 31, 2019
Announcing its debut from the 1st - 4th of March 2020, brand new boutique alpine festival Snow Machine brings four snow-filled days of music and culture to the slopes of Hakuba, Japan....
Crooked Colours Return with 'Flow', Out Now Via Sweat It Out
by BWW News Desk - February 10, 2017
After a significant 18 month hiatus, live electronic trio Crooked Colours return with their first single, 'Flow', from their long awaited LP, due winter 2017. 'Flow' is out via tastemaker imprint, Sweat It Out, and is available to download and stream now....