BIO:

Cloud Cult developed in 1995 as a solo studio project of Craig Minowa. His first full length album, "The Shade Project" caught the interest of a few small independent labels who urged Minowa to consider performing the songs live. Craig worked the next four years on a new studio project which would be the first official Cloud Cult album, "Who Killed Puck?". Sarah Young appeared on this album for the first time on cello and Eduardo Vaz assisted with drums on a few of the songs. Minowa's early work earned Cloud Cult several offers from record labels, but all were rejected in favor of self-publishing and maintaining total control over the ethical aspects of the business practices. In 1999, lead singer Craig and Connie Minowa formed Earthology, a not-for-profit environmental organization that would later gain its nonprofit 501c3 status. Craig worked on developing the Earthology Records branch, which was focused on helping to green the music industry. Earthology Records would become the homegrown powerhouse where all of the band's booking, publicity, CD replication, t-shirt production, and recording would take place. Through Earthology, Minowa developed the first 100% postconsumer recycled CD packaging in the U.S. market. Earthology Records was later moved to an organic farm, powered by geothermal energy and built partially from reclaimed wood and recycled plastic. Minowa co-developed the first 100% postconsumer paperboard cd jewel-case, and the band began zero net greenhouse gas practices for tours long before it was trendy to be green. The band's merchandise is 100% postconsumer recycled or made of certified organic materials. Cloud Cult has planted several thousand trees to absorb the band's CO2 output. They also donate heavily to projects that build wind turbines as revenue generators on Native American Reservations. In the year 2002, shortly after the unexpected death of his two year old son Kaidin, Minowa wrote over a hundred songs to deal with the loss.They Live on the Sun was finished in 2003 and went to #1 on college radio station charts across the country. Since that album, Cloud Cult's music has been strongly inspired by the loss of Kaidin and the "big picture" issues of life: "who are we, why are we here, where did we come from, where do we go". Minowa seems in constant pursuit of the light at the end of the tunnel. The success of the album convinced Craig to create a live band to perform the album's songs. Minowa added Dan Greenwood to the band roster on drums. The first live shows consisted of a three piece: Craig, Sarah and Dan. In January 2004, Cloud Cult added Mara Stemm on bass and released "Aurora Borealis" just six months after They Live on the Sun. Shortly after, Cloud Cult was nominated by the Minnesota Music Awards as "Artist of the Year" along with Prince and Paul Westerberg. With a van covered in solar panels, the band began touring nationally. Cloud Cult's stage show began to garner the attention of national press, as they included two live painters on stage, Connie Minowa and Scott West, as well as back screen video and performance artists. In 2006, Cloud Cult released "Advice from the Happy Hippopotamus", which Pitchfork Media called "insane genius" and rated the album with an 8.3. The Denver Post ranked the 2007 release "The Meaning of 8" as one of the top ten albums of the past decade, along with bands like Modest Mouse, The Flaming Lips and Radiohead. During that period, Matthew Freed replaced Mara Stemm on bass and the band began to work with different violin players, ultimately discovering Shannon Frid who joined the band full time on violin. The band received offers from major labels but continued to turn them down in favor of maintaining control of their art and environmental efforts. Cloud Cult released the album entitled "Feel Good Ghosts (Tea-Partying Through Tornadoes)" on April 8, 2008. As with the past Cloud Cult albums, the album was recorded and produced at Minowa's small organic farm in Northern Minnesota. "The place is so far out in the boonies, you can barely find it, because it's not on the maps," said Dan Montalto, an MTV Producer who brought a camera crew to the farm to film a short MTV feature on the band. Arlen Peifer replaced Dan Greenwood on drums and Shawn Neary replaced Matt Freed on bass. In October 2008, Cloud Cult was featured in an animated Esurance commercial that aired during the Super Bowl. The band is shown playing their song "Lucky Today" while floating on clouds and promoting ecological driving practices. In exchange for the work, Esurance helped fund some of the band's costs for greening the recording of albums. During 2008 and 2009, the band's growth continued, with a heavy tour schedule and appearances on MTV, Carson Daly, Rolling Stone, Spin and a plethora of other media outlets. In the Spring of 2009, Cloud Cult released "No One Said It Would Be Easy" a full length documentary about the band, created by John Burgess and Scott West. At Coachella 2009, Craig revealed that Connie would not be performing because she was "not feeling well.... she's pregnant." The band toured nearly up until Connie's due date and took a break from touring with the birth of their new child. During this downtime, Minowa worked heavily on a new Cloud Cult album, and the band released a new version of "Lost Songs from the Lost Years" a collection of previously unreleased songs spanning the band's 15 year history. The band took up touring again with the 2010 release of "Light Chasers", which would be Cloud Cult's first album to make it onto the Billboard Charts. Meanwhile, Craig has been increasing his work-load of scoring Cloud Cult type music for National Geographic documentaries. The band will be releasing a new full length album on March 5, 2013, Presale starts on the Cloud Cult website in December. The Cloud Cult documentary, "No One Said It Would Be Easy" will be available on Netflix, Amazon and Hulu in early 2013.
Latest Articles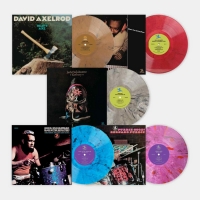 Jazz Dispensary Announces Partnership With Vinyl Me, Please
by Sarah Jae Leiber - October 15, 2020
Jazz Dispensary, the branch of Craft Recordings that answers to a higher power, is thrilled to announce a partnership with Vinyl Me, Please...

Cloud Cult Releasing 'The Great Alone' Film Score 1/18
by Caryn Robbins - January 16, 2018
Midwest orchestral indie rock band Cloud Cult is kicking off 2018 with new music and a handful of unique performances, many of which are already sold out....

Cloud Cult Featured in Lincoln Center's American Songbook Series
by Caryn Robbins - December 18, 2017
Midwest orchestral indie rock band Cloud Cult is thrilled to be playing Lincoln Center's American Songbook Series on January 26th in the Appel Room....