Sound of Saving to Stream New 'Feedback Session' on April 3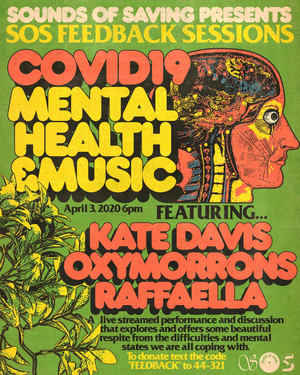 On Friday April 3, Sounds of Saving will host its 2nd "Feedback Session." "COVID 19: Mental Health + Music" will take place at 6pm EST via YouTube. Registration link is HERE. Musicians, mental health professionals and audiences will virtually convene to address what is on everyone's mind -- how do we keep it together in this time of so much uncertainty and concern? The event will feature solo performances by musicians Kate Davis, Raffaella and Oxymorrons, interspersed with honest conversations with the artists about their own struggles and coping with our new reality. The Feedback Session will be moderated by Robert Galligan, a psychologist based in Brooklyn, who will offer feedback and insight into mental wellness, creativity as a healing strategy and managing anxiety and emotions during the crisis and isolation.
Register for Sounds of Saving's "Feedback Session: COVID 19: Mental Health + Music here
All proceeds will benefit Sounds of Saving and charities to be determined that will support musicians currently unable to tour and healthcare workers on the frontline of the COVID-19 crisis.
Feedback Sessions by Sounds of Saving is a live performance series that unabashedly confronts issues in mental wellness affecting creatives and audiences alike. The organization recently announced a partnership with the National Suicide Prevention Lifeline. Together, they will work with musicians to produce and release three videos in 2020 that reveal "how a song found them at the right time" and sharing how they have managed to cope and even thrive in the face of difficult times and emotional crisis. The partnership aligns with the Lifeline's message that healing, hope, and help are happening every day. For every one person that dies by suicide, 280 people think seriously about suicide but go on to live out their lives. These are untold stories that must be shared.
If you or someone you know is in emotional distress or suicidal crisis, please call the National Suicide Prevention Lifeline at 1-800-273-TALK (8255) to connect with a trained counselor. The service is free, 24/7, confidential, and available across the United States.
Related Articles View More Music

Stories