Craig Wedren Releases Fourth Studio Album ADULT DESIRE + Innovative Virtual Reality App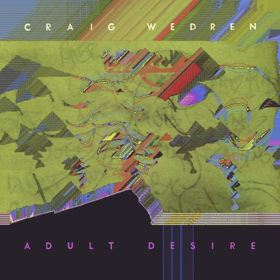 Craig Wedren is an acclaimed songwriter, singer and film & television composer; he recently released Adult Desire, his fourth solo album, and first since 2011. In conjunction with Adult Desire, the former Shudder to Think frontman also created Adult Desire 360°, an innovative VR app. Craig is set to perform the music from Adult Desire on March 2 in San Diego and March 5 in Los Angeles.
Adult Desire is experimental, electro-acoustic and highly melodic, with Wedren's inimitable voice, lyrics, and fractal arrangements mapping the complexities of adulthood in a way that feels both familiar and entirely unique. He notes that the album is, "a meditation on age, death, sex, marriage and family best described as 'domestic Surrealism'." Adult Desire is the first record he's made since moving to Los Angeles, and is about "the strange magnificence of family, home, and age, and the weirdness of the mundane -kind of like the way David Lynch holds for just-too long on a shot of a lawn, turning it into something monstrous and beautiful."
Adult Desire 360 VR app is comprised of three panoramic music videos centered around themes of love, home, sex, family, and age. Over the course of the next year, Craig plans to release at least two more volumes, each adding to the overall story of Adult Desire. These unique video EPs each feature different sets of songs from the album.
Craig Wedren first emerged as singer and primary songwriter for Washington, DC-based avant-punk pioneers Shudder To Think - a band that started out in the city's legendary hardcore punk scene on Dischord Records, only to challenge and expand the aesthetics of the genre and those of the emerging alternative rock scene. Dischord recently re-issued the band's 1990 album Ten Spot, their second full-length. The album pressing has been remastered from the original tapes, pressed on blue vinyl and features revised artwork courtesy of Heather Hendrix Russell.
After upping the ante with each subsequent release, and moving from Dischord to Epic Records to release the beloved Pony Express Record, a battle with Hodgkin's Disease grounded Craig and the band at the peak of their career. Following successful treatments, Shudder To Think returned with a new goal in mind: to create music for film. Wedren and the band scored the 1998 independent films First Love Last Rites and High Art and contributed songs to Todd Haynes' beloved glam rock valentine Velvet Goldmine. Shortly after making the transition to film work, the band dissolved their partnership and Wedren continued his dual career as both film composer and solo artist.
In the 20 years that have followed since his initial soundtrack work, Wedren has gone on to compose score and write songs for film and television projects including the Wet Hot American Summer movie and TV Series, Role Models, The School of Rock, Afternoon Delight, Laurel Canyon, How To Be A Latin Lover, Reno 911!, The State, Stella, the first and upcoming second season of GLOW, and much more. His latest project with longtime collaborator and childhood friend David Wain is the recently released Netflix film A Futile and Stupid Gesture starring Will Forte, Joel McHale and Seth Green. Read more on Wedren's relationship with Wain via Noisey.