5 SECONDS OF SUMMER Tells Fans To Expect New Music in 2018!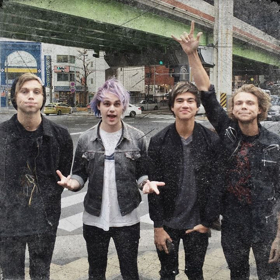 According to MTV, 5 Seconds of Summer guitarist Michael Clifford told Billboard that the band planning to release new music in the new year! This would be the follow up to the bands 2015 release in 2015. Read the full report here!
Past hits, "Hey Everybody" - along with "She's Kinda Hot," "Money," "Jet Black Heart" and "Fly Away" - are available instantly to fans who pre-order the digital version of Sounds Good Feels Good, available HERE. The album hit No. 1 on iTunes in 50 countries just hours after the pre-order launched.
In their second cover story on the band, Billboard noted, "5SOS is an anomaly in 2015: a Generation Z guitar band that sells records....On Sounds Good Feels Good, the guitars thunder more..." Alternative Press, which awarded the album four stars, observed, "Sounds Good Feels Good delivers....The album finds its crux in the first single, 'She's Kinda Hot,' with the triumphant line in the chorus: 'We are the kings and queens of the new broken scene.'" Kerrang hailed it as a "killer new album" and gave it four K's, noting, "Opener 'Money' explodes into one of the biggest anthems of the year."
"She's Kinda Hot," which won Song of the Summer honors at the 2015 MTV Video Music Awards, topped the iTunes charts in 44 countries and was a Top 15 hit at Top 40 radio. 5 Seconds of Summer spent three months living together in a studio in Los Angeles, writing and recording Sounds Good Feels Good, which was executive produced by rock veteran John Feldmann (All Time Low, Good Charlotte, Boys Like Girls).
5 Seconds of Summer's self-titled debut album entered the Billboard 200 at No. 1, selling 260,000 units in the U.S. in its first week of release, marking the biggest debut for a new act in 2014 and the biggest debut ever by an Australian artist. It topped the iTunes charts in a total of 76 countries. The band has won numerous awards, including an American Music Award, a People's Choice Award, five MTV European Music Awards, an MTV Video Music Award and an iHeartRadio Music Award. In 2015, 5 Seconds of Summer played to more than one million fans across three continents, including three massive sold-out nights at the SSE Wembley Arena in London.