Watch! Listen! Learn! Children's Book Series Keeps Kids Safe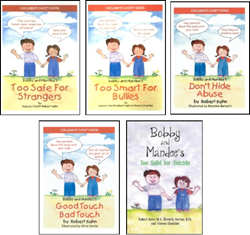 Retired Deputy Sheriff and Educator
Robert Kahn
wants to keep children safe. To do this, he authored five books in his series Bobby and Mandee's Children's Safety Books. He started a Stranger Danger program in local schools and community service organizations, giving over 20,000 presentations covering 15 different topics on children's safety. His first book "Bobby and Mandee's Too Safe for Strangers" is credited with foiling at least 44 stranger abductions of children!
In the book, big brother Bobby and his little sister Mandee explain stranger danger to children in a way that's accessible, not frightening. This book should be read to young children as different role-play scenarios are acted out, because kids will accept an adult's friendliness at face value, which can have tragic consequences.
A stranger can be men or women, young or old. They should not touch, offer gifts, or ask children for help.
5-star Amazon review: "This is the best 'Stranger' book I have found for my children! (Ages 2, 3, 5, 7, 9.) It doesn't instill fear, so much as it instills caution, especially when parents are not present. Highly recommended." ISBN: 978-1-885477-7-50
"Bobby and Mandee's Too Smart for Bullies" has been called a must-have for parents and children. "What is a bully? A bully is someone who is mean or hurts other people."
5-star Amazon review: "'Too Smart for Bullies' is a book that should be read by every child and parent! How often is a nice kid bullied? Far more frequently than parents know. This book provides simple and practical steps to thwart bullies and avoid becoming their victim. It explains that children who encounter bullies should not keep a secret about them but should instead talk to an adult." ISBN: 978-1-8854777-67
"Bobby and Mandee's Don't Hide Abuse" is about Mandee's friend who is being abused. The book tells what to look for and how to help an abused person get attention so the abuse will end. The book also features Bobby and Mandee's Abuse Test, an eight-question quiz, along with the answers given later in the book.
Learn about: 911 Tips for Parents, a guide for teaching kids when and how to dial 911; and a List of Safe Grown-ups to Call. ISBN: 978-1-935274-5-37
"Bobby and Mandee's Good Touch/Bad Touch" educates children on the issue of inappropriate touching. Touching is usually done by people the children know, not strangers. Regarding bad touches, Bobby says, "Whether it is a stranger, or someone you know well, the rules to be safe are always the same: Say no! Run away! And find a grown-up friend to tell!"
5-star Amazon review: "This is a great book to read with your kids and talk about sexual abuse! I highly recommend it to read to foster kids or all kids for that matter!" ISBN: 978-1-935274-5-44
"Bobby and Mandee's Too Solid for Suicide" presents the facts that over 1,000,000 people every year commit suicide and 30,000 of these are in the United States. No community or age group are immune from this epidemic.
This book offers tips to alert parents to the warning signs of suicide.
ISBN: 978-1-947825-2-84
The goal of the Bobby and Mandee Safety Series is to provide parents, educators, and other trusted adults with essential information to share with children to keep them safe in today's world. It's time to arm children with the knowledge that could save their lives!
Watch the video book trailer at: https://youtu.be/JJEcqbvh7C4    
About the Author: In 1991, Robert Kahn became a deputy sheriff and a D.A.R.E. instructor. While teaching D.A.R.E., he perfected an effective method to foil abductions he calls TOO SAFE FOR STRANGERS. His first book, by the same subtitle and for children, is based on his successful safety program. The author grew up in Reno, Nevada. He earned a master's in education and was a sixth-grade teacher for 10 years. Then he became a deputy sheriff to educate and protect youth from harm. All his books are told in the voice of his own children, Bobby and Mandee.
The 5-book series BOBBY AND MANDEE'S CHILDREN'S SAFETY BOOKS can be ordered for $19.95 each through the author's website:
http://bobbyandmandee.com/the-books or at Amazon.com or Barnesandnoble.com.