New Christian Book Seeks to Guide Readers Through Suffering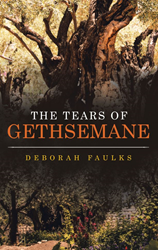 The Garden of Gethsemane is an urban garden in Jerusalem that sits at the foot of the Mount of Olives. It carries heavy significance in Christian religion as the place where Jesus entered to pray the night before his crucifixion. In the new book, "The Tears of Gethsemane," author and spiritual warfare expert, Deborah Faulks educates, strengthens and encourages readers to persevere for the kingdom of God.
Faulks' book is a spiritual guide that prepares and equips readers with the wisdom, tools and biblical knowledge they need to cross through their own Garden of Gethsemane. Gethsemane has become synonymous with the suffering the Bible says Jesus felt during the time he spent there.
"As believers, we will have our garden of Gethsemane," said Faulks. "The call that God has on our lives will require pain, temptations, trials, and sorrow that must be experienced for God's glory to become evident and seen."
Spiritual warfare, for those who experience it, is heightened during the Gethsemane experience. Every believer will have their own garden of Gethsemane, as Jesus did, which is why Faulks wrote "The Tears of Gethsemane." The book serves to educate readers so they may succeed in God's plan in their God given mission and call.
"The astute book breaks down concepts of ministry and prayer as actions that do not make demands, but rather conform to God's will, skillfully using well-cited Scripture and providing helpful questions and personal reflections to help strengthen and exercise Gethsemane belief." - Kirkus Reviews
Faulks has endured her own Gethsemane experience as she became a wife, mother, and servant of God, and is now helping guide others through their own. She decided to publish this book to inspire and encourage, and to prepare believers and unbelievers alike, for the life changing experience of crossing the Garden of Gethsemane and fulfilling their spiritual destiny.
"The Tears of Gethsemane"
By Deborah Faulks
ISBN: 978-1-973-60786-1
Available at Westbow Press and Amazon
About the author
Deborah Faulks is a wife, mother of five, and retired registered nurse who has a heart for prayer, particularly intercessory prayer for people and nations. She serves in her church as a cell leader and prayer ministry member. Faulks currently resides with her husband, Reggie, in Philadelphia, Pennsylvania. "The Tears of Gethsemane" is her first book.
General Inquiries, Review Copies & Interview Requests:
LAVIDGE - Phoenix
Lauren Dickerson
480-998-2600 x 601
ldickerson(at)lavidge.com
Related Articles View More Books

Stories
More Hot Stories For You