BWW Review: THE STORM RUNNER by J.C. Cervantes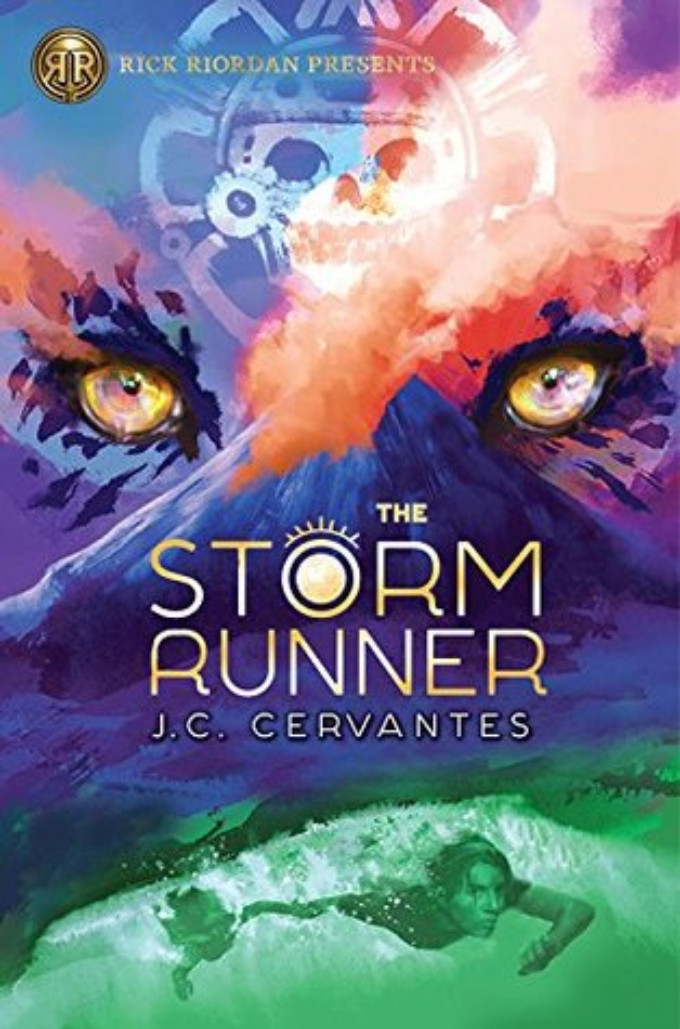 This past spring, I read and fell in love with the first title under the Rick Riordan Presents umbrella, ARU SHAH AND THE END OF TIME by Roshani Chokshi. It's one of my favorite middle-grade releases of the year, and if you haven't read it yet, hopefully this BroadwayWorld review will encourage you to do so!

THE STORM RUNNER by J.C. Cervantes came out last week and is another series starter in the line. I am obsessed with the fact that Disney and Riordan put together this imprint, hired diverse writers who grew up with the myths from their own cultures, and are now turning out these incredible novels. ARU SHAH had all of the questing and the way ordinary objects and places can transform into something entirely different that I loved so much in the Percy Jackson series. THE STORM RUNNER has all the snark and mysterious people who are more than they appear. Oh, and Brooks reminds me a lot of Annabeth, so PJ fans will really embrace her! Also, something that's completely spoilery that happens toward the end that throws me back all the way to THE LIGHTNING THIEF in the most endearing way!
The new series centers around Mayan mythology and stars Zane Obispo. Zane is an ordinary kid...mostly. He doesn't have a lot of friends; they think he's a freak because one leg is shorter than the other and he has to use a cane. But he has his own volcano in his backyard, so that has to count for something, right? One night, he is the sole witness to a plane crashing into his volcano, causing a massive explosion. But who would believe him if he said he saw an alien-like creature pretending to be a pilot? Especially when they can't find the plane? Next, the most beautiful girl he's ever seen starts following him around--and pretty girls never talk to him. She knows way more about what's going on than she's letting on, and somehow, myths that were always just fiction seem to be true. War is on the horizon, and Zane is about to find out he's standing in the eye of the storm...
There are so many amazing talking points in THE STORM RUNNER. First off: Zane is disabled! We very rarely see disabled heroes having amazing adventures and being able to save the world. Zane is going to be a hero to so many kids and help them see that their disability doesn't definite them. Next up: the adults! So many books for kids and teens have kids going off to explore on their own, or questing on their own. While THE STORM RUNNER could have easily gone this way because Zane doesn't confide in his mother, he finds an unlikely ally in his Uncle Hondo. I LOVE that Hondo believes Zane despite being completely human and ordinary. I love that he instantly offers up his savings and takes Zane and the mysterious Brooks on a quest. He is one of my favorite characters in the book, a true stand-out. I also think the fact that part of Zane's quest involves saving his beloved dog, who perishes trying to save him, will appeal to kids who love books featuring animals. This isn't one of those "the dog dies at the end of the book" books. Instead, the dog dies toward the beginning, but its soul can still be reclaimed, so kids will be rooting for a reunion!
Mayan Mythology is introduced seamlessly, and I came out of the novel knowing so much more than I went into it with. For example, did you know there's a goddess of chocolate? Delicious! These gods and goddesses are more brutal than the Greek gods readers were introduced to in Percy Jackson. It's spoilery to talk to much about them and their goals, but will really heighten the suspense for readers! Going into THE STORM RUNNER, I wasn't sure if it was a series or a stand-alone. I thought it was a series, but it wasn't marked as such online. But one book just isn't enough to seep oneself into another culture and, thankfully, there will be at least one book in the series. I was so desolate as the book came to a close--this can't end here; I want more--and then the final segment alleviated all of my fears. I'm already eager to hold the sequel in my hands next fall!
THE STORM RUNNER by J.C. Cervantes was published September 18, 2018 by Disney Hyperion Books.
Related Articles View More Books

Stories