Author Raises Saddam Hussein's Dog In 'Behind The Eyes Of Liberty Pearl'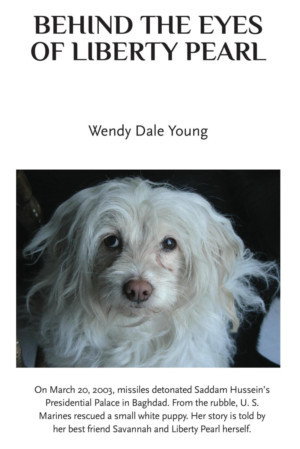 By the time Coalition forces bombed Iraqi leader Saddam Hussein's presidential palace in 2003, human occupants had already evacuated the building. When U.S. Marines searched the rubble, they discovered a shaggy-haired puppy-a Coton de Tuléar- hungry and trembling with fear, but otherwise healthy.
Troops took the young dog to the Baghdad Zoo, where pets from throughout the war zone were receiving temporary shelter in abandoned cages. Months later, the little dog was brought to the United States, where Wendy Dale Young, a composer and writer in Southern California, adopted her. Young tells her story in the new fact-based novel, Behind the Eyes of Liberty Pearl.
"Liberty had been through so much bombing and who-knows-what else, that she was a mess, psychologically," Young said. "She would lie on her back and shake uncontrollably. She suffered from what seemed like post traumatic stress disorder."
Originally called Pelican II, because she shared a cage with a pelican at the Baghdad Zoo, the dog was re-named Quiet, by the time she arrived in America. After adopting the puppy, Young decided to re-name her again, this time Liberty Pearl, or Libby for short.
"The first day I had her, she was so nervous that she wouldn't pee," Young said. "Later that night, she finally peed, and it was such a liberating experience for her that I called her Liberty. The second name, Pearl, was inspired by the color of her beautiful fur."
Despite her fear of people, Libby took a liking to Young's other dog, a Gordon Setter named Savannah.
"Savannah took Libby under her wing," Young said. "They played together. It took a couple of years, but Savannah helped Libby to get over her panicking."
Young's father was the late actor Alan Young, who was best known as "Wilbur" on the classic television sitcom "Mister Ed." Wendy Young jokes that her dad talked to horses, but she talks to dogs. In the book, she writes about the joy Liberty Pearl gave her father, who called Libby "The best dog ever in my lifetime... the most healing, fascinating joy I've ever experienced." He also joked about the dog's country of origin, telling his daughter, "Watch it, Dear, Libby might be hiding a missile."
Though most of Young's book is true, the story is told from Liberty Pearl's point of view, which required Young to use her imagination at times, particularly at the beginning, where the dog describes her experience in the palace.
"I still cry when I think of all that she went through," Young said. "She's just the sweetest dog; an angel with so much pain in her eyes. She still gets a little shy around some people, but she is doing much better."
Behind the Eyes of Liberty Pearl is available through Amazon. More information is available on the author's Facebook fan page.
Related Articles View More Books

Stories
More Hot Stories For You