GLASS CHILD Comes to QPAC in May
Performances run Wednesday, 31 May to Friday, 2 June 2023 in the Cremorne Theatre.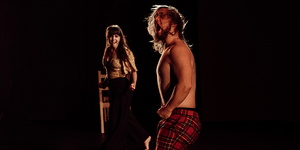 Queensland Performing Arts Centre (QPAC) has announced the moving and defying Glass Child by The Farm from Wednesday, 31 May to Friday, 2 June 2023 in the Cremorne Theatre.
Glass Child is a poignantly revealing and personal depiction of the sibling relationship between Kayah, a young man with Down Syndrome, and his sister Maitreyah. Expressed through dance, theatre, and storytelling Glass Child highlights their connection and how their lives have been affected by other people's perceptions.
The term 'Glass Child' refers to the sibling of someone with special needs who often becomes a facilitator in the family, or someone who is 'looked through'. In Glass Child, Maitreyah Guenther takes the role of the 'Glass Child'.
"Kayah is a brother of blood, but also a friend I rely on to lift my spirits. Down Syndrome carries many challenges for him, but it gifts him a love that is truly majestic. He sees spiritual beauty in places where I do not, which gives him a strength I will only know through him," she said.
In its QPAC debut, Glass Child puts a microscope on the real-life siblings' love and how their relationship has been nurtured. It questions how the rest of us behave when we find the difference we inevitably look for. It asks us to examine why we search for differences when we share so much in common.
Glass Child is produced by Gold Coast-based collective The Farm and was created by a collaborative team that included the siblings. The Farm Co-Directors and Glass Child co-creators Gavin Webber and Kate Harmen first met Kayah and Maitreyah when they were 18 and 15 years old, respectively. They have seen the siblings' bond deepen and the show's narrative evolve after working together for close to a decade.
"You can see a shared DNA in the way they dance because they have never been formally trained outside of classes and training with The Farm. They began by dancing together. It was their way of speaking and showing the world who they are and what they had to say," Webber said.
"Often in contemporary dance there is a question of why we are making a show, and what do we want to say. With Kayah and Maitreyah it was easy. They have so much to tell us, it is important that we take an hour to be silent and simply listen."
Webber believes there are several important takeaways he hopes audience members will embrace after witnessing the emotive performance.
"I know audiences will find themselves deeply invested in Kayah and Maitreyah's story, and that is not a hope but a certainty. Most importantly, I hope they take home a deeper understanding of their own lives," Webber said.
"I also want those in attendance to understand that people are more complex than we can ever really grasp, and although it may not be possible to always intellectually understand each other we can take a moment to look past our prejudices and see others better."
The powerful and compelling Glass Child will take to QPAC's Cremorne Theatre from Wednesday, 31 May to Friday, 2 June 2023. Tickets are on sale now via qpac.com.au or 136 246.