Dancenorth's RED Will Make QPAC Debut
Performances run from 29 March to 1 April 2023 in the Playhouse.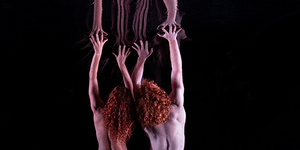 Queensland Performing Arts Centre (QPAC) has announced Dancenorth Australia's season of the illuminating and visceral RED from 29 March to 1 April 2023 in the Playhouse.
In RED, tens of thousands of years ago, a genetic mutation gave rise to the physical manifestation of red hair in humans. Now, like many, they are endangered. Air is slowly emptying from a large transparent inflatable structure, ultimately sealing its inhabitants in preserved isolation.
Dancenorth uses the plight of its dancers as an allegory for a contracting world. A world where biodiversity is progressively being suffocated and silenced. Epic and intimate, RED illuminates the universal challenge of our survival: sustaining diverse and resilient social and biological ecosystems.
RED is conceived, directed, and choreographed by Dancenorth Associate Artistic Director Amber Haines and Artistic Director and Co-CEO Kyle Page.
"The idea for RED emerged early in 2019, way before anyone had heard of COVID-19, before much of the country was engulfed by catastrophic bushfires, and before entire towns were washed away by severe flooding. RED is born of a love for nature and an acute awareness that we are not separate to the natural world but truly connected and interdependent. It is at once an ode and a stark warning, for what we do to the natural environment we also do to ourselves," Haines and Page said.
"RED is a conceptually and aesthetically ambitious work that reveals humankind as a simultaneously insignificant and utterly dominant form of life on Earth. We cannot be sustained without a diverse, resilient, and intact ecosystem of natural processes, including plants and animals of all sizes, at all levels of the food chain. Human health is intrinsically linked to environmental health."
Audiences will be welcomed into the QPAC Playhouse by a large inflatable set which the two dancers interact with, and within. Haines and Page believe the representation of the transparent set within the context of this performance is an important one to consider.
"The inflatable set is an allegory for a contracting world. The show sets a trajectory and progresses resolutely in One Direction, the performers are either unwilling or incapable of seeing the signs until it is too late," they said.
"Humanity it seems has set a direction, whether the outcome is inevitable remains to be seen, but only just. We remain optimistic for the future but acknowledge that a sizable shift is required, from competition to collaboration, and from stories of us and them to a much larger story of interbeing. This is perhaps our only way through."
The theme of human connection is vital to the narrative of RED, with Haines and Page noting the interpersonal and environmental influence on the work.
"Connection is essential to our unfolding future on this planet. RED seeks to remind us that in order for human beings to survive we require thriving ecosystems over thriving economic growth - we need each other, and we need nature," they said.
RED returns to Brisbane after a remarkable season in the 2021 Brisbane Festival program, where it was feted by The Courier Mail as a "...45-minute-long visual poem".
Recognised as one of Australia's leading performing arts companies, Dancenorth Australia balances a dynamic regional presence with a commitment to creating compelling contemporary dance that tours the globe. Led by Artistic Director Kyle Page, Executive Director Hillary Coyne, and Associate Artistic Director Amber Haines, Dancenorth is an integral part of the Australian dance ecology making a significant contribution to the dance sector and building literacy around contemporary dance nationally.
This introspective and compelling performance will take to QPAC's Playhouse stage from 29 March to 1 April 2023. Tickets are on sale now via qpac.com.au or 136 246.