BWW Interview: John Storie of THE MILDRED SNITZER ORCHESTRA Shares The Journey to His New Album PONDEROSA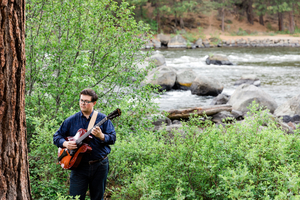 Jeff Goldblum and the Mildred Snitzer Orchestra provided a wonderful evening of jazz, comedy and entertainment at the UAB's Alys Stephens Center in Birmingham, AL. . They are an amazingly talented ensemble of polished jazz cats. I was able to connect and share a lengthy conversation with their guitar player John Storie. He is a musician / showman with a true comical wit, and abundant skills on the guitar.
David Perry -You guys flew off and played the Glastonbury Festival in England right after leaving Birmingham. How does it feel to be home?
John Storie - (Laughs) We have a little bit of time off until September. That's when we will get back to it. Jeff has a bunch of filming he's doing right now. We are all working really hard on the next Mildred Snitzer Orchestra record with him that will be released later this year. The show keeps evolving. We keep trying a whole bunch of new stuff with him. I've been with them for almost 8 years now it's amazing how much the show has evolved since then.
DP - How has the show changed?
JS - "When I started the gig Jeff was doing what he's been doing for about 15 years prior. We just get together with some players every so often; arrange a couple local gigs at these exclusive, off the beaten path, Sunset strip kind of places. Those gigs were not really advertised. It was just a cool thing that he did; very underground "people in the know" kind of thing. The show changed in the spirit of chain playing. In a spirit of playing jazz, Jeff would just call out tunes, some standards, we would have guests come up and sing with us. The format evolved with adding comedic bits, audience interaction, and then go into a tune. We play songs that are perfect for Jeff to be featured on in certain ways, and some songs that are more a feature for the band. It's like the old-school Vegas showroom acts from the 50s. We are a throwback to that wonderful style you don't see much anymore. The show has taken off the past year and a half. We put out a record, and have been going off on these major touring gigs and festivals. By the way we loved coming to Birmingham. We are all hoping our music and concerts helps the jazz community. I would say 90% of the audience to come see our shows have never gone to a jazz concert before."
DP - At your performances, you hear and see the bands passion for playing jazz
JS - "Thanks. We work really hard. I've been a bowler, guitar player, and model trains collector since I was a little kid. Still enjoying all the hobbies I've done for 30 years of my life makes me feel very fortunate. You know, there are so many people out there that don't find their passion. They just kind just sort of exist. Just simply living to go to work. That passion hasn't gone away. Then you meet a guy like Jeff, and you just are like wow! This guy is passionate about things in his life, and being himself. Doing it not in an egotistical way, or a look at me I'm really cool kind of way. You just don't meet a lot of people like that. He found his thing and has done it for so long with continuing to challenge himself. He self taught himself as a kid during the amazing jazz scene of the 60's. I've learned so much from playing with him. Everyone in the band is a comical and personal showman."
DP - When are you guys heading back out on the road?
JS - "I have a feeling we're going to go back to touring; maybe in the fall. I have so many friends all across the country that want to come see the show. Jeff's big challenge is juggling the dates around his performing career. And at the same time I'm really glad that we're not doing a two or three month tour. To me that makes it more special when you can come go to random show like we did in Birmingham, Boston and Rochester. I like going out to the most random of places. It keeps people wondering what's next."
Storie has been working as a professional musician, teaching, and is just about to release his first solo album "Ponderosa". He has previously done nine records with many artists including Gwen Stefani, and his guitar trio New West Group. Storie's upcoming jazz album "Ponderosa" is a duo album with notable jazz pianist Josh Nelson. (Long time musical director for Natalie Cole)
JS - "Josh and I got together a year and a half ago, and started working on the arrangements. I wanted to do a record where it sort of a throw back to the folksy stuff I was into in my early days. Along with some more swinging straight ahead jazz and a couple of Josh's songs. I wanted to find a way to record the songs with a lot of different guitar sounds, with texture and vocals. We started working on it in 2018, finished it in April and it will be released on August 9th.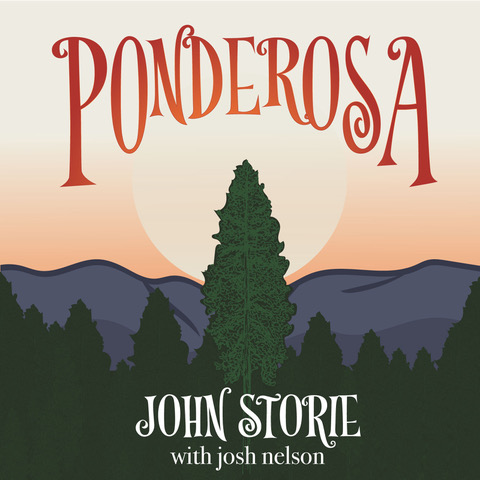 Storie grew up in Oregon. His love for Jazz started when he was a kid. His mother; a musician and music teacher provided him with a fabulously diverse music foundation to grow upon.
JS - "Growing up I would rather practice with a guitar rather than being outside. That's a challenge I still face all the time. My mom was a music teacher, and got me into jazz when I was really young. I was so very lucky to have a parent that was so tuned into this kind of music.
In middle school and high school, Storie became serious about playing jazz guitar. In 2002 he moved to Los Angeles to attend USC. After graduating, he was busy gigging around town while receiving his masters at Cal Arts.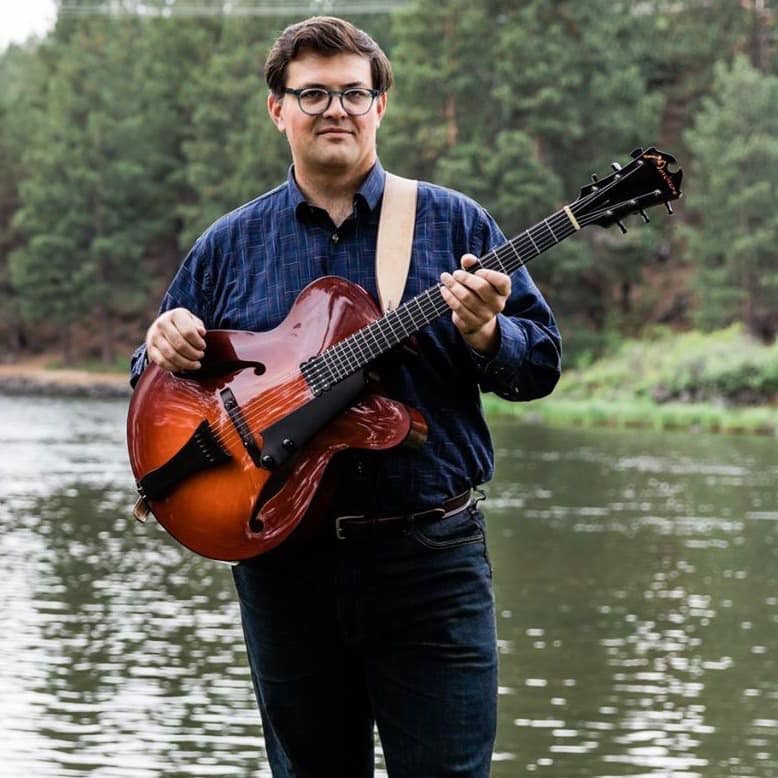 JS - "My mother is such a great encourager, and I had great teachers. I always had positive feedback from the people around me. As a kid, I was spending hours upon hours just playing the guitar. I did not have parents that came down on me for how much I was practicing. I'm so thankful for that. Because I never would've been able to do this music had I not had that encouragement.
During his sophomore year in high school. The Dean held a conference with him. She suggested he see the school therapist. She was concerned he was playing guitar too much.
JS - "She was dead serious, and I was laughing so hard. I told her I don't need therapy because the guitar is my therapy. You know you're doing this right, when people think you need therapy for playing so much. The level of information for young musicians today is so high. People learn to play off the Internet. We have a global music scene. There's no excuse anymore. It's easy to learn this music if you have the time, and it's your passion.
With a single mother trying to make ends meet, Storie knew he'd have to rely heavily on scholarships to attend college.
JS - "I worked so hard in high school. The better I sounded at an audition, the more money Ill get to go to college. I went every year in high school to jazz camp. It was a week long intensive with a bunch of people my age who wanted to learn music. The information was coming at me a mile a minute. I started making giant steps. When I listened to John Coltraine I was saying, "Yeah, I get it. Now I can hear those cords. I can hear how are you soloing." That was a great lesson for me. Jazz holds such a vast array of styles within the genre. If you are open to all the styles and sounds; one of them is going to click. George Benson was one of the big biggest artists for me. When I heard him play I felt that's exactly how I want to play the guitar."
DP - "That's interesting. I noticed in your playing many nods to George Benson. It's always cool when you listen to an artist, and you can recognize elements of musicians who inspired them.
JS - "Definitely. George Benson is someone who I channel a lot. His playing to me can be applied in so many different ways. His music is very soulful guitar playing. But it can also be a very modern way of playing the guitar. That articulation he plays is very clear.
DP - After studying and playing jazz for so many years. What are some of the key elements that you find make a great album?"
JS - "Melody is a big deal. People focus on a harmonic framework of a song, and how adventurous it can be, and how ornate the core structure in a tune can be. That's fantastic. At the same time I feel the melody can suffer if you focus so hard on making everything sound really hip, and out, and kind of obtuse. Usually the harmonic shapes will take form once I kind of get the contour of the line in the direction."
DP- In working so many diverse artists. How do you manage being individually creative and working in collaboration?"
JS - "That's an excellent question. I'm naturally a people pleaser so when the people I collaborate with say things like "oh hey I have a suggestion what if I just change this?" I always give an exuberant "YES, let's do it!" I'm that way sometimes, to my own fault. Josh reminded me several times on this recording. Just because I suggested it, doesn't mean we have to do it."( Laughs) This process reminded me that a collaborative effort is not collaboration if you just give in to what other people say. Josh and I kind of came together on this project. He has such a deep harmonic vocabulary. I come in with a certain idea, and I hear how he would expand on that."
DP - That sounds incredibly inspiring.
"Yeah it is. In one sense it was like I am having a music lesson every time we're together. In taking your ideas and offering something you didn't expect; building on top of that you see where the song will travel next. It was a very natural process. I couldn't of asked for an easier way to do my first recording. I'm so glad I didn't use a full band."
DP - Why is that?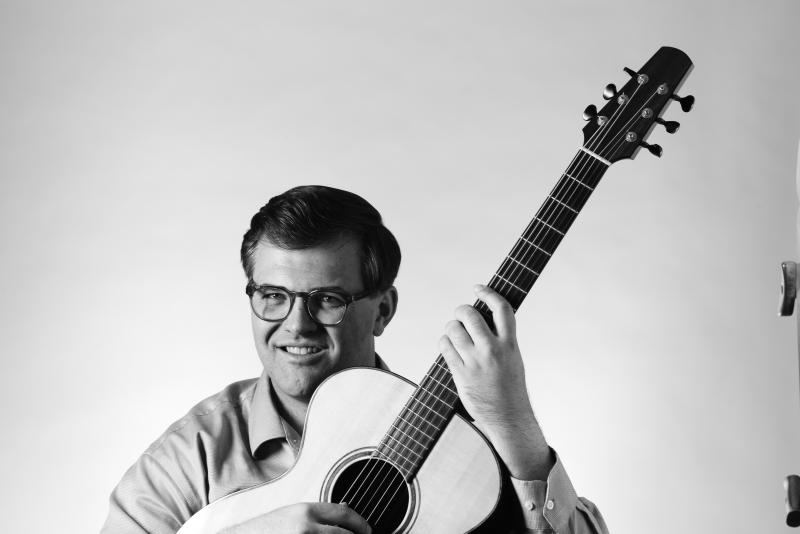 JS - "It's just so much easier to rehearse. When we were in the studio, we were able to try stuff a lot easier without wasting hours of time. It came together pretty well in that sense."
DP - You have been an avid bowler for years. How is playing an incredible jazz set like racking up points on a score board?
JS - (Laughs) That's a funny question. You know, the one thing that bowling teaches you that can be applied to playing music is to don't count your mistakes. Each frame that you bowl is as a new frame. If you roll a gutter ball in the first frame, and then roll 11 strikes. You're still going to score a 270. Bowling is similar to targeting games like darts or archery. It's a psychological game against your self. It is a singles sport. So it's all in your head. Your opponents are the thoughts of competing against yourself. When playing jazz music, I am always trying to battle the inner self."
DP - Is that an easy fight for you to take on?
JS - "When you battle with your thoughts. You think like, I'm not hearing my sound the right way. The strings a little off, the drums aren't right. Stuff like that. There's an inner analysis that you're constantly doing. You have to sort that out really in the flow. To really hear what you're playing, you have to be in this uninterrupted flow of consciousness in that very moment. A lot about being an improviser is letting go. Just allow yourself to go with what's happening with the other players with you. You can't keep track of thinking what you didn't play right or what was a mistake."
Storie is on a track for success with his upcoming album "Ponderosa" After listening to an advance copy of the album, I found it to be stacked with a variety of styles and jazzy arrangements. Stand out tracks include "Nice"; a ballad of a "nice guy" played with a Jim Croce cadence backed up with Josh Nelson giving soulful electric piano. "Tinseltown" features throwback jazzy guitar and piano riffing with notes of Peter Gunn in a 50's jazz club. "Newberry Caldera" is a soulful jam with a George Benson crispness on the strings and Vince Guaraldi run on the keys. "Roll On Columbia" is fun track layered with lyrical expression, the feel of a sea shanty mixed in with a taste of Les Paul.
Ponderosa by John Storie, featuring Josh Nelson - Release Date Aug 9th
For more info on John Storie visit Johnstorie.com

Related Articles View More Birmingham

Stories

Shows