Thank You For The Music of MAMMA MIA! At Toby's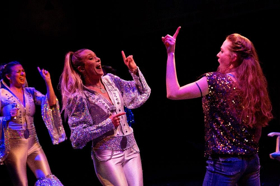 Craving an exotic getaway, but unable to manage a week and a plane trip? Try something closer: I Have A Dream of musical entertainment on a Greek island, where you can be a Dancing Queen with the cast of MAMMA MIA! yet have breakfast in your own kitchen tomorrow.
Despite traffic of the Foo Fighters playing at Merriweather, driving to Toby's is straightforward. Attendants at the parking lot barricade check our name from a list. This seems advisable when concert-goers might be inconsiderate about where they park.
The buffet bursts with variety and show-themed food names. We skip The Dynamo, tonight's show-themed beverage, in favor of frozen Margaritas, which are refreshing and citrusy.
My beloved companion's birthday soiree hosted friends at her home drinking husband-made cocktails while watching Mamma Mia! on her big television- she's an ABBA fan and likes Mamma Mia! I didn't much like the movie, but love Toby's and my friend, and anticipated a fun outing, for even when I don't care for a particular show, I usually find that Toby's production either impresses me anyway or changes my mind about it.
I've changed my mind about MAMMA MIA! I quite like it as a musical.
Book writer Judy Craymer conceived the musical in 1996, producing it 38 times in 14 languages around the world before the 2008 movie. Music and lyrics are by Benny Andersson and Bjorn Ulvaeus, who represent the Bs in ABBA, (the As, Anni-Frid Lyngstad and Agnetha Faltskog, were married to Benny and Bjorn, respectively). They've collaborated on two additional musicals together since MAMMA MIA!
Director/ Choreographer Mark Minnick creates fabulous flow for this active piece. I'm especially fond of the choreography of Money Money Money and Lay All Your Love On Me, and the staging of Voulez-Vous. The rich vocals, under the musical direction of orchestrette conductor Ross Scott Rawlings, are fully realized using clever staging techniques and packed with emotion. Unlike the movie, this cast of this MAMMA MIA! Delivers comprehensively excellent vocals. There is no weak link; kudos to the casting director, Mark Minnick again. The live music is awash with keyboards, (three: Ann Prizzi and Emily Targonski alongside Ross Scott Rawlings), anchored by strong percussive offerings by Bob LaForce.
Heather Marie Beck as the show's main character Donna Sheridan is stunningly capable. The emotion she packs into Winner Takes It All and Slipping Through My Fingers without compromising lyrical clarity is remarkable and touching. Toby's debutante Maggie Dransfield as Donna's daughter, Sophie, walks a skillful line between impulsive young adult and temperamental teen, capturing the ingenue archetype perfectly. Shiloh Orr is brilliantly slimy as Eddie, and Darren McDonnell as Dad candidate Harry embodies dignity without stiffness. As former Dynamo Rosie, Tess Rohan nails middle-aged motion without slipping into caricature and her duet with Russell Sunday's Bill rocks and rollicks with naughty dance moves. Coby Kay Callahan, personifying the oft-married disco backup queen Tanya, is a divine counterpoint to Rosie's earthiness. Her charismatic performance in Does Your Mother Know is a second-act highlight. Newcomer Paul Roeckell as Sophie's fiance Sky brings earnest charm to his necessary if marginal role. Jeffrey Shankle is unfalteringly solid as Sam.
The costumes are spectacular (props to AT Jones) and the cast is super speedy about quick changes. David Hopkins' set conjures a beachy atmosphere inside a little building in Columbia, Maryland. Some of the staging is unusual, with transitions happening during musical numbers instead of during blackouts; in the interests of saving time, perhaps, the show being stuffed with musical numbers.
You're likely to hear your favorite ABBA song in the show, as pop hits (23 of them!) are wedged in regardless of their advancement of a thin-ish plot, which mostly works. The show also passes the Bechdel test and there're plenty of middle-aged Mom moments, which seems fitting, considering the American matriarch makes most family decisions regarding entertainment dollars, and one wonders why there aren't more shows catering to this demographic.
The costumes, while fantastically showy, don't always hide the performers' body mics. I rather like that everyone is okay with them showing. Sound quality, despite athletic dance movements, face-to-face singing, full-contact hugging and onstage-costume changes, is seamless and excellent. I hear only one mic pop and NO other sound issues at all. Sound designer Mark Smedley deserves congratulations.
MAMMA MIA! being a disco show, I expect over-the-top lighting. Though there are some disco stylings, much of designer David Hopkins' work is subtle and lets the attention be on characters instead of theatrical effects. It all comes together beautifully during SOS, which is an exemplary blend of lighting, staging, character, emotion, music and voice. The number encapsulates musical theatre well done.
Musical theatre assures happy endings, so if you like that sort of thing, see MAMMA MIA! at Toby's while it's here. Disco is delicious, (this is accepted), so being an ABBA aficcionado isn't required for immersion in this superfun fan favorite. In today's tumult, escaping to a tropical island where all the conflict stems from wedding shenanigans and a desire to know family members seems like a wonderful little vacation. Treat yourself and enjoy it.
MAMMA MIA! plays at Toby's through 9 September, 2018. Purchase tickets from the box office: 410-730-8311. Visit http://tobysdinnertheatre.com for more information about the show, the buffet or directions to the venue.
Toby's Dinner Theatre, 5900 Symphony Woods Road, Columbia, MD, 21044.
Photos: Coby Kay Callahan, Heather Marie Beck and Maggie Dransfield as Tanya, Donna and Sophie; Coby Kay Callahan, Heather Marie Beck and Tess Rohan as Donna and the Dynamos: Tanya, Donna and Rosie
Photo Credit: Jeri Tidwell Photography